Close Real Estate Deals Faster With These Apps [2020]
It can be exciting to live the life of a real estate agent. Amidst the pleasures of closing deals and getting long-term clients, you can enjoy the benefits of having a very lucrative job.
Real estate agents are generally goal-oriented and driven. They have to be, after all, since that's the very foundation of what the job demands. 'Foundation', get it? Pun intended!
However, we can all agree that sometimes, this job can be a little too much to handle. From following new leads to managing multiple calls, meetings, and documents to running around for signatures, the duties it entails can make it overwhelming at times, especially with the increasing pressure to deliver more in less time. To avoid burnout and maintain a smooth workflow, you need the right tools.
Why Real Estate Agents Need to Use the Right Apps
Whether you run solo or you're part of a team, it is important to stay organized. Being a real estate agent is one of the most stressful jobs there are, and it can be even more challenging without proper management techniques in place. Once the ball gets rolling, you might find yourself missing deadlines, forgetting to follow up on leads, and losing deals as a result of delays in the closing process. You don't want to miss the deal of a lifetime because you are less organized than you should be, do you? That's why you need the right apps to get things done.
There are a lot of apps that can make things easier and faster, allowing you to navigate the real estate world more efficiently. By using the right tools, you can make sure that you never miss a thing.
We've listed 10 amazingly helpful apps to help you boost your efficiency and secure better deals.
Manage Your Time and Appointments
1. Traqq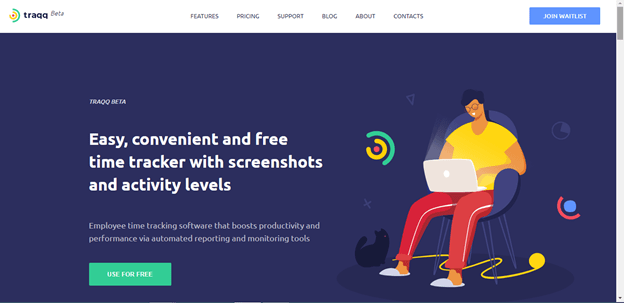 Are you looking to increase productivity? Then you need a time tracking app like Traqq to spot time killers, improve your efficiency, and prevent yourself from losing that next deal.
Traqq is a free tool that offers you a whole lot of features. Whether you are in charge of a team of real estate agents or work for an agency, you will find the app extremely useful.
Traqq helps you to monitor the number of hours worked. It enables you to send accurate invoices without the stress of carrying out extra calculations. This gives you time to focus on other things because you know that your finances are safe.
When tracking your working hours with Traqq, you can see how long you spend on each stage of the real estate process. This helps you figure out which areas to improve on to increase efficiency. By identifying the areas that slow you down, you can decide how to save time and boost productivity.
2. FreshChat
Are you looking for an easy way to convert website visitors into leads? Of course, you are - it'll mean more clients, more deals, and more sales!
With FreshChat, you get an amazing live chat service that allows you to converse with potential clients that visit your website. This tool helps you seamlessly communicate with your website visitors and avoid all the hassle of sending emails or making phone calls.
3. Contactually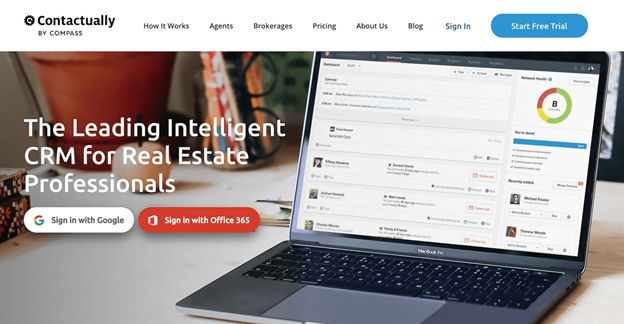 Have you ever lost the thread of a conversation after leaving the office just because you switched to a different device? Contactually, as one of the best apps for real estate agents, will help you in avoiding this.
It is CRM software built to effectively manage your communication across various devices. It achieves this by syncing your communication channels, helping you to keep track of everything.
4. Waze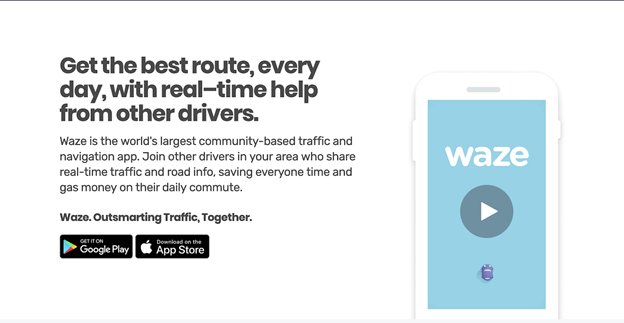 You can't close that slippery deal if you're stuck in traffic!
You need a navigation app to help you save time and beat traffic jams. With a leading navigation app like Waze, you can easily navigate through jams and closures.
Boost your productivity by finding faster routes and making your appointments on time. You don't want to tell your next appointment that you'll be late because of traffic.
Organize Your Documents
5. CamScanner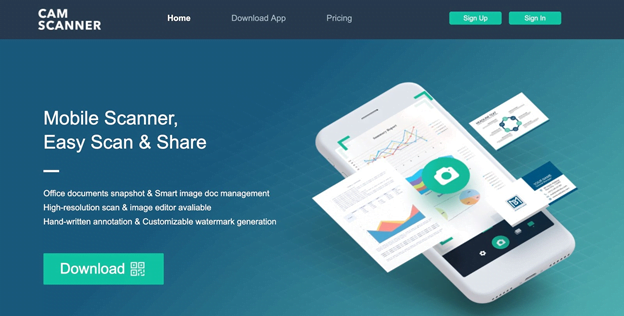 We can't list the top apps for real estate agents without including one for document scanning. You need an app to help you scan documents while on the go. CamScanner is an amazing tool for this. It allows you to use your tablet or phone to scan, edit and send documents.
This means you can conveniently send over documents no matter where you are. This is a nifty tool that will help you close those deals easily without having to go back to your office.
Say goodbye to replying "I have the contracts with me. I'll send them over once I'm in the office".
6. Dotloop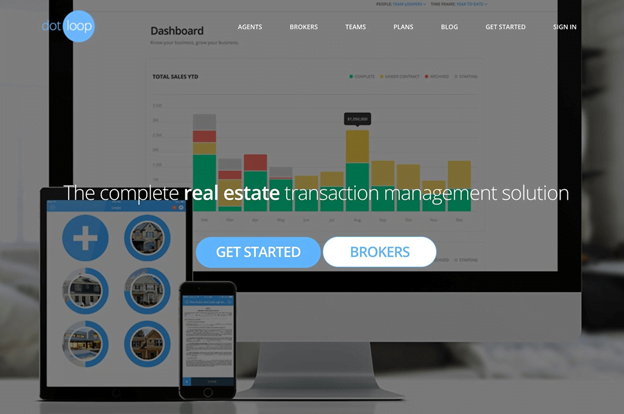 Your job as a real estate agent includes the management of legal documents. How can you do this without getting overwhelmed?
Some apps give you access to online resources. The problem with them, however, is that all your documents won't be in one place, which can make it difficult to retrieve them when needed.
Enter Dotloop! It offers you a centralized system that keeps all your documents in one place and allows you to go completely paperless.
7. DocuSign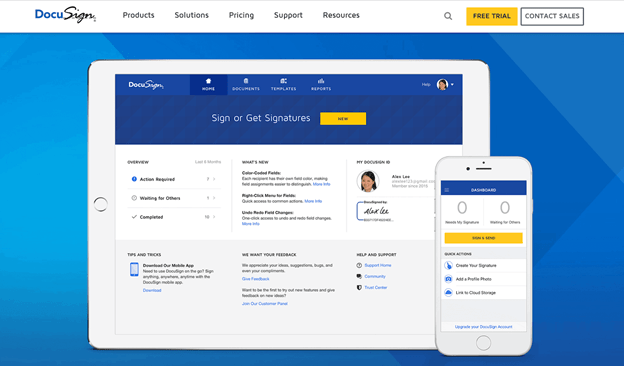 Get more done by having those contracts signed as quickly as possible!
DocuSign is the number one choice when it comes to signing documents. Imagine getting those contracts signed and closed on the spot!
DocuSign has over 200 million users. Join them and close those contracts with ease. Working 'smart' and not 'hard' is the new mantra.
8. Evernote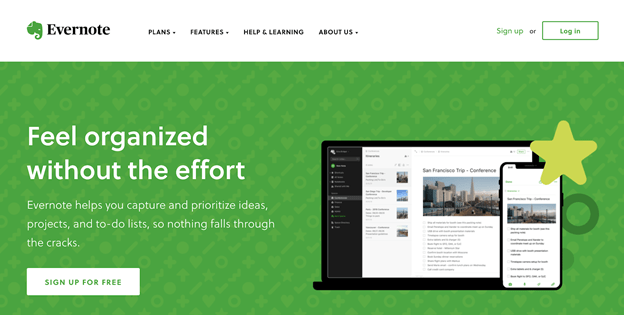 In a fast-paced world, it's easy to lose your notes while running from one place to another. If this has ever happened to you, then you completely understand how bad it feels.
Evernote is designed to keep your notes safe by storing them all in a single location. You can easily access them anywhere and anytime.
Store your notes safely, add images and links, and easily collaborate with other team members. With Evernote, you can enjoy the pleasure of accessing your notes from any of your devices no matter where you are.
Create Winning Listings
9. BoxBrownie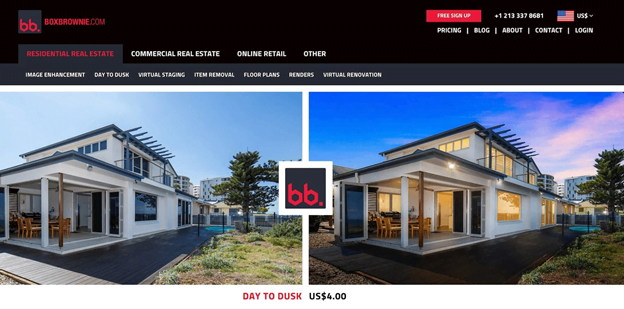 Close sales quicker with professional photography.
Can't afford to go through the hassle of looking for a professional photographer? Not to worry!
BoxBrownie is a fantastic photography tool that uses virtual staging to give your property that amazing look. It allows you to virtually furnish empty rooms, turn plans into complete mock-ups, and clear up clutter. With BoxBrownie, you can take your photos to a whole new level even if you don't have any professional experience.
The team behind BoxBrownie needs 24 to 48 hours to complete your request – it all depends on the service you choose.
10. BombBomb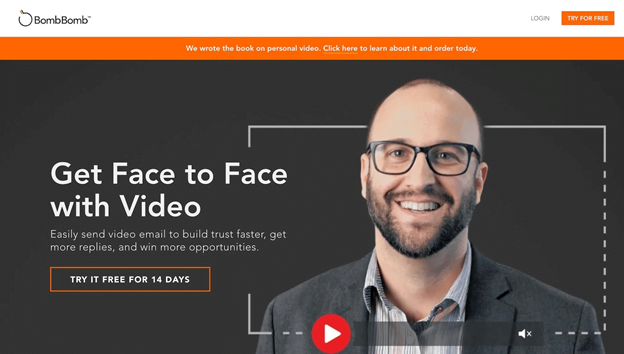 If you don't use videos for your listings, you should! By doing so, you can dramatically increase the number of listings you receive and boost your sales. In fact, 73% of homeowners are more likely to list with a real estate agent if the agent uses videos. With BombBomb, you can easily create, upload, and monitor marketing videos for property advertisements.