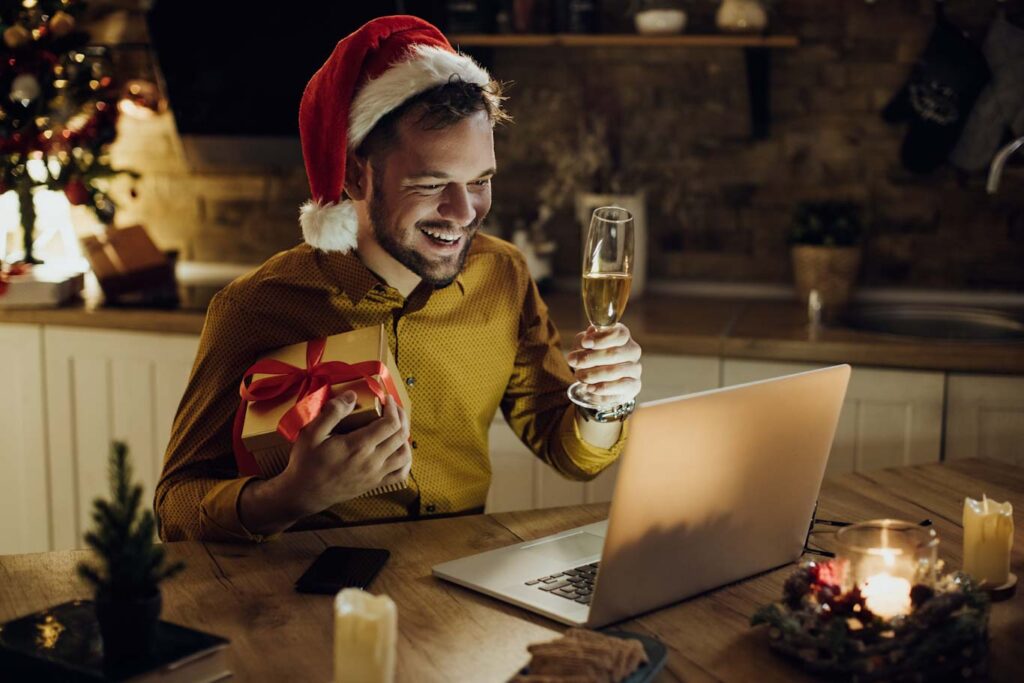 According to a Gartner survey, 74% of CFOs intend to keep about 5% of their on-site workers in permanent remote positions even after COVID-19. With more teams working from home, more employees expect an online Christmas office party this year. Alright, we know that you're cringing at the thought of another Zoom event. However, we are here to change your opinion.
In this post, we're going to share some fun and interesting Christmas party ideas for remote employees. You don't have to endure hours of your teammates dancing sloppily in front of their cameras. Your Zoom party doesn't have to involve getting too drunk to remember to switch your camera off. Here are some virtual Christmas activities that will get a geographically scattered workforce excited and engaged.
1# Virtual Party Icebreakers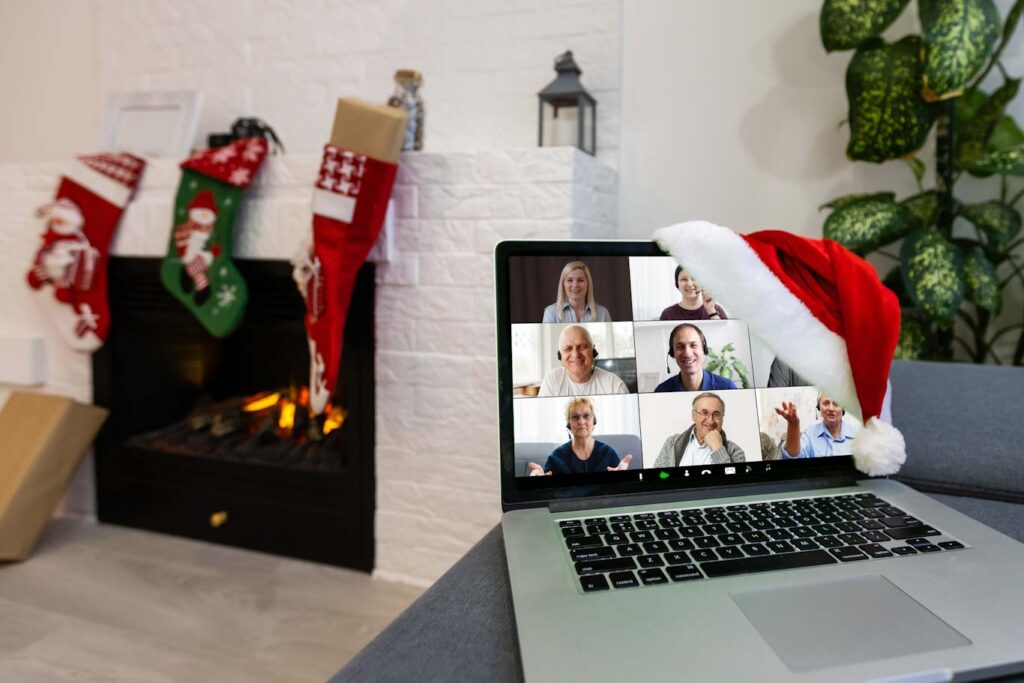 Over the past months, you've been holding meetings online. So, you probably think that having a party over Zoom would be no different. Well, that is true. However, while virtual get-togethers can entertain and unite several people, they offer limited opportunities for one-on-one conversations. As such, we recommend splitting your employees into smaller groups, allowing them to interact with each other. From there, someone can facilitate some holiday icebreakers. Here are some questions to ask:
If you were to meet Santa, what's one question you'd ask him?
What is the weirdest present you've ever received for Christmas?
What's your favorite Christmas movie?
What's one food that will always be in your Christmas spread?
If you were to end up on the naughty list, what would you be on it for?
What are interesting Christmas traditions that your family practices?
2# Team Charades
Online Christmas activities will not be complete without some good, old-fashioned charades. It's always safe to assume that some employees won't enjoy being in the spotlight. So, we suggest splitting your workers into smaller teams. You can let them guess movies, personalities, places, and songs with Christmas themes. To make it more exciting, prepare prizes that everyone will love—not those generic mugs, company pens, and keychains.
What's great about charades is that they are a team building game that will help your employees bond. There will be healthy competition, but it will surely draw some laughs. What's more, this activity will get them into the festive spirit.
3# Holiday Karaoke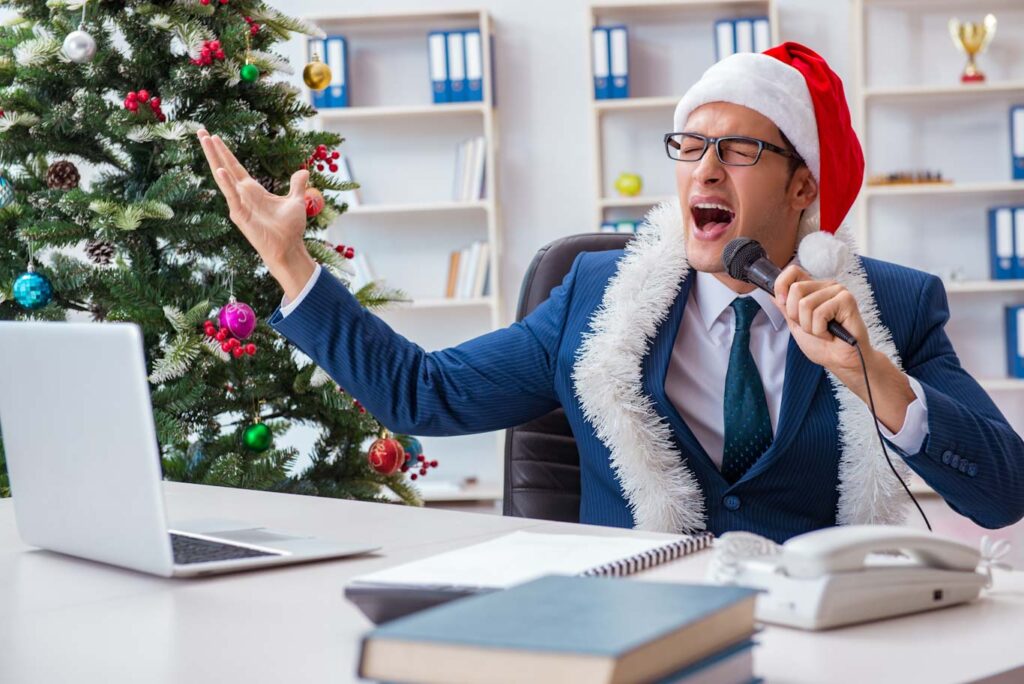 Do you want to make Zoom drinking sessions more fun? Well, throw some spirited singing into the mix! These days, there are tools that make holding an online karaoke party convenient and easy. What's more, there are plenty of online karaoke tips that will provide you with some inspiration. You can use a platform like Watch2Gether to let everyone stream YouTube karaoke videos at the same rate. Make sure you remind everyone to put their mics on mute if they're not singing or if they're talking to someone else. This way, you can manage the noise reasonably.
4# Company Holiday Cards
If you have employees all over the world, chances are they're rarely—if at all—in the same room. It's also likely that they've never taken a photo together. Well, you can use your Zoom Christmas party as a way to take a group picture. It's easy to do this because you can switch to Gallery View on the platform and capture a screenshot. To make it more fun, you can dress up in costumes while using various backgrounds with Christmas party themes. You can also ask employees to use holiday props to make the group photo more festive.
If you have a graphic artist on the team, ask them to design a wonderful Christmas card from the snapshot. Alternatively, you can use a program like Canva to do that. Email the card to the team to remind them of the fun you had at your virtual party. Meanwhile, you also have the option of turning this card-making activity into a competition. Hold a contest between different departments and give the winning team a prize.
5# Awards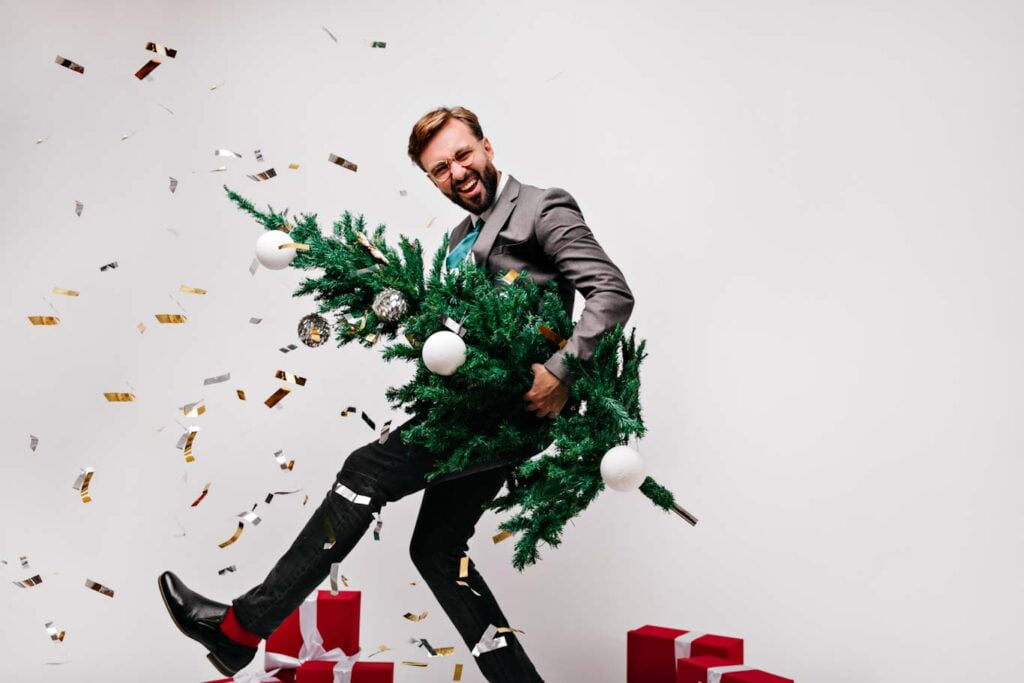 It's always a good idea to show your appreciation to your employees. Even when staff members are scattered around the world, you can still celebrate a night of glitz and glamor along with an award ceremony. Give your remote workers an allowance to purchase their snacks and drinks and have a formal event over Zoom. Take this opportunity to give rewards to the best performers. However, you can still add some harmless fun by giving out special awards like "best dressed", "most optimistic", and "best sense of humor". To get your employees engaged, you can give out online voting cards to your staff members.
What's great about this activity is it adds a whole lot of humor to your online party. What's more, it gives your employees a reason to dress up—something they've missed during months of working from home. Above all, an online awards ceremony will give your team members a moment to shine. They will feel valued, respected, and appreciated.
6# Virtual Coffee Breaks
Working with a geographically scattered team also means that you're dealing with people from different cultural backgrounds. In some countries, people make a big deal out of the Yuletide season. However, in some regions, Christmas is just an ordinary day. For instance, in Korea, this is a holiday shared between couples and not families. So, fun Christmas party games are not always the best way to go.
Sometimes, a simple gesture like a virtual coffee break over Zoom can be much appreciated. You can set aside a couple of hours in a working day just to let your employees bond over this hot drink. What's great about this is packets of coffee can fit into mailing envelopes. So, you can send them to your remote workers. If you want, you can give your staff a treat by mailing them a gift box. It can contain cookie batons, artisan marshmallows, hazelnut spread, or chocolate shavings.
You can prepare conversation topics. Here are some ideas:
How Christmas Eve is spent in their country
What they do during the winter season
What their earliest Christmas memories are
What their favorite things about Christmas are
Since this is just a coffee break, you still need to keep the team on schedule. To help you with this, we recommend using a reliable time tracker. You can use Traqq to monitor the hours you will spend on extracurricular activities. All you need to do is switch on the tracker and the tool will do the rest. It will automatically identify the coffee break over Zoom as a work-related activity.
7# Secret Santa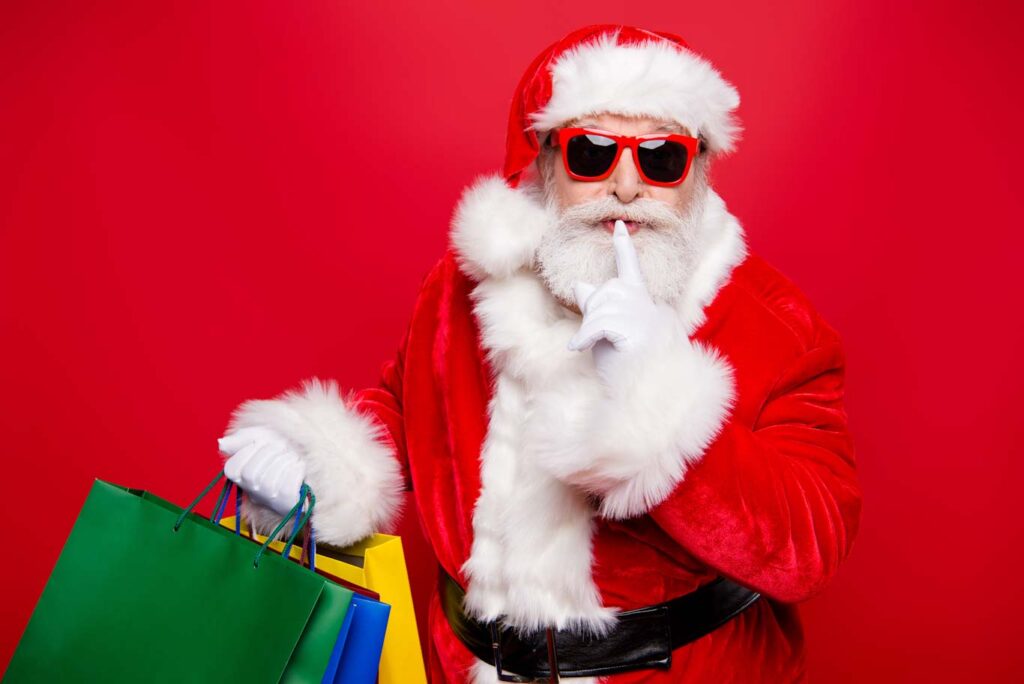 Of course, Secret Santa is always a good Christmas party idea. Recapture the fun of having a holiday event with an exchange of gifts in the office. To hold a virtual Secret Santa event, you'll need a platform like Elfster. You can use this site to send invites to the participants. Once they register, they can create their wish list and even share gift ideas. Participants can mail their presents or order online. Then, at the Zoom Christmas party, they can open the gifts together.
There's a personal and tactile element to giving physical gifts. However, given the nature of remote work, you should also open the option of giving virtual presents. Let them choose internet subscriptions or online gift cards. This way, they can get a gift that they will truly appreciate.
Is a Christmas Party Still a Good Idea This Year?
Last year, mass Christmas party gatherings were not out of the ordinary. However, just the mere suggestion of organizing one these days would raise eyebrows. Indeed, the pandemic has changed the way we live, but despite that, we can still have fun while adapting to the circumstances. Here are some of the reasons why having an online Christmas party is a great idea:
It can bond your team together. Even if your employees live in the same city, chances are they won't make it to a Christmas party held at a physical location. A Zoom holiday event, meanwhile, will help your team members strengthen their bonds while they are in the comforts of their homes.
There are plenty of activities to choose from. We understand that while our list is detailed, it is not an exhaustive one. What's great about a virtual party is the activities you can engage in are almost endless. Indeed, you will have no trouble finding options for online Christmas fun.
The event is extremely flexible. You will save your employees the trouble of preparing for a physical holiday event. Aside from that, if anything comes up, you will still have the freedom to change the date. After all, you don't have to reserve a place for the event or hire a food caterer.
Conclusion
Just because the pandemic has forced us to work from home, it doesn't mean that we can't celebrate the holidays with our colleagues. It is up to us to adapt to the change and find ways to make the festive season meaningful and fun.