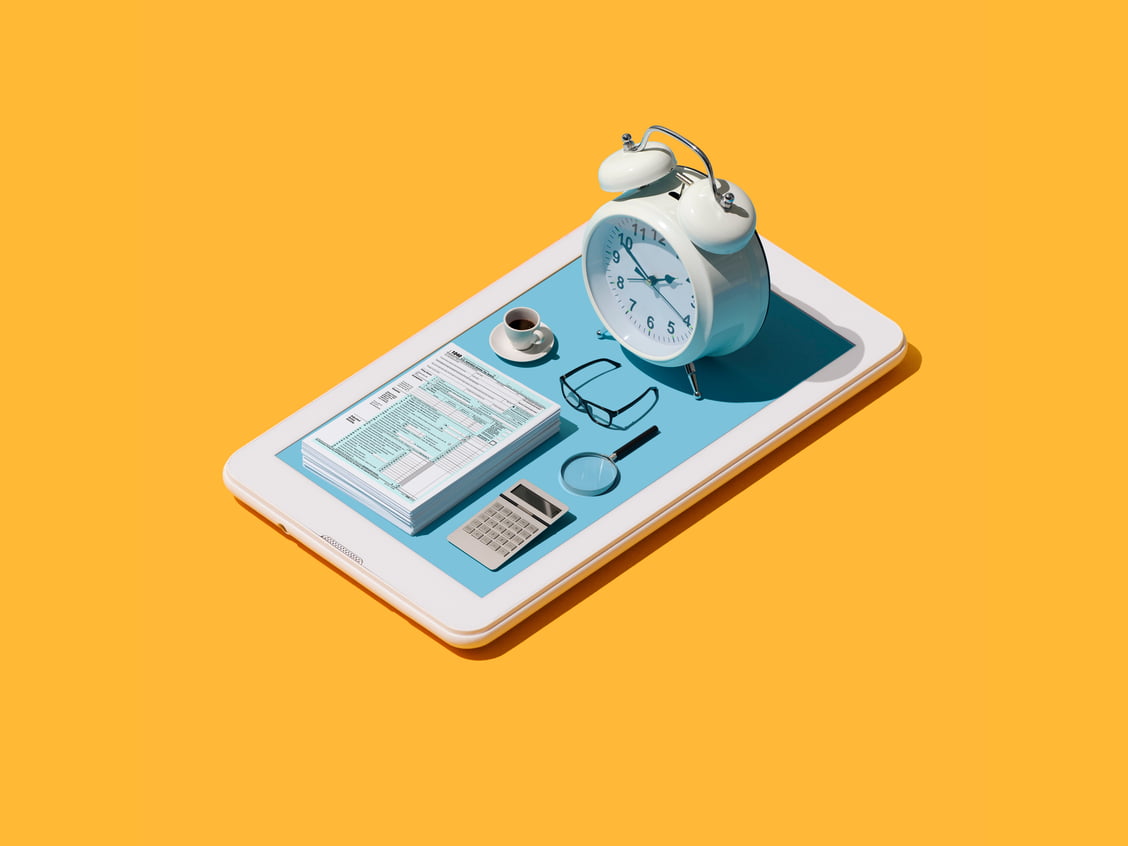 Your time management tool could be your greatest ally or worst liability. Choosing the right program for yourself or your business means you will get more work done in less time, essentially boosting your productivity.
So, you can't just blindly pick any application and expect it to be the magical answer to all your time management and productivity needs.
You must assess your needs and find a program that addresses them.
Thankfully, there are many options available in 2023, and by carefully evaluating them, you can hit the mark.
We have compiled a list of the best time management apps for various purposes in 2023.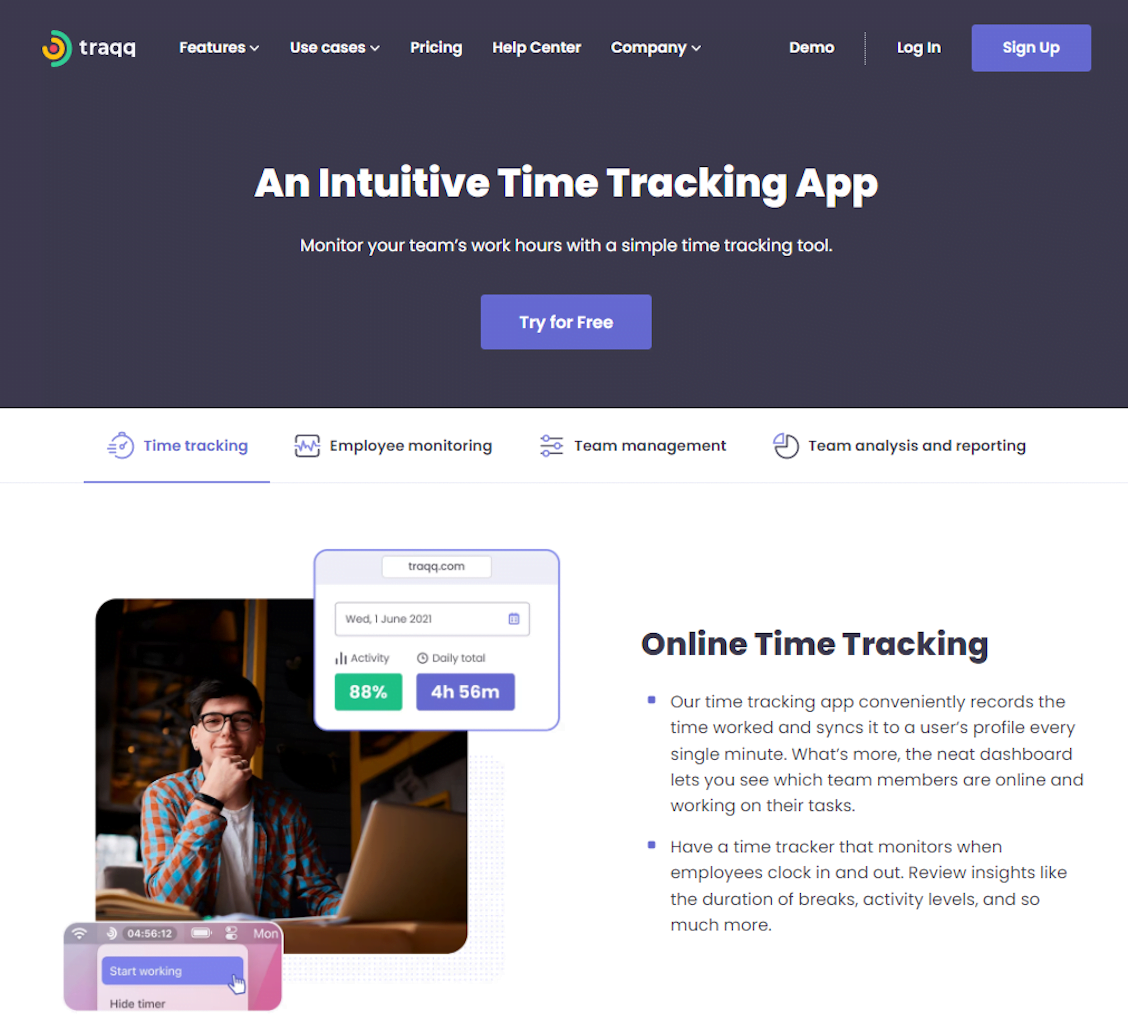 Privacy is among the main concerns that make employees uncomfortable with any form of monitoring, especially time tracking. Since most time trackers collect data, such as keystrokes, screenshots, screen records, and app usage, workers tend to feel uneasy using these tools.
If you want to help your employees manage time better without worrying about privacy, then Traqq is the solution. The time tracker focuses on implementing features that ensure employee data remain private.
For example, one of its notable features involves blurring out screenshots and screen records so that no one can see the contents of a user's screen.
That said, Traqq is more than just its privacy features. It's also an effective time management tool that allows you to calculate billable hours, measure productivity, and optimize workload management. Removing the hassle and extra jobs of creating timesheets and invoices means you and your workers will have more time to focus on other jobs.
Features and Benefits:
Available for Windows, macOS, and web browsers.
Automated notifications and alerts to make sure every billable minute is accounted for.
Export timesheets as CSV and PDF files.
URL and App monitoring.
Manual time entries.
Invoicing.
Enjoy every premium feature for free with fewer than 3 users.
Online and offline time tracking.
Productivity monitoring.
Compromises
Lacks third-party integrations.
Can't export screenshots.
Plans
Traqq offers a Premium Starter plan that includes all Premium features at no cost for up to three users. The Premium Teams plan, which can support up to 100 users, is available for $6 per user, per month. For organizations with more than 100 users, Traqq's Enterprise plan can be customized by the sales team. Additionally, Traqq is a useful option for freelancers looking for free time-tracking software.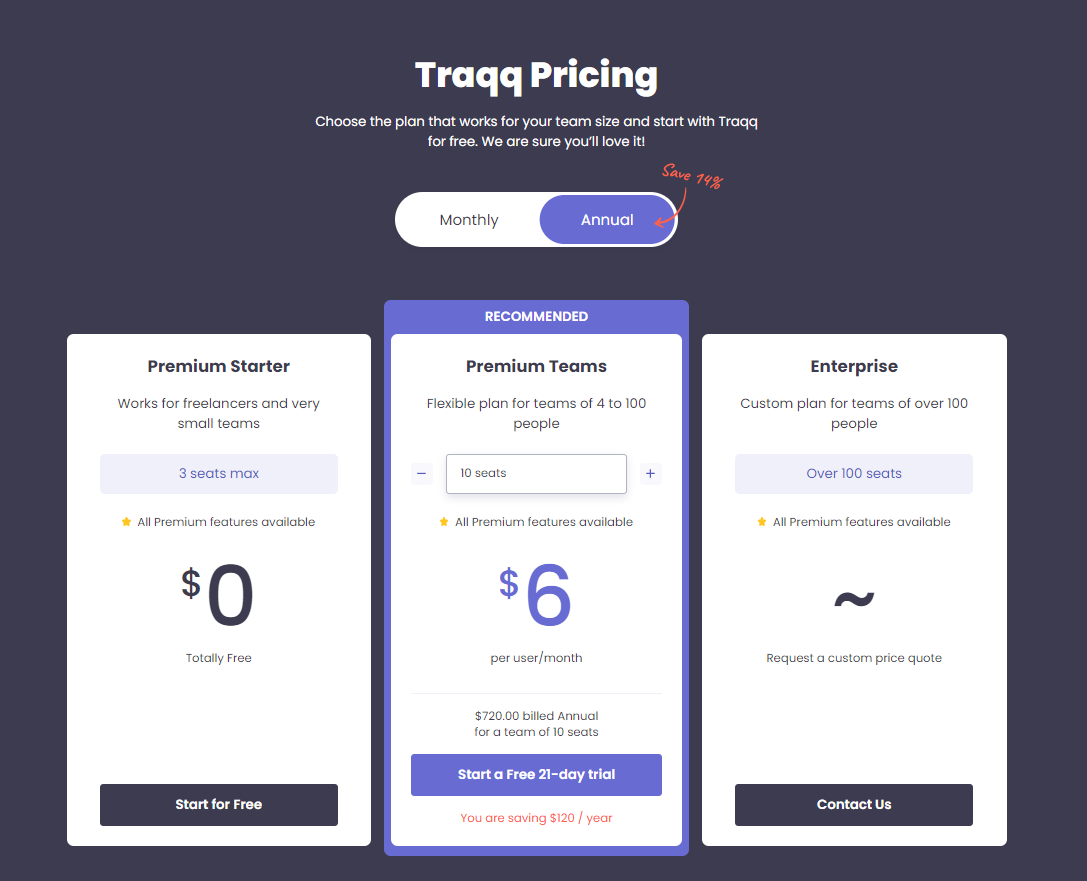 Todoist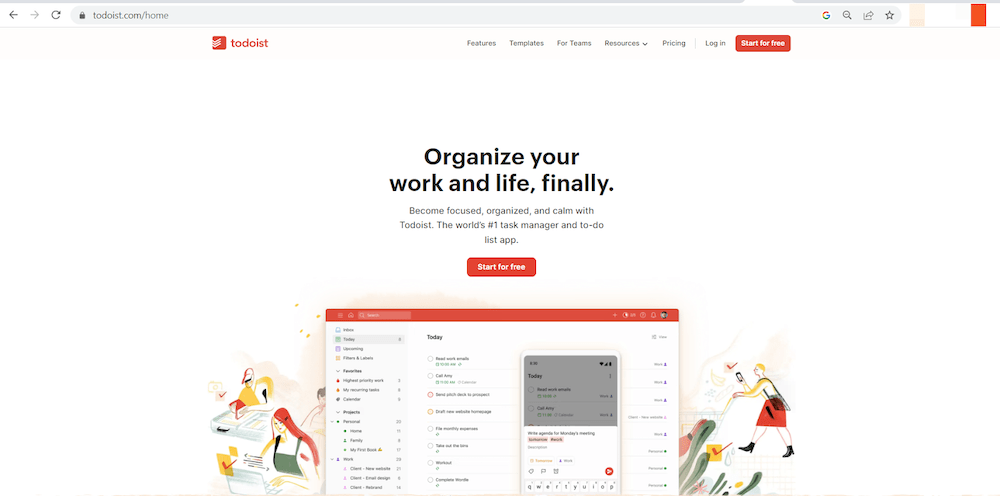 Todoist is one of the most popular time management apps around. It offers a wide range of features for both personal and professional use.
Its development began in 2007, and over the years it has seen improvements geared towards making life easier for its users.
The tool allows you to easily create, track and manage tasks, delegate tasks to others, and see all your tasks in one place, making it easier to prioritize and communicate. You can also break tasks into smaller pieces (subtasks) to make them more manageable.
It also offers a free version, but it has limited features, so most users opt for the Pro membership which costs $3 per month or $5 per month for business use. The app is available on various devices such as iOS, Android, macOS, Windows and more, allowing for a seamless experience across all devices.
Features and Benefits:
Integration with other apps and platforms, such as Google Calendar, Slack, and Alexa.
Available on multiple platforms, including web, mobile (iOS and Android), and desktop (Windows, Mac, and Linux).
Natural language input for quickly adding tasks.
Task labels and filters for easy organization and prioritization.
Task scheduling and reminders.
Compromises
Customizations are not easy to implement.
The free tier only gets one-week activity history.
Plans
Todoist offers a range of pricing options, including a free version, a Pro tier at $5 monthly or $48 annually, and a Business package at $8 monthly per user or $72 annually per user. Discounts are available for non-profit organizations, educators, and students. It's worth noting that the prices for annual subscriptions have increased by over 30% since early 2021, though they are still considered fair in comparison to other similar services.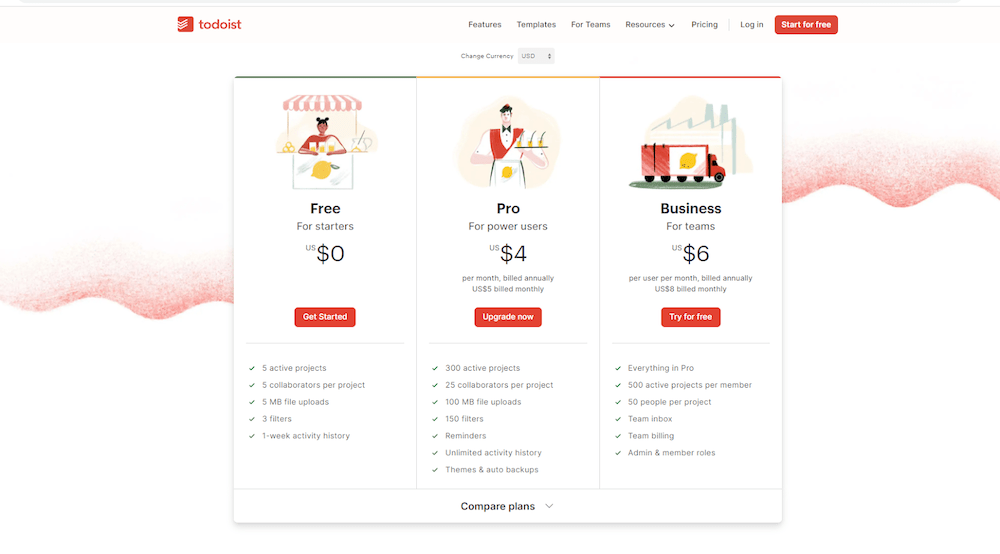 Toggl Plan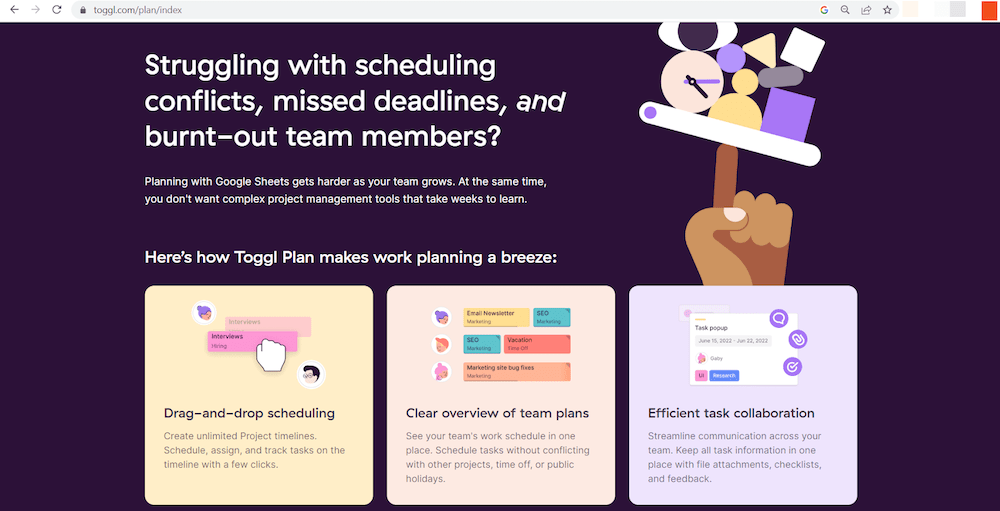 Toggl Plan is a powerful task management app that enables users to optimize their time management strategies and effectively manage their tasks.
It is trusted by thousands of global companies, including Spotify, Airbnb, Netflix, and Stripe.
The tool is known for its user-friendly interface, which makes it easy for users to assign deadlines, set up new tasks, add notes, estimate the time required for each task, and create checklists for each step.
The feature-rich app is considered one of the best time management software programs as a result.
It helps users to save time and work more efficiently by allowing them to prioritize their tasks, track their progress, and set reminders.
What's more, Toggl Plan's integration with other apps and platforms such as Google Calendar, Asana, and Trello allows for seamless collaboration and communication with team members. Whether you are a small business owner or a freelancer, Toggl Plan is an essential tool that can help you to stay organized and achieve your goals.
Features and Benefits:
Integrates seamlessly with Toggl Track.
You can view work in board and timeline views.
Recurring tasks.
Project data exports
Team timelines
Compromises
The free trial only runs for 14 days.
Lacks task dependencies.
The user interface can be challenging to navigate and understand.
Plans
Toggl Plan offers three levels of service: a free Solo plan, a Team plan at $9 per user per month, and a Business plan at $15 per person per month. If you choose to pay annually, you will receive a 10% discount on any of the paid plans. Additionally, there is a 14-day trial of the Business plan available, and no credit or debit card is required to sign up.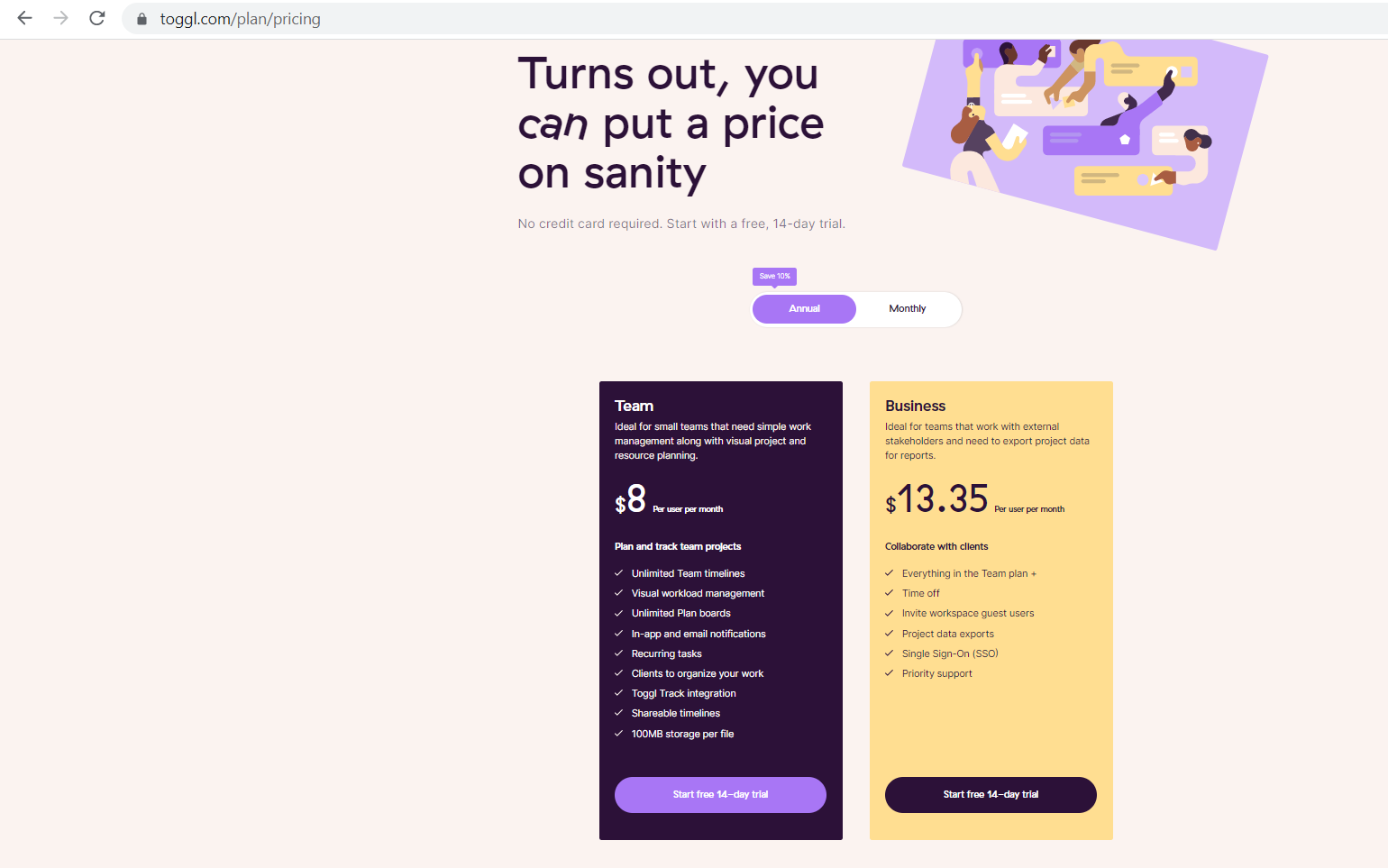 Google Calendar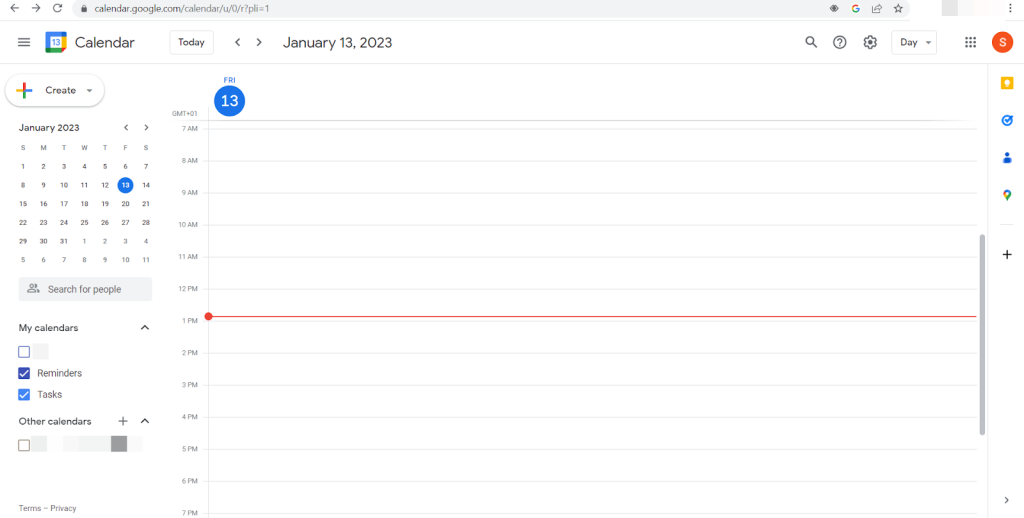 Google Calendar, like many other Google services, is free. However, business users may benefit from upgrading to the Google Business Account program, which offers additional features for sharing calendars with others.
The main limitations of the free version are related to collaboration, such as the inability to edit a calendar that is shared with others. That said, the free tier will most likely serve individuals who need the app for personal use.
The app has a simple, organized interface that aligns with Google's design culture. Although some users may find the visual design minimal, it effectively conveys the right information. Google Calendar's web version offers similar functionality, however, there are some distinctions such as creating new calendars.
Features and Benefits:
Easily sync your calendar across different platforms using your Google account.
Share schedules with family, friends, and colleagues.
Create separate calendars to schedule and manage events.
Add attachments.
Set multiple reminders.
Sync with other platforms such as project management, time tracking, and communication tools.
Compromises
You won't enjoy customer support as a free user.
You can only create new calendars with a computer.
Plans
Google Calendar is completely free. However, you can go for a Google Workspace plan (covers other Google products) if you want advanced features targeted at businesses.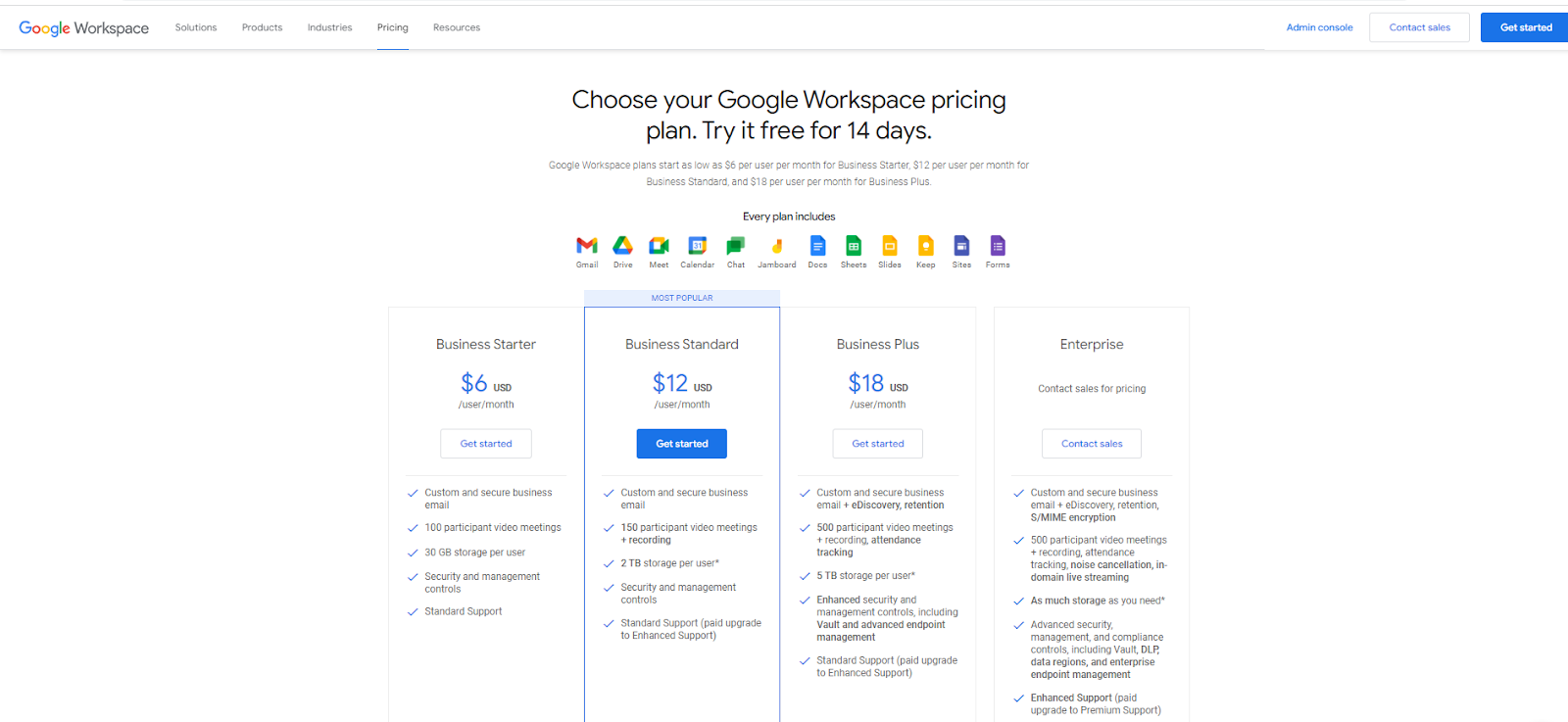 Habitica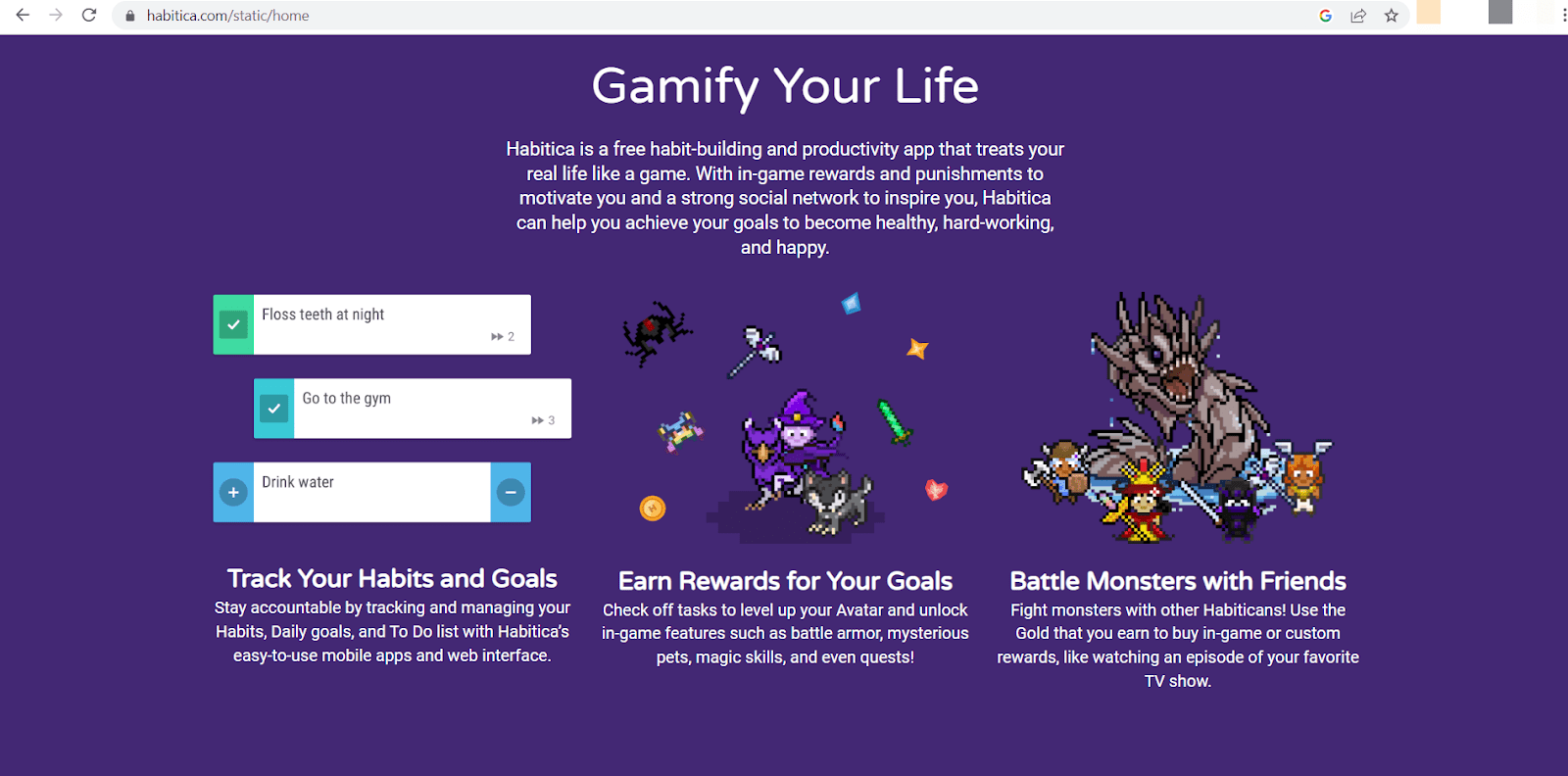 Habitica is a task management tool that helps users to organize their tasks and to-do lists. It is a web-based application that allows users to set reminders, create recurring tasks, and track progress on tasks.
The tool also includes features such as gamification elements to make the task management process more engaging and interactive. Users can also collaborate with others, share tasks and projects and track their progress.
Features and Benefits:
Track task progress.
Set priorities.
Customize task lists, projects, and boards.
Integrates with other applications such as Google Calendar and Trello.
Habitica is completely free.
Compromises
Not everyone is a fan of the gamification element.
You must unlock tiers by completing tasks.
Plans
Habitica has no plans and is completely free.
Freedom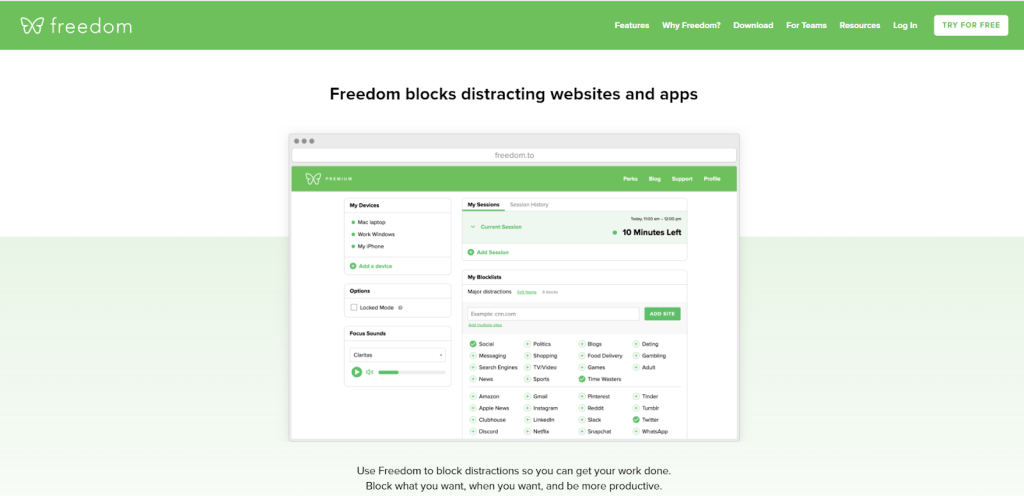 Distractions are among the biggest threats to time management and productivity. One social media session is often all it takes to derail your schedule and render an entire workday unproductive.
Freedom's main purpose is to help you keep such distractions away. You can use the tool to block websites and apps that steal your focus from work. You can even block yourself from accessing the entire Internet when you need to deeply focus on something online.
But that's not all. You can create what is called "Focus Sessions" and schedule how you use your time during that period. This feature essentially makes Freedom a genuine time management tool.
Features and Benefits:
Schedule future sessions where apps and websites on your list are automatically blocked once the session starts.
Block distractions and schedule sessions across different platforms, including Chrome, Android, Windows, iOS, and macOS.
Website exceptions allow you to block every website except the ones you need for work.
Ambient sound for increased focus.
Keep session records and use annotations for each session.
Compromises
Ambient sound is only available for browsers.
The trial run only lasts seven sessions.
You'll need to grant the app too many permissions on your mobile devices.
Plans
It's difficult to say Freedom has a free plan since the trial run only lasts for seven sessions. After those sessions, you have to pay to continue using the app.
If you want to try the tool for a month, you have to pay the $8.99 monthly fee. The annual fee is rather generous, as you'll be charged $3.3 per month.
That said, there's a one-time fee of $129.99 to $159.99. However, you may be lucky to get great discounts from time to time.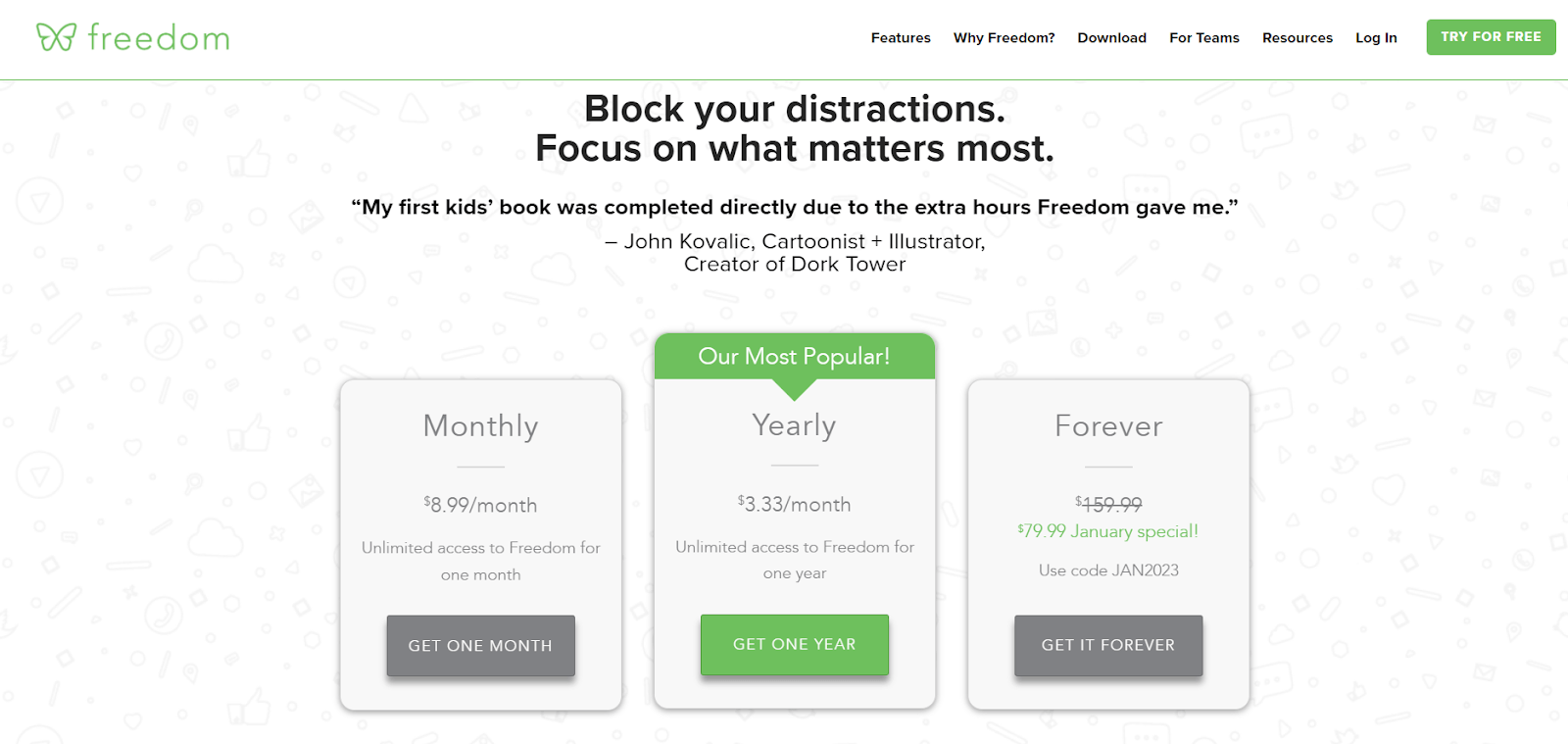 Any.do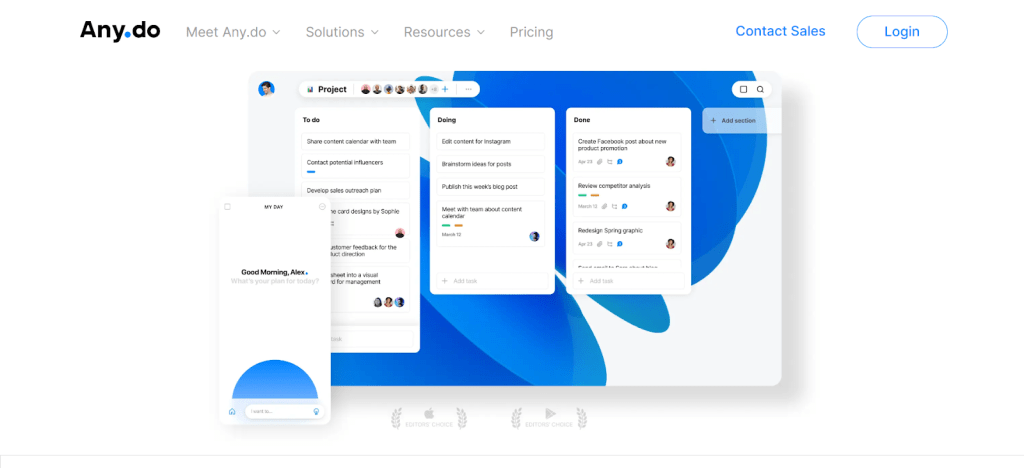 Any.do is a powerful to-do list app that provides an array of tools and features to help users stay organized and on top of their daily tasks. Whether you're an individual looking to stay on track or a team trying to collaborate on projects, the time management tool has something to offer.
One of the most useful features of Any.do for teams is the ability to create and assign tasks to multiple team members. This allows teams to plan and organize tasks together, ensuring that everyone is on the same page and working towards the same goals.
Additionally, Any.do also has project management features that allow individuals and teams to track progress and deadlines, making it an ideal solution for managing larger, long-term projects.
Another great feature of Any.do is the ability to integrate with other apps and services. This capability allows users to easily connect their calendars, email, and other tools to Any.do.
Any.do for individuals offers a list-based interface for organizing your life, with reminders and a calendar for scheduling appointments and events.
Features and Benefits:
It is available on different platforms, including Android, iOS, Windows, Mac, and web browsers. You can also use it on smartwatches such as Apple Watch and Wear OS.
Group tasks by category and date using the task categorization feature.
Smart Suggestion allows you to quickly create tasks by completing the task name as you type.
Enhance task visualization with photos and videos for added context and detail.
Differentiate tasks with color tags.
Receive WhatsApp reminders for important deadlines and tasks.
Modify tasks at any time.
Organize tasks with priorities, labels, filters, and due dates.
Compromises
User interface and general functionalities may take time to learn.
The free version is quite limited and restrictive.
Unimpressive customer support.
Plans
To enjoy advanced features, you have to go for the premium package which costs $5.99 per month. You get to pay $4.49 per month for the 6-month plan and $2.99 per month for the annual plan.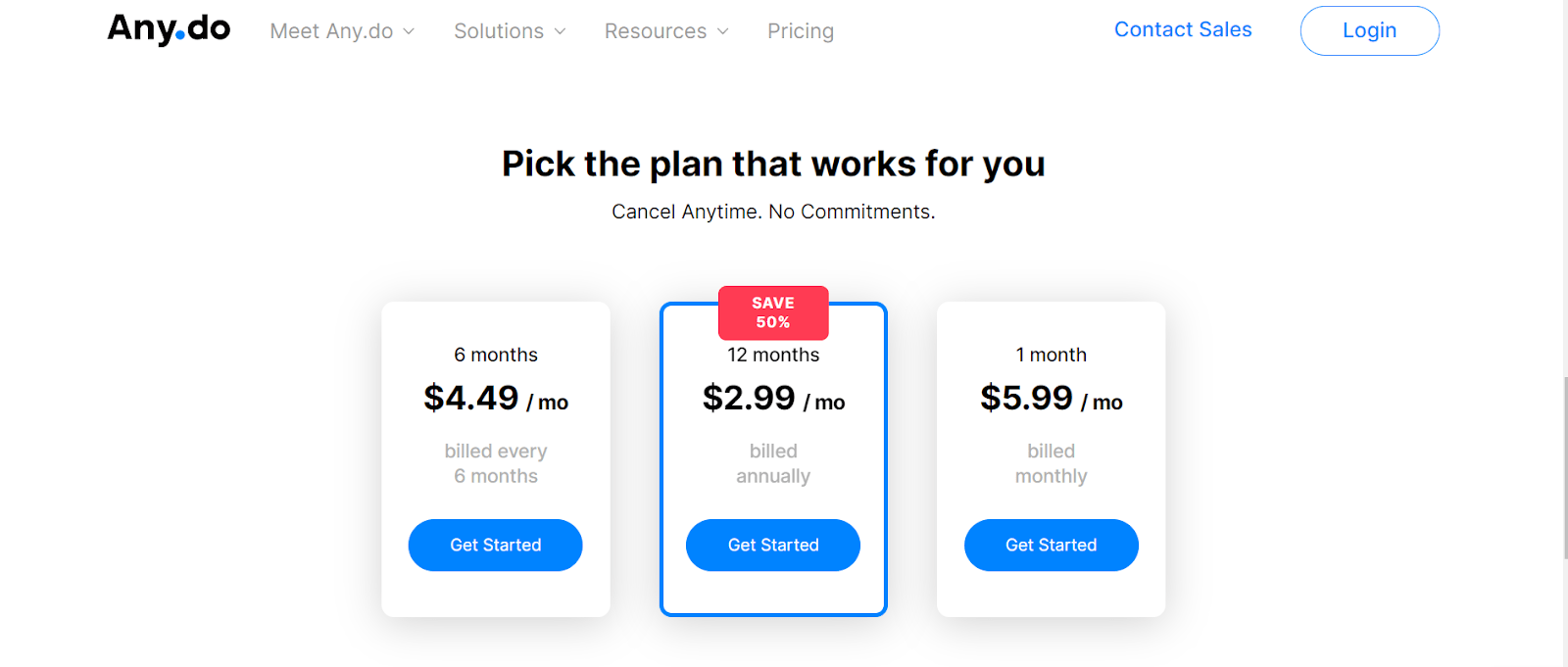 nTask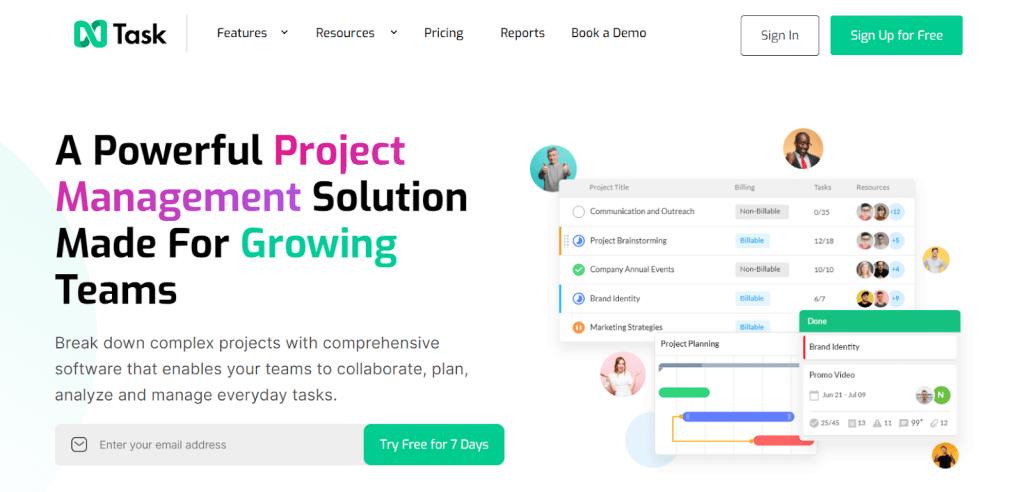 nTask is quite the newcomer in the time and task management space. That said, it has quickly established itself as one of the best in its category.
The tool's free plan offers a comprehensive feature set, making it a solid option for those looking for a reliable time management tool.
However, nTask is more than just a simple task listing app, it offers a wide range of features that also make it a robust project management tool. These features include risk management, Kanban boards, and Gantt charts, which are typically found in more advanced project management software.
These capabilities make it an excellent choice for businesses, teams, and individuals who require more advanced tools to manage their projects and tasks.
Features and Benefits:
Optimize your workday by scheduling recurring activities and tasks.
Utilize Gantt charts and Kanban boards to visualize and organize tasks.
Streamline your workflow by integrating with platforms such as Slack and Google Calendar.
Collaborate with others by adding comments and sharing tasks.
Keep track of any random thoughts or ideas with the built-in note-taking tool.
Break down large projects and tasks by creating subtasks.
Move tasks with ease using drag-and-drop task cards.
Compromises
Reporting features are not robust.
The support team may fall short of fast replies.
Slow speeds for file attachment.
The paid plan has limited features.
The business plan is not pocket-friendly.
Plans
To access nTask's best features, you must subscribe to the premium plan at a cost of $3 per month, which is billed annually.
However, the premium plan lacks certain advanced risk, project, and team management capabilities. Getting those features means you have to subscribe to the Business plan, which costs $8 per month and is billed annually. You'll have to get in touch with the company for the enterprise plan.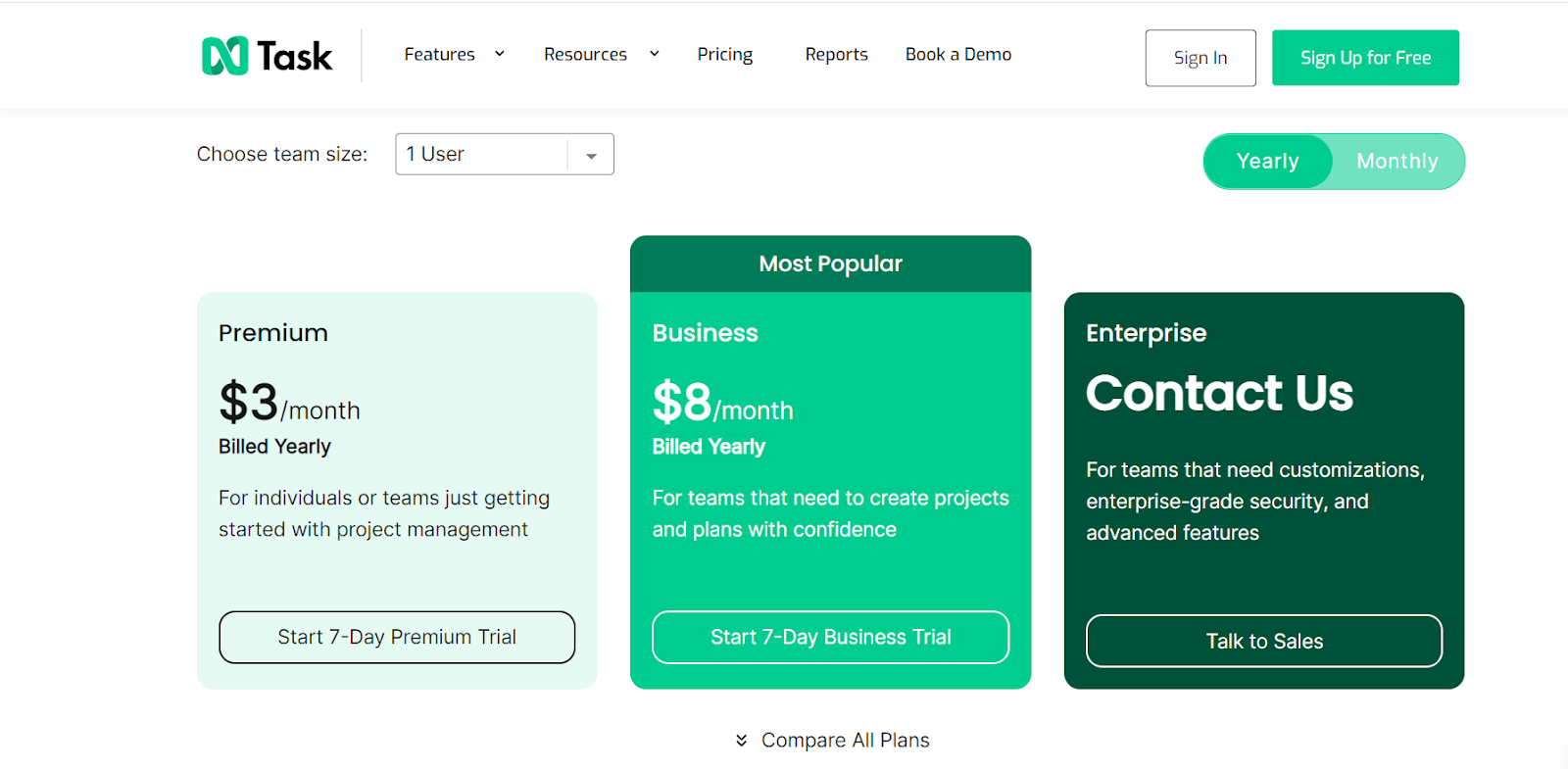 RescueTime
RescueTime is a tool that tracks your device usage and provides detailed reports on the apps, websites, and files you interact with. It works more as a tool that shows you how you spend your time than a time tracker.
You can't use it to calculate billable hours or create invoices. Instead, it automatically keeps tabs on everything you do to give you a complete report of where and how you used your time.
It uses that data to suggest how you should work by giving you a daily focus. It also has a feature called Focus Session. During a session, the tool blocks out every other distracting application and website so you can focus on work.
You can install it on your computer and mobile devices and it runs automatically in the background.
The app has customizable settings that allow you to turn it on and off, or specify certain days and hours for it to run. It also includes a built-in pause button with preset options for 15 minutes and one hour, allowing you to temporarily stop tracking during breaks.
Features and Benefits
Available for Windows, Linux, Mac, Web, Android, and iOS.
Block distractions, idle time monitoring, focus boosting, and alerts.
In-depth reports with impressive visualization and graphs of information such as unproductive and productive tasks, goals, and idle time.
Integration with third-party platforms such as Google Calendar, Slack, and Evernote.
Compromises
The paid plan is quite pricey.
It doesn't calculate billable hours.
No invoicing or reporting features.
Plans
RescueTime offers you a free trial that runs for 2 weeks. After that, you'll be expected to pay from $6.50. You can also choose between using the legacy RescurTime application or the new one.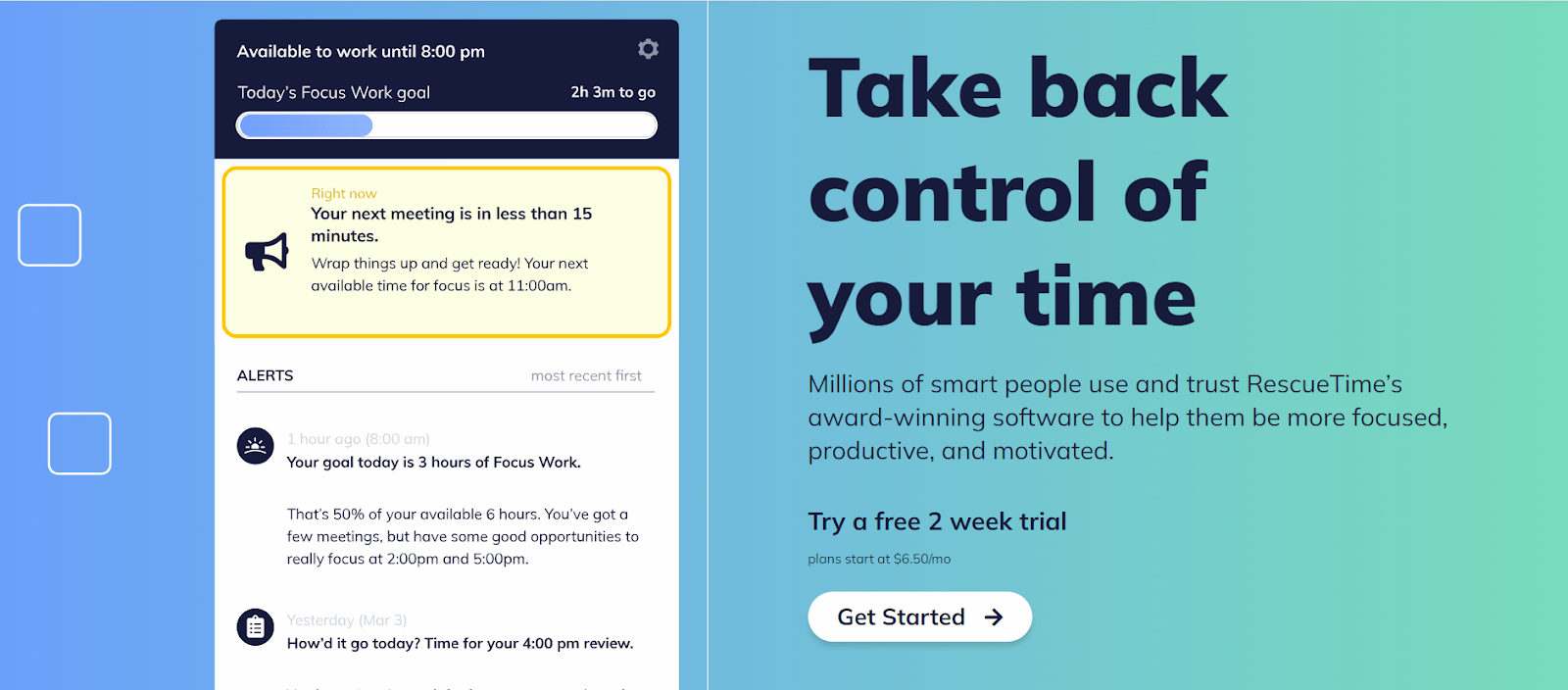 Asana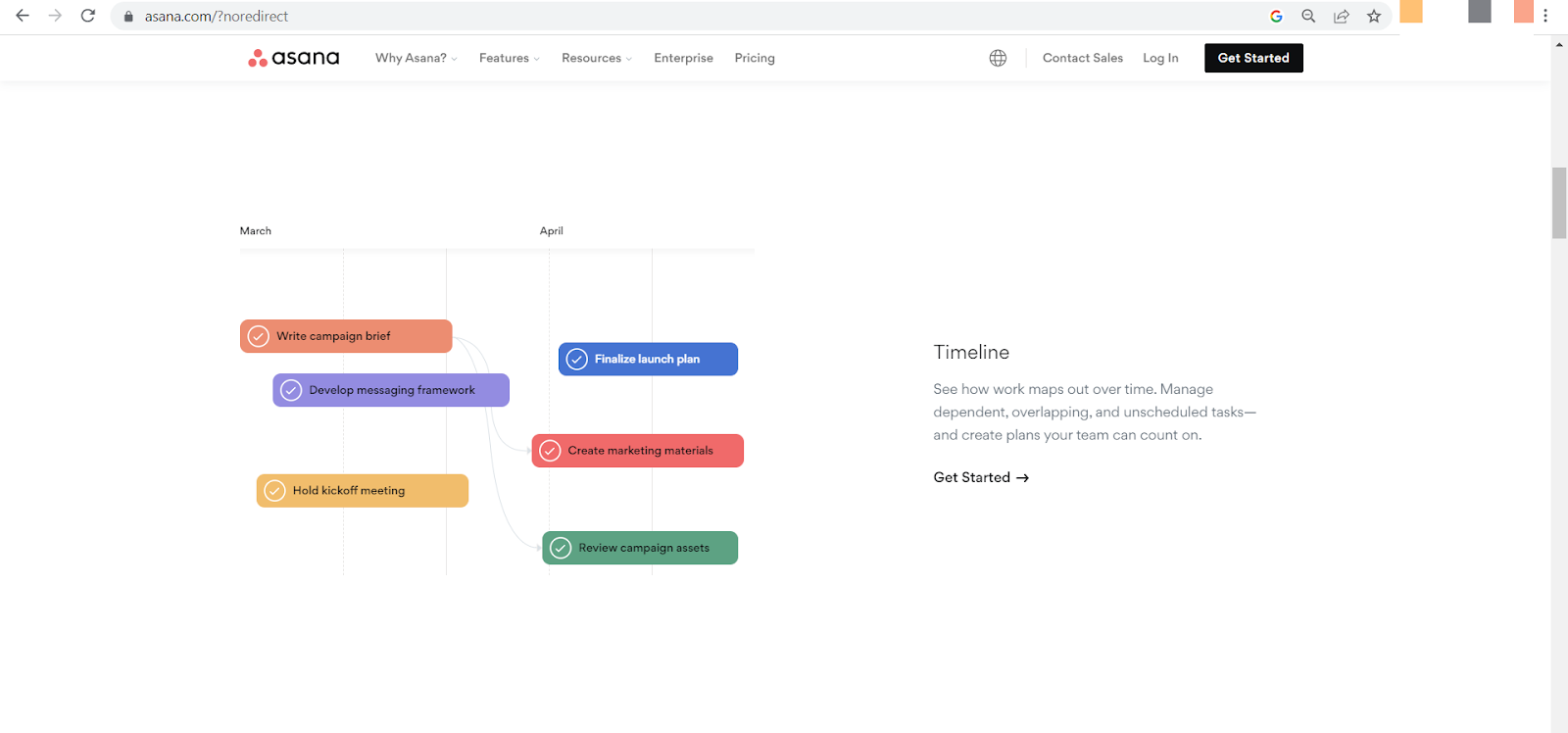 Asana is a great tool for managing tasks and working collaboratively with a team. It's not as focused on project management and time tracking as some other software options. As a result, it may not be the best fit for larger, more complex projects that require a lot of time tracking.
But if you're looking for a way to easily assign tasks, keep track of who's working on what, and stay organized as a team, Asana is definitely worth checking out.
The interface is user-friendly and intuitive, so it's easy to get started even if you're not a tech expert. Plus, there are plenty of apps and integrations available that can help you connect Asana with other tools you're already using.
Features and Benefits:
Has Android, web, iOS, macOS, and Windows applications.
Keyboard shortcuts to improve the user experience and functionality.
Set configurations for other platforms that Asana integrates with.
Use a Kanban board view.
Use task tracking to keep your day organized.
Compromises
Setting up the tool may come with some challenges.
Exporting functionality is limited.
The numerous features can be confusing.
Plans
Asana offers four different service plans to choose from. The Basic plan is free, while the Premium plan costs $13.49 per person per month (10.99 if billed annually). The Business plan is priced at $30.49 per person per month (24.99 if billed annually), and the Enterprise plan is available upon request. Additionally, if you choose to pay annually, you'll receive a discount on your plan.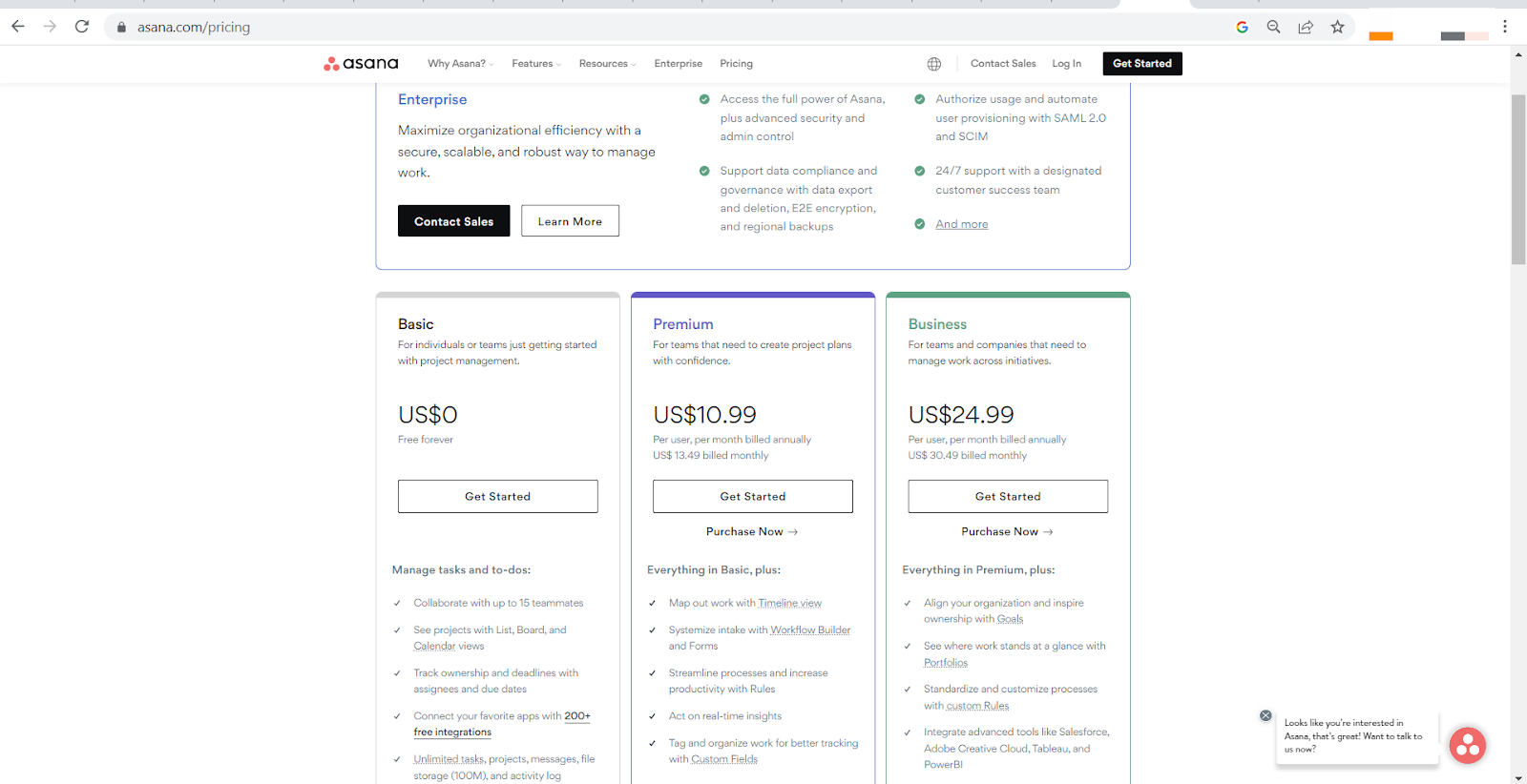 Conclusion
Finding the right time management tool that fits your schedule and work pattern will make your life easier in so many ways.
However, a tool won't have any impact on your productivity unless you use it right. Employ effective time management techniques and always make sure you stick to the schedules you create.