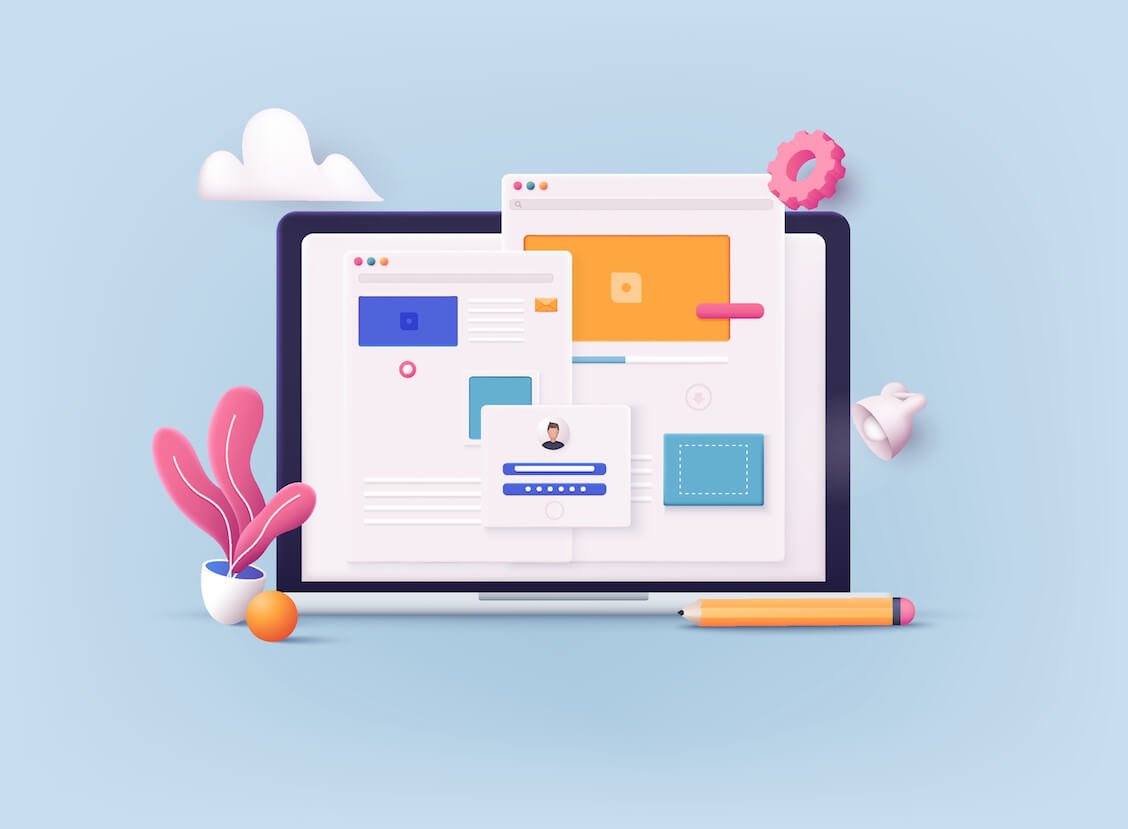 Ideas, no matter how silly, can be the birth of something great for your organization. They power the success of your business, and with more than half of professionals wanting to work from home, traditional brainstorming sessions won't cut it.
That's where brainstorming online tools come in handy. These tools facilitate seamless brainstorming sessions, allowing teams to create, organize and keep track of ideas.
And as research by Deloitte shows, when teams collaborate, 60 percent are more innovative, 73 percent do better work, and work 15 percent faster.
If you want to take your team's productivity and creativity to the next level, it's time to switch things up with some of these amazing online brainstorming tools.
10 Best Brainstorming Online Tools to Boost Your Team's Productivity
Mind Mapping Software
Mind mapping welcomes you to an exciting world where you can visualize ideas and connect them with ease. These are some of the best mind-mapping tools for your teams.
1. MindMeister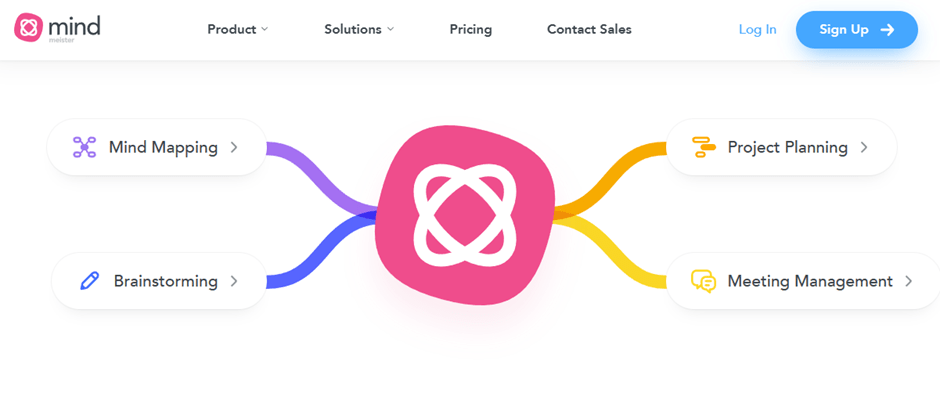 MindMeister is a cloud-based mind-mapping tool designed to help you generate, gather, and organize your ideas in a hierarchical structure. The software provides all the necessary components to support seamless and streamlined innovation and collaboration in real-time.
MindMeister automatically aligns nodes, enabling teams to create mind maps faster and easier. Participants can exchange ideas or discuss any changes using a live chat, making it a great tool for teams working remotely.
Since it's cloud-based, you and your teams can create, share, and present ideas inside a web browser. What's more, the platform integrates with MeisterTask, a feature that enables you to synchronize between mind maps and the agile project board, which can help you improve project management.
However, with its basic subscription, you're only limited to three mind maps and no ability to upload attachments or images.
Main Features
Expertly designed themes
Templates
Attachment feature
Commenting and Brainstorming Mode for team collaboration
Integrations and embeds, including Google Workspace, MeisterTask, Meister Notes, and MS Teams
Pricing
Basic – free
Personal – $3.49 per month
Pro – $5.49 per month
Business – $8.49 per month
2. XMind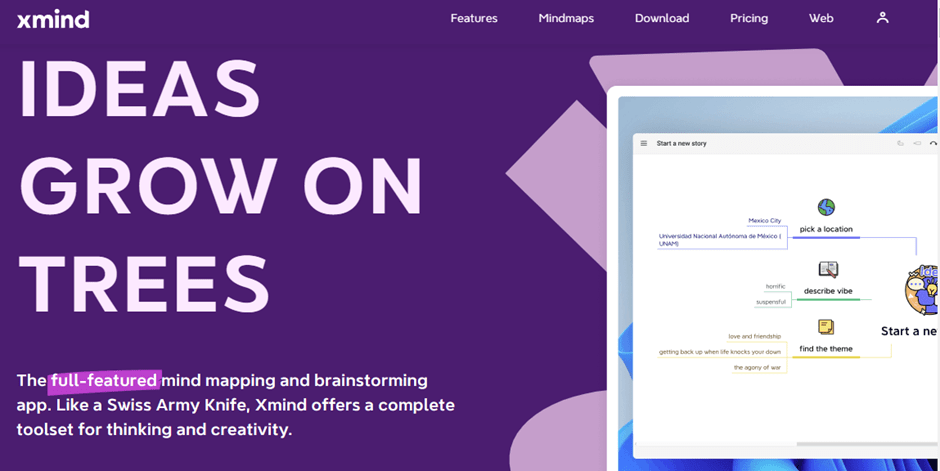 If you're looking for an open-source brainstorming app, check out XMind. The tool gathers and organizes your ideas logically, making it easy to discover trends, patterns, or priorities. The company compares XMind to a Swiss Army Knife, terming it a "full-featured mind mapping and brainstorming app."
And true to their word, XMind comes loaded with features that spark creativity and enable users to create mind maps for just about anything. You'll like its color themes for better customization as well as structures and tools that empower your thinking process.
One downside of XMind is the limited features and functionalities in the free version.
Main Features
Smart color scheme and style
Hand-drawn style
Stickers and illustrations
Structures like Tree Chart, Timeline, Fishbone, Tree Chart, and Matrix
Mind Toolbox
Zen Mode
Pricing
Free Plan
Pro Plan – $5.99 per month (monthly) / $59.99 per year (annually)
3. Lucidchart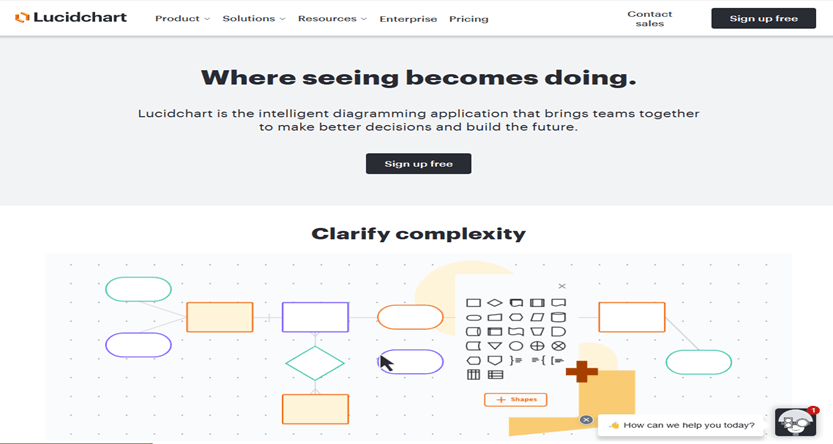 Lucidchart helps you capture all of your team's ideas from a brainstorming session with professional diagrams. What sets it apart from other online tools for brainstorming is the plethora of functionality, even for its free tier, including an expansive template library.
Users can use its virtual whiteboards to note down ideas quickly. It also supports drag-and-drop functionality and real-time collaboration, and since it's web-based, it's easily accessible from any operating system or device, making online collaboration more seamless.
Its advanced diagramming and flowchart functionalities make the mind-mapping process more effective.
Main Features
Intuitive user interface
A vast library of 500+ templates
A wide range of shapes that you can easily drag and drop
Supports integration with third-party apps like Google tools, Jira, and Confluence, among others
Pricing
Free with limited features
Individual – $7.95
Team – $9.00 per user
Enterprise – custom pricing
4. ClickUp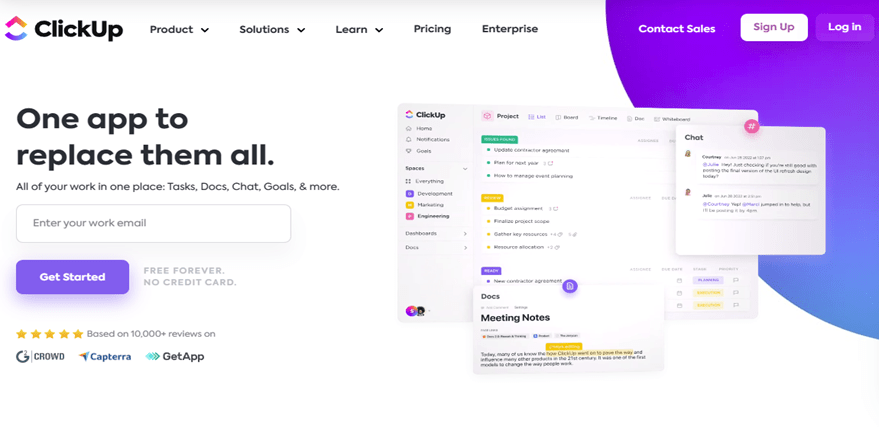 ClickUp is a well-known project management software that's also useful for brainstorming sessions. Its Mind Maps and Whiteboards features allow teams to develop new ideas and convert them into roadmaps.
It comes with built-in collaboration features that make it one of the most effective brainstorming online tools for managing ideas in one place. Moreover, ClickUp lets you convert any shape on your Whiteboard or Mind Map into a ClickUp task so you can start working on your ideas.
It even lets you share files with team members for more interactive sessions. However, keep in mind that the free version has a limited storage of 100MB.
Main Features
Document sharing and editing in real time
15 options to visualize work, including Timeline view, Gantt, and Calendar
Share links, updates, and action items via comments
Advanced diagramming features with ClickUp Whiteboards, Blank Mode, and templates
Pricing
Free
Unlimited – $5/member/month
Business – $12/member/month
Business Plus – $19/member/month
Enterprise – custom pricing
Collaborative Whiteboards
Collaborative whiteboards enable team members to create mind maps, share ideas, and brainstorm in real time, no matter their location. Some top collaborative whiteboards include:
5. Miro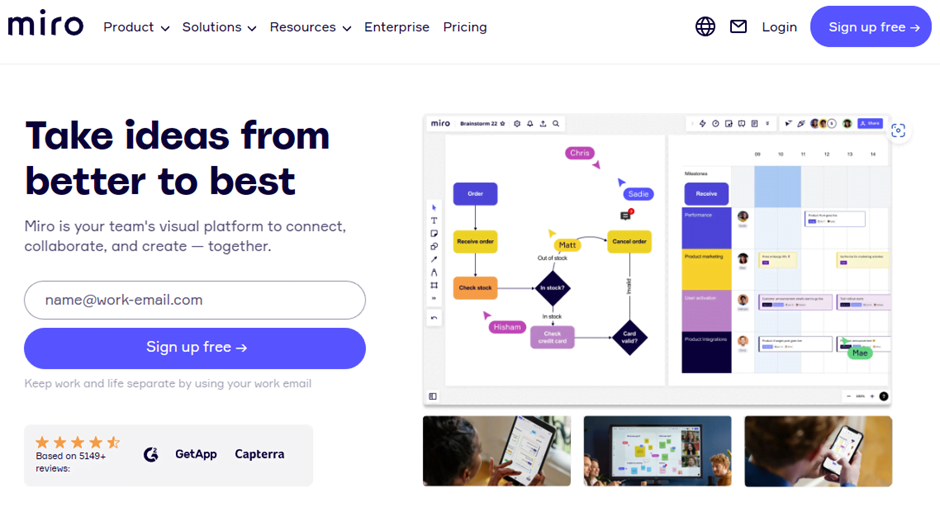 Miro is a collaborative virtual whiteboard platform designed to help remote teams create mind maps and diagrams for strategic planning. Miro's collaborative functions let you conduct meetings and workshops to develop ideas that will generate the bigger picture.
The tool supports asynchronous work, making it the perfect online brainstorming tool for remote teams. It integrates with 70+ apps making it highly versatile. In addition, it comes with infinite canvases that let you integrate Kanban boards.
If you're new to digital whiteboards, Miro might seem a bit overwhelming and complex.
Main Features
Screen sharing
Dozens of templates and frameworks
Infinite canvas
Built-in chat and video features
Folder organization
Pricing
Free
Starter – $8/member/month, billed annually
Business – $16/member/month, billed annually
Enterprise – custom pricing
6. Canva Online Whiteboard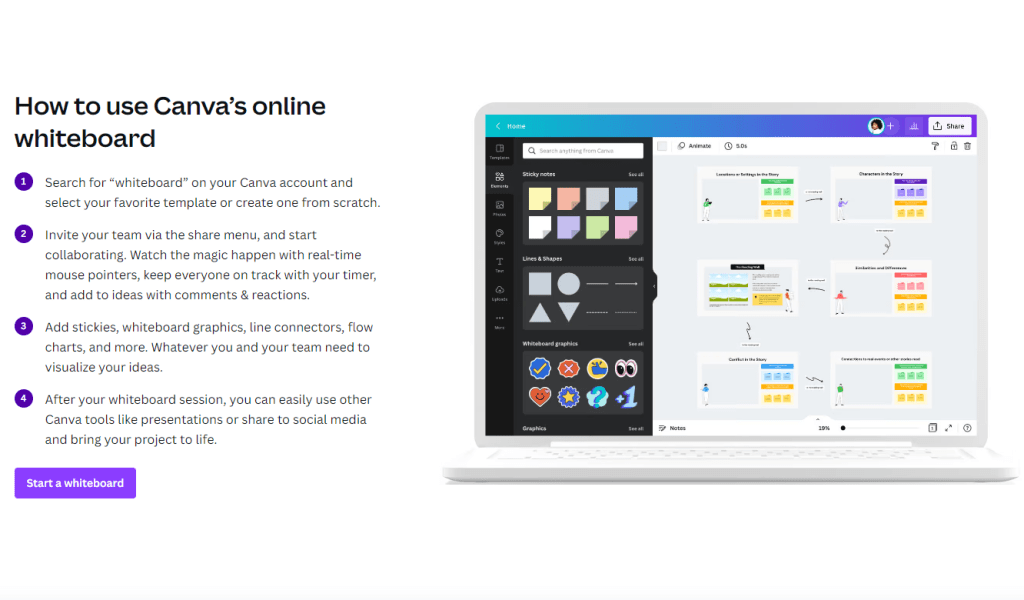 The Canva Online Whiteboard is a collaborative tool designed for brainstorming and visualizing ideas within a team setting. This online platform offers you a spacious digital canvas where you can seamlessly share, post, and draw a wide range of concepts. One of its notable features is the virtually limitless space, so you'll never run out of room while working on your ideas with your team.
You also can access customizable shapes and automatic connectors, which are particularly useful for illustrating complex concepts and creating organized diagrams. Furthermore, the platform grants you access to Canva's extensive content library, enriching your projects with a diverse range of visuals and resources.
Main Features
Free templates, images, and graphics
Real-time collaboration
Allows you to assign tasks to team members
Folder organization
Customizable charts and tables
Autosave
Pricing
Free
Canva Pro – $119.99/member/year
Canva for Teams – $300/for the first 5 people/year
7. Mural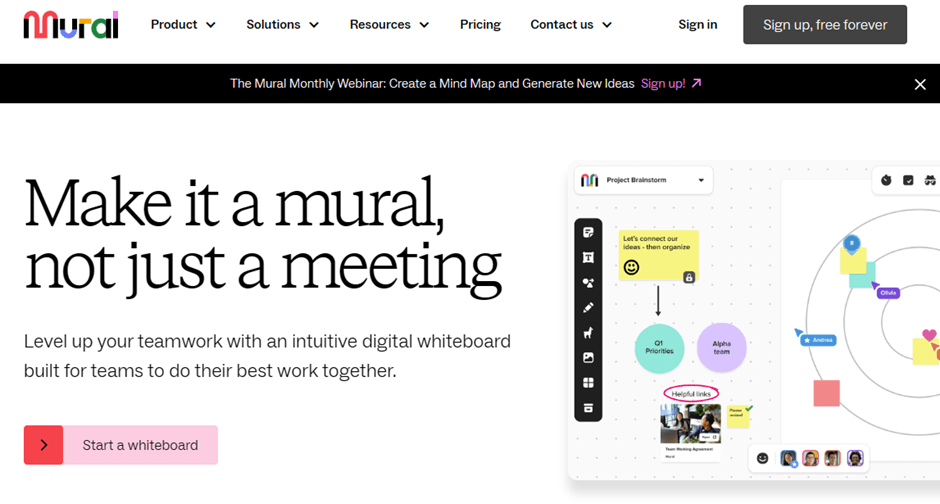 If you're looking for a digital canvas for brainstorming, you won't go wrong with Mural. It features brainstorming templates that help your teams come together to generate ideas and turn them into actionable items.
Mural supports all kinds of teams, be it product, sales, consulting, technology, or executive. The tool offers teams multiple ways to communicate, including sharing, commenting, text chat, and quick talk.
With its diagramming and mapping functionality, teams can create quick visualizations of maps, flows, processes, hierarchies, and more.
To enjoy the full features of the platform, you may want to consider one of its paid versions.
Main Features
Infinite and resizable canvases
Flexible permissions
Mapping and diagramming
Sticky notes and text
Meetings with facilitation features like private mode, timer, and outline
Pricing
Free
Team+ – $9.99/member/month, billed annually
Business – $17.99/member/month, billed annually
Enterprise – custom pricing
8. IdeaBoardz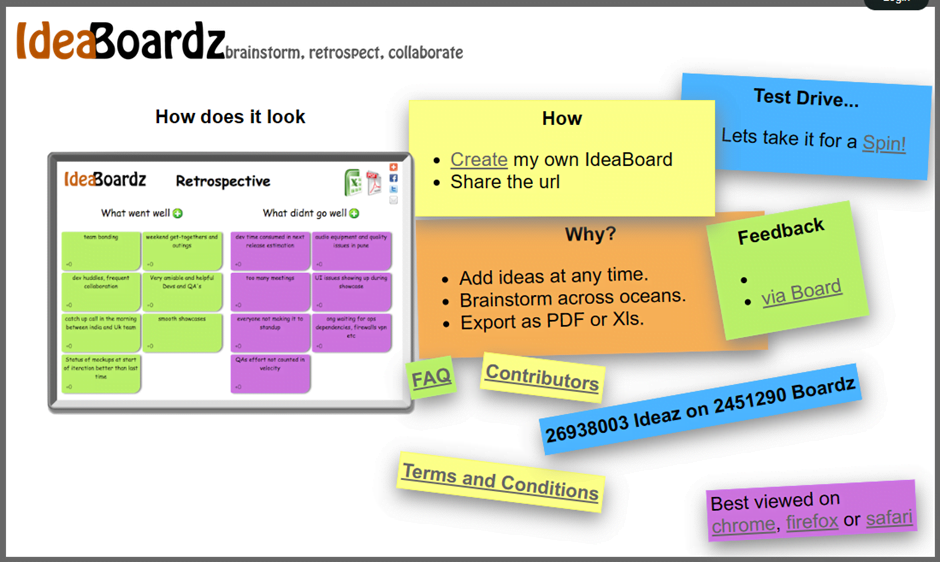 Sometimes you just want a simple tool that enables you and your team to brainstorm with ease. That's what IdeaBoardz brings to the table. Its minimalist design ensures that teams don't have to waste time learning about how it works, but rather get started right away.
Its interface is created in the whiteboard format and features sticky notes that can be grouped together for brainstorming. Team members can add post-it notes containing their ideas to a collaborative board.
Main Features
Option to share URL
Export files as PDF or XLS
Browser-based
Feedback functionality
Pricing
Free
9. Stormboard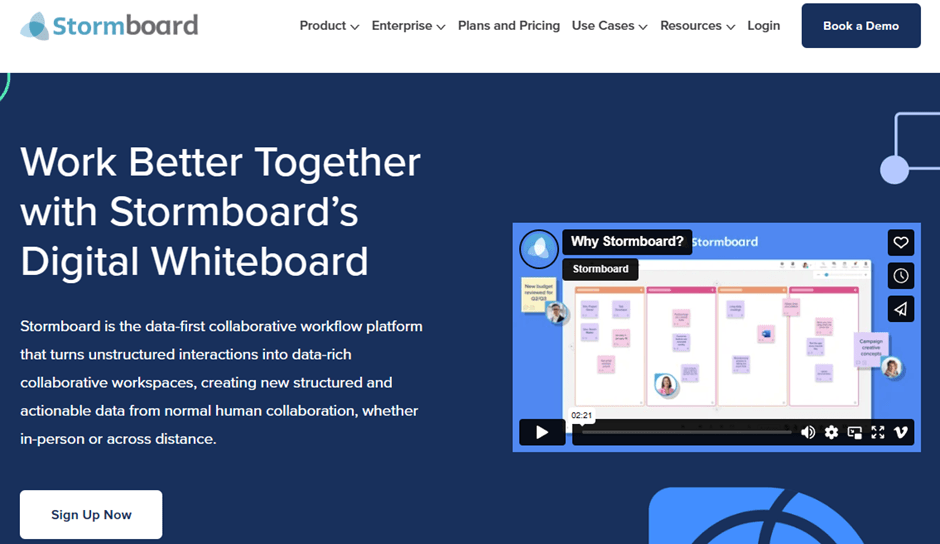 Stormboard is another great digital collaborative whiteboard tool that empowers remote teams to collaborate and track projects. Its whiteboards support ideas and file sharing and features sticky notes that make it easy for you and your team members to jot down ideas whenever you get the aha moment.
The software also comes with other visual elements like links, images, and presentation features for more effective brainstorming sessions.
Main Features
250+ smart templates
Workflow integrations
Reports
Full Google Drive and Microsoft Office 365 integration
Whiteboard sticky notes
Export functionality
Infinite canvas
Pricing
Personal – Free
Business – $10/user/month, billed monthly
Enterprise – custom pricing
Best Free Online Brainstorming Tools
10. Google Documents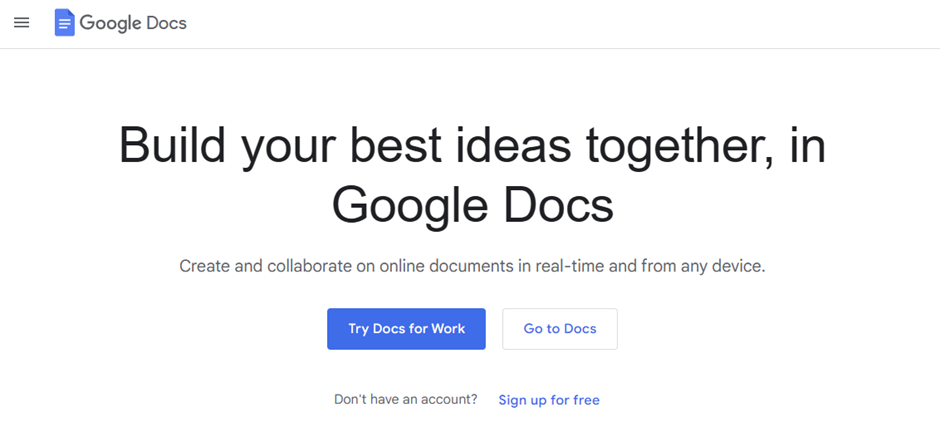 Google Docs is perhaps the most popular web-based document creation and collaboration tool. While not a brainstorming app per se, its collaboration features enable teams to brainstorm ideas collectively from any location in real-time.
It has options to comment and leave feedback. In addition, as the document owner, you can give permissions to specific people you want to access a document.
Main Features
Document storage
Chat
Commenting
Activity dashboard
Pricing
Free for the average user. The business version costs $5month
11. WiseMapping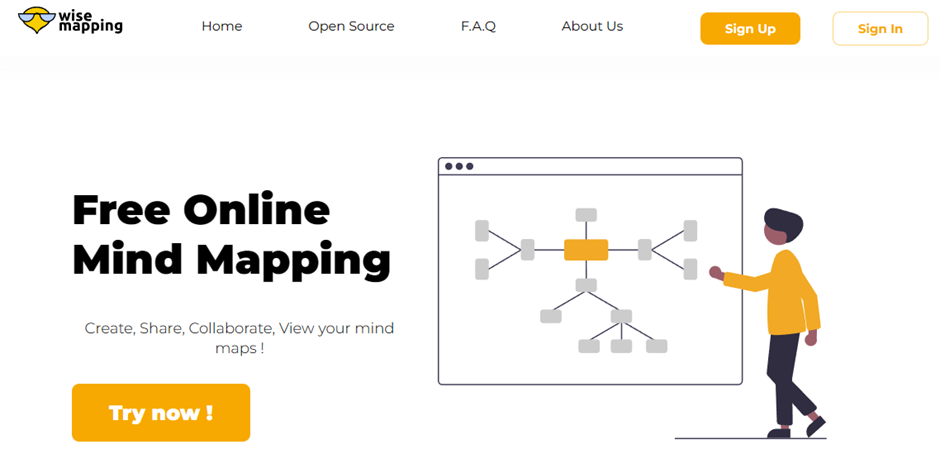 WiseMapping is a 100 percent free brainstorming tool that teams and individuals will find useful. It's available to use online, or you can install it on your device. The software offers an ideal solution for collaborative planning and teamwork or individual note-taking.
It features a minimalist design, where all its features are displayed as icons in the ribbon. WiseMapping comes with several functions, such as drag and drop, hyperlinks, zoom in and zoom out.
Main Features
Customizable functions like fonts and colors
Export capabilities
Embeds
Option to add icons
Pricing
How to Choose the Best Tools for Brainstorming with a Team
We've just given you a list of 10 brainstorming online tools. However, there are hundreds of them, creating the challenge of choosing the most ideal one.
That's why we thought it wise to share tips on the factors to consider when choosing the best online brainstorming tools for your team.
Collaboration features
If you manage a hybrid or remote team, you'll need a tool that allows effective collaboration. Real-time visual collaboration enables others to give feedback or suggestions to make the ideas better.
Most tools come with virtual whiteboards where everyone can jot, draw or comment in real-time. Teams can then come together to explain their ideas in one place.
Flexibility
A team usually comprises people of different professions, each having a different train of thought. For example, a marketer's thought process might focus more on SEO and engagement, while developers are better at what features the customers will love.
Therefore, when choosing a brainstorming tool online, go for one that supports your team's different thought processes without slowing them down. Often, these apps will offer templates and project board views to support the varying processes.
Idea management
Idea creation is one thing, and idea management is another. If ideas just keep coming with no way to properly organize and manage them, they can easily get lost in the masses. To avoid this, opt for a brainstorming tool that allows you to manage and group ideas based on teams, clients, or projects.
The software should support features like voting, categorizing, commenting, and so on, enabling you to keep track of all the brilliant ideas shared by your teams.
Integrations
Another crucial factor to consider when choosing the best tool for brainstorming is support for integrations. You probably work with other productivity tools like time trackers and project management software. Integrations with these apps make it easier to collaborate and streamline workflows.
In addition, it makes communication more effective, which can boost creative thinking and work efficiency.
Ease of use and user interface (UI)
Some tools are too complex for teams to use and require a long learning curve to grasp all their functions and applications. Users end up losing a lot of time learning how to use the app instead of bringing ideas to life. As a result, team members may lose interest in such apps.
Therefore, consider the apps' user experience and go for ones that can be accessed from any device or operating system.
Pricing
Of course, you want to consider your budget allocations when choosing brainstorming software, especially if you're a midsize or small business. Find an app whose price is tailored to match your company and team.
Why Using Brainstorming Apps Is Essential for Managers and Teams
Online brainstorming is one of the most effective ways to ideate. And with plenty of teams preferring to work remotely as survey by GitLab shows, there couldn't be an easier way to get their ideas.
If you want to boost your team's productivity and enhance their creativity and innovation, here are some reasons you should try a brainstorming tool…
Brings dispersed teams together. Whether you manage a hybrid team or those separated by thousands of miles, brainstorming tools allow them to work together and collaborate on ideas in real-time. The apps enable teams to communicate, share files and organize thoughts quickly and easily.
A great channel for introverts to shine. Introverts like to work quietly, and in a group setting, they may have trouble sharing ideas. However, with online brainstorming tools, they can share ideas and opinions anonymously. That way, everyone on your team can participate equally without fear of judgment or restrictions on their level of creativity.
Endless visual possibilities. While each brainstorming tool offers different features, they all share one thing in common – vivid presentations. Teams can attach files, sticky notes, videos, and other multimedia to make their ideas come to life. And as we all know, humans learn better through visuals than words alone.
Brainstorming on-demand. Brainstorming apps capture ideas on the go, no matter where you are. When a team member thinks of an idea, they can quickly save it on the app and share it with other team members. Later, they can review the idea and make it better.
Intuitive user interface. With an array of useful features and a friendly user interface, brainstorming apps make the sessions more fun, further inspiring creativity.
Store ideas with ease. Online brainstorming tools offer a convenient and effective way to collect and store ideas of each team member for future needs. Participants can later go back and review these ideas and come up with strategies to implement them.
Structure complex ideas. Apart from capturing ideas, brainstorming platforms help you organize and structure those ideas, including complex ones. Team members can vote, comment, and give feedback, among other things, which can be highly beneficial when developing and refining ideas.
Saves time and effort. With brainstorming tools, you don't need to gather people together in person. Since they support asynchronous communication, team members can comment and share ideas without timezone restrictions.
How to Determine the Best Brainstorming Techniques for Online Teams
Before choosing a tool for brainstorming, you might want to consider which brainstorming technique will suit you and your team better. Keep in mind, each team member has a unique approach to brainstorming.
Therefore, it's advisable to consider involving your team in choosing an ideal brainstorming tool to ensure they are all comfortable with the techniques you'll be using.
Some of the popular brainstorming methods to consider include:
The 5 Whys Analysis
Have you ever been asked a question by a toddler and thought you gave your best answer only for it to be followed by a series of "Whys?" The 5 Whys analysis is based on this concept.
Asking why over and over challenges people to dig deeper into their thoughts, hence triggering new ideas, opinions, or suggestions. If you use this technique, fishbone diagrams and flowcharts make it easy to track the answers provided.
Brainwriting
Brainwriting is a great brainstorming technique for teams. Here's how it works:
The team leader or facilitator asks a team member to write down several (usually three) ideas on post-it notes or index cards.
Another team member then jots down three ideas based on the previous ideas. The exercise is repeated until the last person writes down their inputs.
The team leader then reviews the ideas and selects the best ones or combines the ideas for a better strategy or solution.
As a result, a broader range of ideas is collected. The technique is conducted in anonymity, meaning no one knows who wrote what and when. This allows team members to express their opinions and ideas more freely.
Starbursting
With starbursting, team members are required to think about the who, what, why, where, when, and how of a shared idea. The facilitator places the main idea at the center of a star diagram and labels each point of the start with the 5WH questions.
The team members then generate a series of questions about each idea for each point. This brainstorming technique works because each question triggers another, and before you know it, you've developed a solid strategy by answering those questions.
Mind Mapping
A mind map is a diagram with a phrase or keyword at the center used to visually organize ideas, concepts, and thoughts into a hierarchy. They are useful tools that can help you structure your ideas around a specific concept, and look for connections between them.
The team leader can create a mind map online via a template and then request team members to input their thoughts.
Using Timers
Brainstorming, if not monitored, can take hours, leaving the participants exhausted and unmotivated. To avoid this, team leaders should implement timer apps like Traqq to keep each brainstorming session on track and ensure each team member stays focused.
Traqq time tracker lets you set reminders and monitor each participant's progress. Not only will you know how much time they've spent on the task, but you can also prevent the session from going overboard. The tool even offers screenshots, so you don't have to micromanage the process.
It's easy to use, offers a great user experience, and teams of less than three can use it for free, with access to all premium features.
Brainstorming FAQs
What Is Brainstorming
Brainstorming is a creative process of generating new ideas to find problems to solutions. A brainstorming session involves members of a group who can be in the same location or dispersed, where each member is required to share their ideas, thoughts, or opinions, however silly or brilliant they might be.
How Can I Brainstorm Online
Thanks to technology, people can hold online brainstorming sessions via online brainstorming tools. These apps offer features that facilitate team collaboration and communication for effective discussions. They capture ideas digitally using various brainstorming techniques, making it easier to harness collective creativity.
What Is the Best Free Online Brainstorming Tool?
Some of the best free brainstorming tools for remote teams include:
Google Docs
WiseMapping
Coggle
MindMup
SpiderScribe