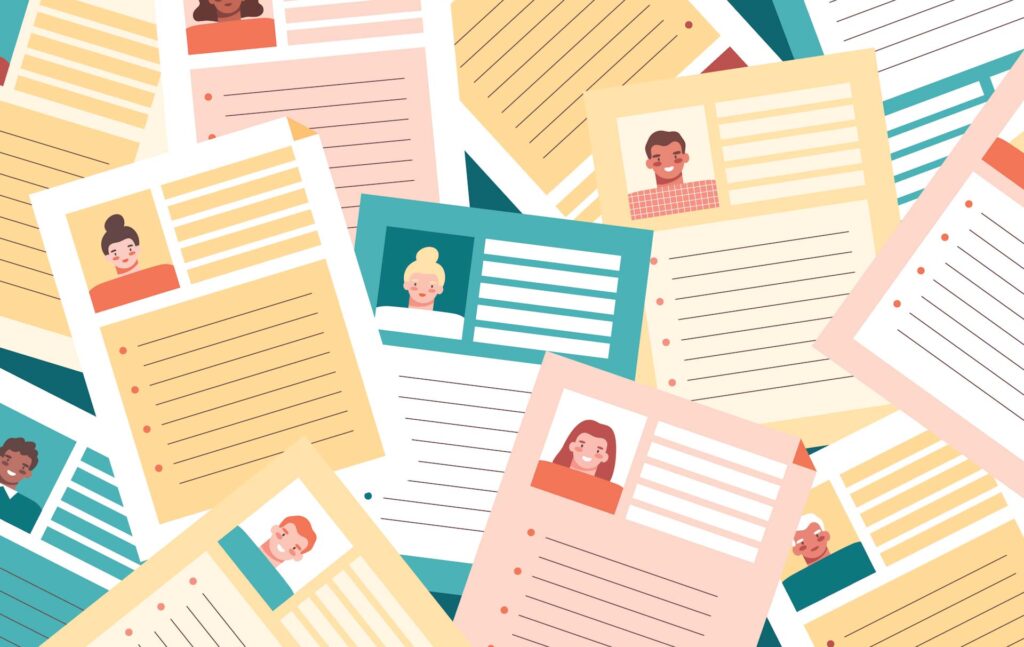 The recruiting process can undoubtedly be improved when you use a modern applicant tracking system (ATS). However, once you start looking around, you will quickly learn that there are plenty of options available for you. Well, you don't have to worry because we've done the heavy work for you. In this post, we've compiled the top ATS options and even shared the factors to consider when choosing one. By the end of this article, you will find an ideal free applicant tracking system for your business.
Applicant Tracking Software Explained
An ATS is a centralized human resource tool that aids in managing talent sourcing, assessment, and recruitment. This is a utility for tracking every aspect of the application and hiring process. Some of the common features of an ATS include analytics, job board posting, interview tools, and career site builders.
The Importance of an Applicant Tracking System
According to research conducted by Capterra, 94% of recruiters think that the right software improved their hiring process. When it comes to recruitment, the human resource team's efforts must be as effective and efficient as possible. This is especially true when a single job posting results in a ton of resumes. As a company grows, using applicant tracking software becomes necessary to optimize and automate different aspects of the hiring process.
Using paid or free recruitment software can help you navigate resumes efficiently and quickly find candidates with suitable qualifications. This way, you can focus on assessing candidates' soft skills not listed on a resume, like collaboration or creativity. An ATS allows you to promptly respond to applicants, which can also make a good impression on candidates. After all, job seekers expect companies to treat them with the same respect that hired employees receive.
With an applicant tracking system, you can streamline the application, evaluation, interview, and follow-up processes. This way, you can give your organization the advantage of enhanced recruitment experience.
The Essential Features of an Applicant Tracking System
An applicant tracking system functions as the digital hub of a company's recruitment team. It's efficient in centralizing the recruitment database by containing all information about job openings, candidates, and placements. An ATS should contain a builder for career landing pages, which you can design and customize to host job openings and applications. The ATS will parse and screen submitted resumes automatically. Then, it will save qualified entries for your talent pool.
Here are the key features to consider when choosing an ATS:
Online career hub: This is an online portal that you can customize to feature your brand, job openings, pre-screening questions, and more. It would also be a good place for existing employees to view available internal openings, submit applications, or refer their friends.
Advanced search: There should be a feature that efficiently sorts candidate listings according to specific phrases, keywords, experience, or skills. This portal contains information about all potential candidates. As such, HR practitioners will get an insight into the type of people who submit applications to their openings.
Blind screening: Developing a diversity and inclusion program is one thing; executing it is another. An ATS with a blind screening feature is an excellent way to find candidates without worrying about prejudices against sexual orientation, color, race, or ethnicity.
Applicant tracking: This feature includes the ability to add documents, files, and extra details to the CV of a candidate. There should be tools for reference checking and skills assessment.
Interview features: The applicant tracking system should also have tools that will make the whole recruitment process easier. For instance, it can perform automated interview scheduling, record and monitor notes from phone interviews, and even have provisions for video interviews.
Analytics: When you're running a paperless, digital recruiting program, you collect, save, and create reports that will identify weak points in your hiring process. You can monitor your recruitment efforts, manage marketing campaigns, and assess career site engagement.
Can a Company Use a Free Applicant Tracking System?
The answer to this is a resounding "yes." If your company is not ready to allocate a big budget for the whole "modern" recruitment process, you can try a free ATS. It will have all the basic features we mentioned above. If you're diligent in searching, you may find one with additional functionalities and workflow customizations. What's great about applicant tracking systems is that the best of them can be tried for free. Here are some of the top products that come with a demo version:
Avature
https://www.avature.net/applicant-tracking-system/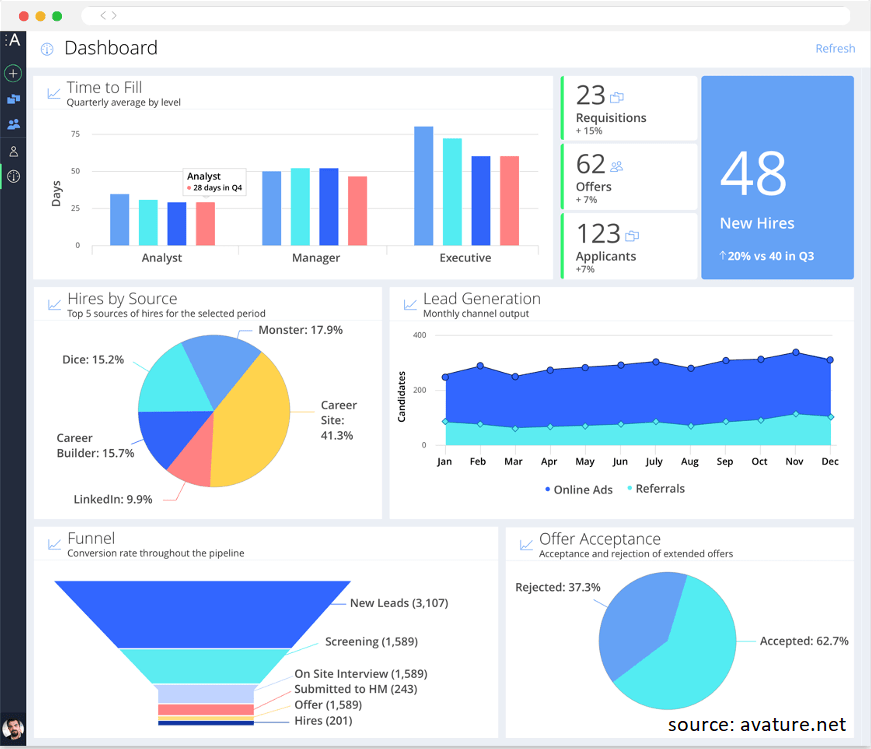 What's great about Avature is you can customize it according to your recruitment team's unique goals and processes. It allows you to create hiring workflows depending on the recruitment volume, employment level, and anything in between. Dashboards can be designed according to your needs. In a way, it functions as an all-in-one ATS and CRM. What's more, you can perform all this using a user-friendly interface that even non-technical individuals can handle. For mid-market businesses, Avature can be an efficient applicant tracking system. It's trusted by brands like L'Oreal, Cisco, and even Tesla.
iSmartRecruit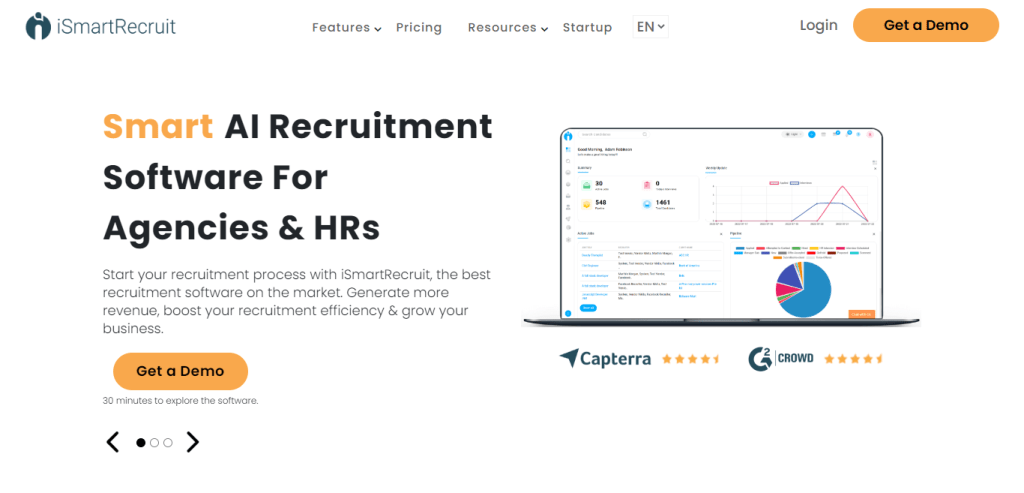 iSmartRecruit aims to provide recruitment automation software that automates the manual hiring workflow by eliminating repetitive tasks.
The software offers profitable automation features like a resume parser, recruitment Chatbot, AI-based candidate matching, AI-based job matching, Job Description Parser, Automatic approval workflow, job tracker, Video interviewing and management tool, mobile recruiting, advertisement, analytics, social recruiting, etc.
The easy-to-use features of Applicant Tracking System and Candidate/Client Relationship Management Software are precisely designed to ease the hiring process and make it more efficient for mass recruiters, corporate HRs, hiring managers, and recruiting and staffing agencies.
The AI-based hiring software enables them to hire quality candidates only while lessening their time-to-hire by 55%.
Greenhouse
https://www.greenhouse.io/recruiting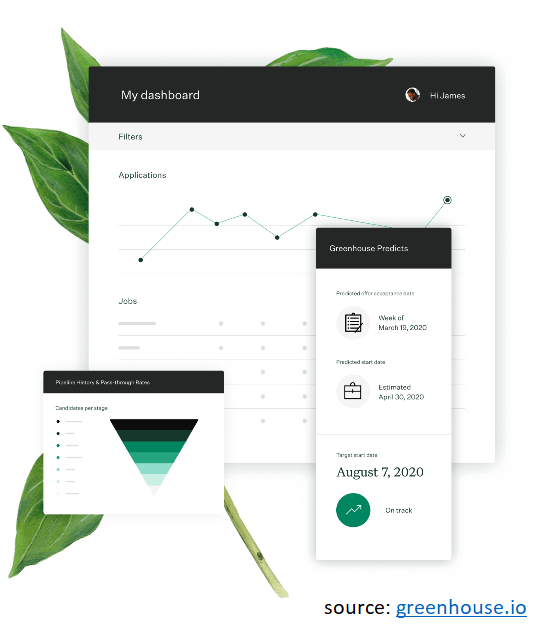 Another strong player for mid-market enterprises is Greenhouse. Considered to contain best-in-class APIs, this ATS lets its clients use third-party applications at no additional cost. A lot of HR teams from the tech industry start their journey with Greenhouse. Some of its well-known clients include Hubspot, Airbnb, and Pinterest.
Zoho Recruit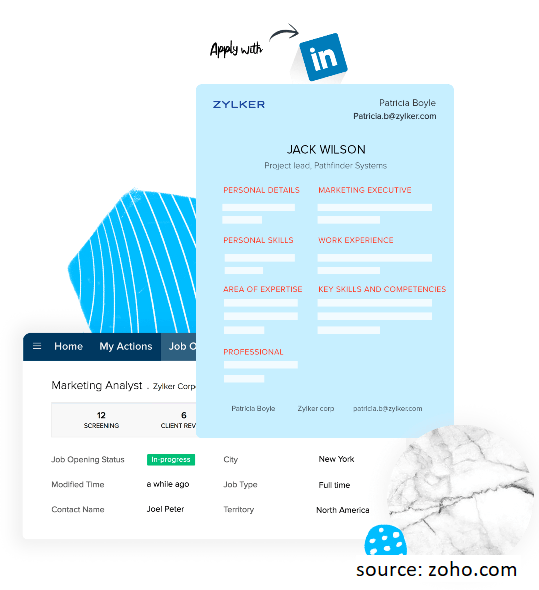 What's great about Zoho Recruit is you can integrate it with Google programs with ease. Moreover, the tool supports 26 languages, which can be beneficial if you want to recruit internationally. If you get the free plan, you can enjoy basic features like email management, candidate management, and interview scheduling. However, you can only post one active job opening with the demo version. If you want to access Zoho Recruit's comprehensive features and services, you can always choose one of the paid plans.
SmartRecruiters' SmartStart
https://www.smartrecruiters.com/smartstart/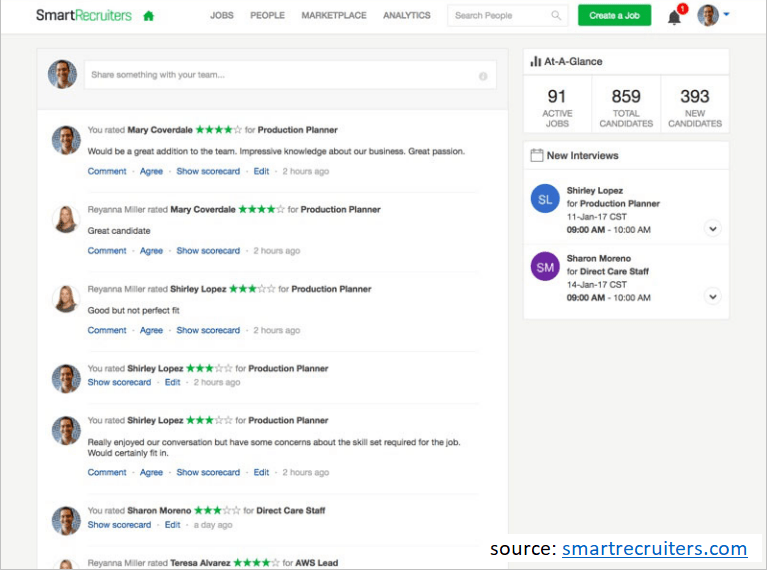 If you're handling a remote team or a startup company, SmartStart is the ideal option for you. A free version of SmartRecruiters, this tool allows an unlimited number of users. You can access various features, including one-click apply, multi-board job posting, candidate database management, and scheduling management tools. Keep in mind that most free applicant tracking systems restrict the number of users. So, SmartStart has an advantage over them in this area. Aside from that, you can have up to ten active job postings.
MightyRecruiter
https://www.mightyrecruiter.com/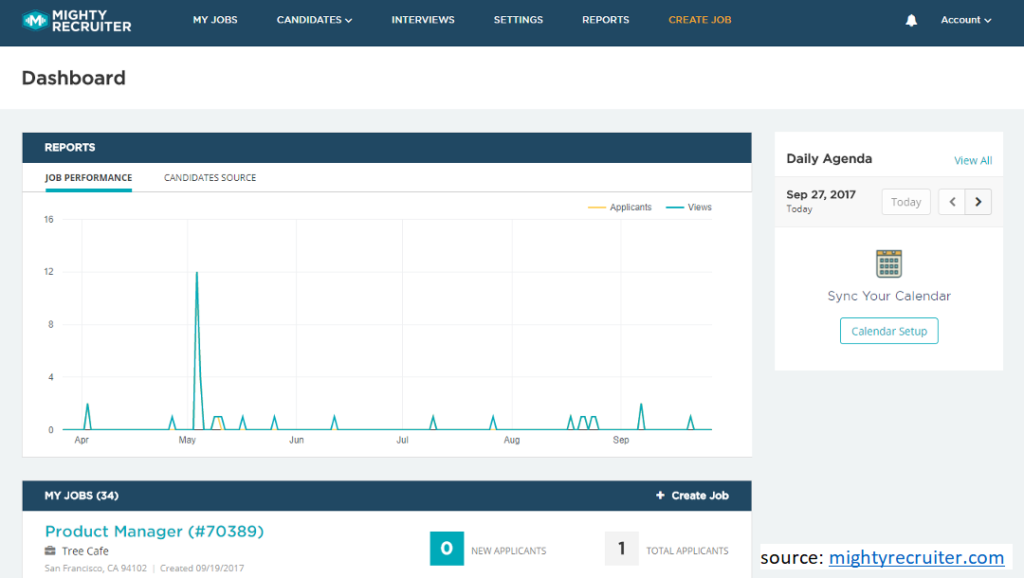 What you'll love about MightyRecruiter is that it's one of the few applicant tracking systems that are completely free. You can enjoy unlimited job postings no matter how many social networks or career boards you choose. It also has a candidate ranking feature that helps you filter relevant candidates conveniently. Moreover, you can select your screening questions according to the requirements of a position. Aside from that, it comes with a searchable database containing 21 million resumes.
JobScore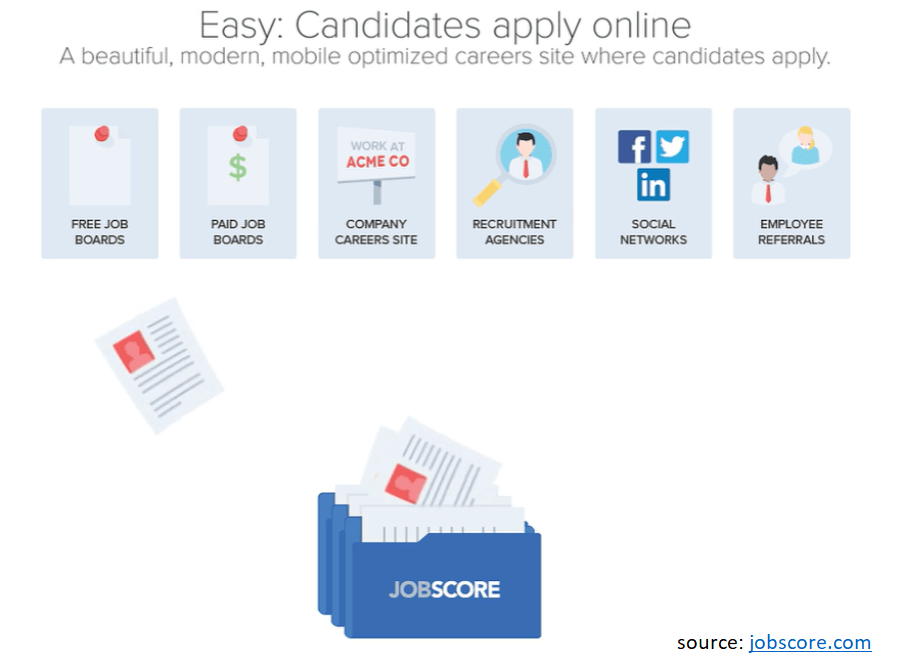 JobScore's demo version is another great option for small businesses looking for an ATS with basic features. The tool can generate analytics reports and even handle search optimization for job postings. You can integrate JobScore into your calendar, allowing you to conveniently schedule interviews. Indeed, it can help your business stay on track throughout the hiring process.
Pro Tip: Organizing your recruitment workflow is one thing, but you also need to ensure that your HR practitioners are productive within office hours. If you want to make sure that they are using their time efficiently, we recommend that you use Traqq. Once installed, this time tracker will monitor the user's website visits, application usage, and activity levels. This way, you can identify productivity leaks and address them accordingly.
Conclusion
When choosing an ATS, you need to take the time to review the specific recruitment goals you want to achieve. It's important that you carefully assess the features of a platform, ensuring that they align with your organization's needs. Remember that it can be difficult to migrate data when you decide to switch to a different product.