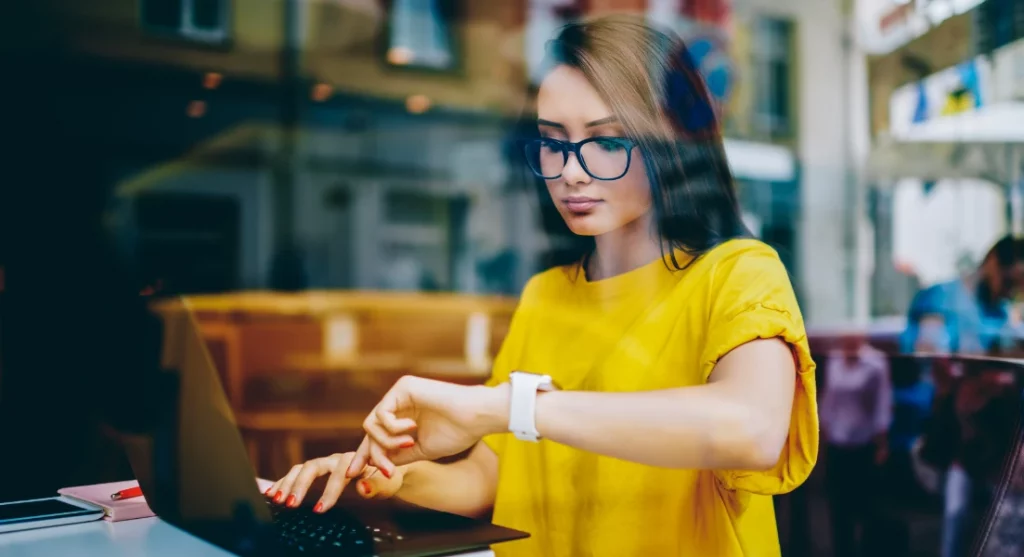 Studies show that supervisors lose up to 11 hours each week moving from one work site to another. This is particularly true for companies where travel and transit are part of the business. It's no wonder companies are investing in staff tracking technology to conveniently monitor their employee's time and location.
After all, you can't be everywhere at once, and that's where staff tracking apps come in. Apart from tracking employee attendance, you can see where your team is and monitor their movements from one client site to another.
What's to come
In this post, we introduce you to the top 10 staff GPS tracking apps to improve employee and resource management in your business.

What Is Staff Tracking?
Employee tracking offers employers a way to monitor their staff's location and activities during the workday. Managers use tracking software to check the whereabouts of their on-site and off-site workers without the need to travel to each location.
A staff tracker also allows business owners to communicate and coordinate with their teams in real-time, and adjust their routes and schedules accordingly. The software collects relevant information, such as clock in and clock out time and employee attendance.
10 Best Staff Tracking Apps of 2023
Let's begin by examining some of the top employee tracking tools with GPS tracking that you can implement in your business.
1. QuickBooks Time: Best for Multiple Teams Working Rotating Shifts on Location
Available on:
Mobile (Android, iOS)
Web App
QuickBooks Time offers managers versatile clock in and clock out options, along with an overview of employee schedule. The platform optimizes GPS functionality to reduce battery usage on workers' devices.
QuickBooks Time is ideal for teams in areas with poor signals since it backs up data with background synchronization. You can use the software to generate a map that captures all the day's activities for quick visualization.
Special Features
Reports. Get real-time, interactive reports for estimating time and labor costs.
Team management. Managers can set geofence boundaries that remind workers to clock in and out.
Integrations. Integrate the software with numerous productivity apps like ADP, Square, OnPay, Gusto, and Aero.
Scheduling. Supervisors can create employee schedules by shifts or jobs.
Time tracking. Employees can clock in and out, change job codes, add timesheet details, and take breaks with just one click.
Time Kiosk allows employees to use a PIN to clock in when they arrive at their worksites.
Pricing
QuickBooks Time offers a 30-day trial period. Once it's over, you can choose one of these plans:
Elite – $10 per user per month, with a monthly base fee of $40
Premium – $8 per user per month, with a monthly base fee of $20
Custom pricing for 50 or more users
What Users Have to Say About QuickBooks Time
✔ "Easy to run reports by custom date range, project, customer and employee. This is crucial for our accounting and project management."
? "The top item on my wish list is for Tsheets to sync with google calendar quickly. Other than that, there are a few minor features I'm hoping Tsheets will add, such as the ability for a manager to approve a single shift instead of an entire day, which will be great for companies with employees that work for multiple clients."
2. Gleeo: Best for Location-Based Staff Tracking
Available on:
Gleeo offers employee GPS tracking features with time tracking while letting employers access the data in one place. It features an intuitive user interface optimized for Android devices, allowing managers to track time and projects effortlessly.
Special Features:
Time Tracking. Gleeo Time Tracker lets you manage projects, tasks, and employee time with minimal effort.
Reports. View reports on the animated timeline and quickly generate daily, weekly, or monthly reports.
Export data. Export data recorded on the app via Bluetooth or mail, for further analysis.
Data synchronization. Gleeo Time Tracker synchronizes your data across all your Android devices.
Pricing
Gleeo Time Tracker (Android App) – Free
Sync&Team (Android App) – $2.50 per user per month
What Users Have to Say About Gleeo
✔ "Versatile timeclock. I use this every day to track projects. The interface has many options and is easy to use once familiar with it. Once you have each project set up, just click to start and stop the clock for a particular task! It is a timesaver. The reports are versatile, and far more efficient than trying to type dates and times in Excel. You can export to Excel. I do this as a secondary backup. I happen to use Domains to organize the Projects, but not everyone needs those."
? "Too many icons to remember, some of which don't make sense as to what they represent. Domains, projects and tasks are mysteriously hidden away instead of being in an easy to find menu. I can handle complexity, but I can't stand unjustified or illogical design."
3. Traqq: Best Time Tracker for Remote Teams
Available on:
Desktop Apps (Windows, macOS)
Traqq time tracking app offers simplicity, accuracy, and convenience for managers intent on tracking their employee's productivity. The platform allows managers to monitor user activity and displays detailed information on online timesheets.
Traqq helps keep track of employees' work progress by capturing random screenshots and videos of their desktops. Moreover, you can identify frequently used apps and websites to figure out how time is spent.
One of Traqq's top features is automated reporting and timesheets, which provide managers with actionable insights into their team's overall productivity. You can then generate weekly reports to get an overview of your team's overall performance for the week.
Users can also generate the following reports:
● Amounts Earned shows the total amount of money you or your team has earned during a specific period.
● Time and Activity displays an overview of the activity levels and the amount of time you or your team has worked for the selected period.
● Apps and Websites captures all the apps and websites used by individuals for the selected time period.
● Manual Time Adjustments shows the total amount of time manually added within the selected period.
Special Features:
Activity tracking. Traqq accurately calculates employee activity levels based on mouse clicks and scrolls, along with keyboard strokes.
Time tracking. Traqq tracks billable time down to the minute, accurately capturing the total hours worked. The app works fully offline, making it usable for field teams working in areas with no internet connection. The data is synchronized as soon as the user gets back online.
App and website monitoring. This feature is useful for managers who want to eliminate poor time management in the workplace. The data is presented in a pie chart showing the percentage and time spent on the top ten apps and websites. Such data can help you restore time efficiency in your team.
Employee monitoring. Traqq takes screenshots randomly every ten minutes to show work progress without interrupting employees. The screenshots are blurred by default to hide sensitive information, thus promoting ethical tracking.
Reports. Managers can generate different reports to get detailed information on individual or team performance. The reports can be exported in CSV or PDF file formats or sent via email to clients or other departments.
Pricing
Premium Starter – free for up to three seats with unlimited access to all premium features
Premium Teams – $7 per seat per month
Enterprise – custom pricing for teams of 100 or more users
The Premium Teams plan offers users a 21-day trial period to try out the features.
What Users Have to Say About Traqq Time Tracking App
✔ "Honestly, this is the most convenient and efficient App that I have tried. The tools were so easy to use. The time tracker works to monitor the team performance and productivity. I also like the reporting feature where you can easily download the reports when you needed."
? "Exporting screenshots isn't available with report, so when I send my employer my hours, he can't see what I have done."
4. Timeero: Best Staff Tracking App for Mileage Tracking
Available on:
Mobile (Android, iOS)
Desktop App (macOS)
Web App
Managers looking for staff tracking software with GPS functionality, as well as time and mileage monitoring, should check out Timeero. The platform allows managers to track employees' locations to get a real-time overview of where everyone is currently based.
Geofencing allows employees to automatically clock in and out and managers can track worked hours, overtime, and breaks. The software even sends alerts when workers go beyond the mapped locations.
Special Features:
Mileage tracking. You can generate mileage reports and find ways to save time and money.
Integrates with third-party apps like Paycheck, Gusto, Xero, and Rippling.
Time tracking. Managers can collect mileage logs from GPS locations and calculate the total distance for jobs done.
GPS tracking. You can monitor your team's whereabouts and check who's on the clock.
Geofencing. The app enables automatic clock in and clock out, so you don't have to worry about who arrived at a given time at a job site.
Scheduling. It simplifies scheduling and sends push notifications to workers when their schedule has been updated.
Time Off. Use the app to approve or decline vacations or other time-off requests right within the app.
Pricing
Standard – $5 per user per month, plus a base fee of $10 per month
Premium – $10 per user per month, plus a base fee of $30 per month
Enterprise – custom pricing for over 250 users
Both the Standard and Premium plans offer 14-day trial periods.
What Users Have to Say About Timeero
✔ "I like that you can add schedules into the app which is shared to employees and that you can make sure that the job site is in the program right so it can direct them to the job site with a click of the button."
? "I wish the app had better/easier/more user-friendly functionality for the administrator–can't run reports to view weekly hour totals. I wish the website reports was easier so that I could set the week start/finish and it would automatically calculate weekly totals by employee. The extra steps to go in and get my employees weekly total is annoying."
5. Connecteam: Best for Mobile Workforces
Available on:
Connecteam is an employee monitoring software that offers online forms and checklist apps for the deskless workforce. It's designed to be used on mobile devices, allowing people to conveniently clock in and out of work. The time employees spent at work is then uploaded to timesheets for further analysis.
Special Features:
Employee time clock. Automate time tracking for mobile teams.
Employee scheduling. Quickly plan and dispatch shifts. You can see when workers are available and assign tasks accordingly.
Online Forms & Checklists App. Access digital checklists and forms and gather information from field teams with ease.
Task Management. Delegate tasks efficiently.
Employee Communication. Check-in with your field teams and coordinate right within the platform.
Employee training software. Easily create custom training courses using existing documents, images, media files, and PDFs.
Pricing
Free Plan – Free for life, up to 50 users
Basic Plan – $47 per month
Advanced Plan – $95 per month
Expert – $191 per month
Enterprise – Custom pricing
What Users Have to Say About Connecteam
✔ "The user-end is designed for mobile use, so it's super convenient and easy to use your personal mobile device to stay connected with the team. There are so many time-saving features available that take advantage of the tools we already have on hand and make an impact on our daily operations. The mobile app is clear, looks great, and even incorporated our logo into the initialization window. Very professional."
? "Availability function in the Scheduler – It would be good if the users are allowed to change the Availability notifications. It seems that they get so many notifications if the Admin updates the Availability."
6. Timesheet Mobile: Best for Sales Teams
Available on:
Mobile (Android, iOS)
Web App
Timesheet Mobile is a geofence-enabled staff tracker primarily built for mobile devices. The platform offers timesheets and a set of other useful features that make it easy to create reports and monitor employees' daily tasks.
Timesheet Mobile lets supervisors monitor workers on the move, including those in the field, to simplify workflow management. It also offers scheduling and team messaging features to easily coordinate with your field teams.
Special Features:
Timesheet reports. The platform offers real-time reports for faster payroll processing and job labor estimation.
Geofence time tracking. Geofence Autopunch is built into Timesheet Mobile to enable workers to be logged in and out of job sites as they enter and exit geofenced worksites. This gives managers accurate timesheets with travel and shift times.
Scheduling. Managers can easily schedule by jobs or employees. Your staff receives instant notifications whenever there's a schedule change.
Team messaging. Teams can chat in up to four languages to discuss urgent matters, upload images, and clarify instructions.
Real-time alerts. Get notifications for overtime, punch prompts, and late schedule shifts, among others.
Integrations. The app supports integrations with QuickBooks Online, FreshBooks, Xero, ADP, and other apps.
Pricing
Basics Plan – $3.49 per employee, plus $14.99 company subscription
Per Punch Plan – $0.15 per punch, plus $29.99 company subscription
Small Business Plan – $9.95 per employee, plus $29.99 company subscription
Medium Business Plan – $2.49 per employee, plus $149 company subscription
Large Business – contact sales for custom pricing
Users get a 30-day free trial.
What Users Have to Say About Timesheet Mobile
✔ "Timesheet Mobile is a true business partner that is flexible and responsive to our needs. Their software has enabled us to become more efficient, more aware and better prepared for our work week. The monthly savings is just the cherry on top. Thank you Timesheet Mobile!"
? "Sometimes where there is an update, there is a slight glitch in the application that causes problems for my guys in the field."
7. HoursTracker: Best for Tracking Expenses and Hourly Employees
Available on:
HoursTracker is a staff attendance tracker that simplifies the process of logging hours, thanks to its intuitive mobile user interface. Employers can monitor employee location using GPS tracking.
The tool also comes with a time tracker and an expense tracker. The calendar-style picker makes it easy to input time entries. Meanwhile, managers can organize timesheets using tags and filters.
Special Features:
Filters enable users to quickly show or hide jobs and entries based on tags.
Tags make it easier to organize jobs and time entries.
Users get notifications to clock in or out when they arrive or leave a location.
Users receive alerts when they reach the set hours for the day.
Pricing
Available for free
Paid plans start from $5.99 – $9.99 with additional features
What Users Have to Say About HoursTracker
✔ "Great app. My only complaint is that I wish it actually took taxes into account. There's a place to put what percentage it should take out, but doesn't seem to show anywhere in the total. It would be even better if you could put in some basic info so it could figure out that percentage for you instead of you just guessing."
? "Not Free. You have to pay for the app after 21 days, which would be fine if they were upfront about it so you'd know before you started using it."
8. Hubstaff: Best for Tracking Remote Field Teams
Available on:
Mobile (Android, iOS)
Web App
Hubstaff is a well-known employee tracking software with GPS tracking capabilities that simplifies tracking large teams working from various locations. You can view where your teams are on a live map and accurately estimate arrival times for customers.
It lets managers create geofences around worksites to automate employees' clock in and clock out times when they arrive and leave a job site. When you activate this feature, the app automatically creates timesheets, which enable accurate payroll processing.
Special Features:
Automated time cards. Employees are automatically clocked in and out when they arrive or leave a worksite. The tool instantly starts tracking the time when an employee enters a worksite.
GPS tracking. Managers can track hours and locations for each employee throughout a workday.
Scheduling. Managers can also create one-time or recurring shifts and assign them to team members. Managers get alerts for missed shifts, or shifts started early or late.
Budget and job costing. Set project budgets and learn which projects are more profitable.
Pricing
Field – $10 per user per month (starts at $20 for two users)
Desk & Field – $10 per user per month (starts at $20 and includes two users)
Enterprise – custom pricing
What Users Have to Say About Hubstaff
✔ "It has a perfect, intuitive user interface and offers good reporting features. It allows you to run businesses effectively by incorporating it into other apps such as Asana and Jira."
? "It provides some functionalities that are not customizable. It needs to provide more flexibility as it does not allow you to disable manual editing records within certain tasks and projects."
9. Timr: Best for Mobile Team Management
Available on:
Mobile (Android, iOS, Blackberry, Windows phone)
Timr offers location tracking, project tracking, and time tracking, all in one place. It lets you collect data from your projects and view the information on a dashboard for easy analysis. The time tracking feature enables users to accurately record worked hours and bill customers.
Timr comes with a mileage app that automatically records employee trips and offers a central management system for company cars.
Special Features:
Employee time clock. Timr is a staff attendance tracker that allows supervisors to manage all working hours and employees' vacations and absences.
Time clock kiosk. It offers crews within the same place a convenient way to clock in and out.
Digital mileage tracking. This app is ideal for companies looking to efficiently manage their car fleet.
Pricing
Timr offers a 14-day trial period, which you can later upgrade to one of these plans:
Regular – €8 per user per month
Plus – €8 per user per month, plus €29 per account per month
Enterprise – €8 per user per month, plus €79 per account per month
The platform offers discounts for companies with 20 or more users.
What Users Have to Say About Timr
✔ "Whenever I encounter an issue, customer support is here to help asap. The Tool can be adapted to the user's needs quite easily (part-time workers, etc.). The interface is quite clean and looks good."
? "It's easy to lose track of time and there's basically one reminder regarding when you've worked too much, but there's nothing that reminds you if you haven't filled in your sheet. Additionally, there are several features that I have no idea what they do."
10. Hellotracks: Best for Employees Working for Multiple Clients
Available on:
Mobile (Android, iOS)
Desktop Apps (Windows, macOS, Linux)
Web App
Hellotracks is a staff time tracking software designed for field services, such as delivery, sales, and dispatch planning. It allows managers to set up geofencing to automatically clock workers in and out of job sites when they arrive and leave.
It also lets employees record their work at the worksite and update employers by sending photos, client signatures, and other relevant data for increased transparency. The platform uses real-time GPS tracking, letting employees view the best routes for their next task, which in turn makes scheduling easier.
Special Features:
Live location allows managers to assign jobs based on location for better job dispatch and route optimization.
Real-time GPS tracking follows your employees' every move for accurate time recording and employee accountability.
The app integrates with your existing turn-by-turn navigation app.
Users can create mileage reports and analyze job completion metrics.
Pricing
Hellotracks offers a 30-day trial period, after which you can choose one of these paid plans:
Hellotracks Business – $10 per user per month
Hellotracks Enterprise – custom pricing
What Users Have to Say About Hellotracks
✔ "I love being able to set up a route for my portable Toilets… app is User friendly for drivers."
? "I am using Hellotracks to track physician liaisons. We have had problems with the software not working. Liaisons have had to delete and reinstall the app. I wish the communication and assistance when there is an issue was better. It would be nice to be able to contact someone by phone if there is a problem with the app. Since I am a new user, I'm not 100% sold on this product but hopefully it will get better."
Summary of the Best Staff Tracking Apps of 2023
| App | Available devices | Free trial | Free plan |
| --- | --- | --- | --- |
| QuickBooks Time | Web, Android, iOS | Yes, 30 days | No |
| Gleeo | Android | Yes, 30 days | Yes |
| Traqq | Web, Desktop apps for Windows and macOS | Yes, 21 days | Yes |
| Timeero | Web, macOS, Android, iOS | Yes, 14 days | No |
| Connecteam | Android, iOS | Yes, 14 days | Yes |
| Timesheet Mobile | Web, Android, iOS | Yes, 30 days | No |
| HoursTracker | Android, iOS | Yes, stores up to 3 jobs and 21 days of entries | Yes |
| Hubstaff | Android, iOS | Yes, 14 days | Yes |
| Timr | Android, iOS | Yes, 14 days | No |
| Hellotracks | Android, iOS | Yes, 30 days | No |
Why Staff Tracking Is Important for Your Business
There are several benefits of investing in an employee monitoring app, especially for staff working in the field:
Enhanced Productivity
Research shows that companies with highly engaged employees are 21 percent more profitable than their counterparts. Usually, people tend to work better when they know their movements and activities are being monitored. So, using staff tracking software can boost employee productivity. Plus, this practice can help you see underperforming and overperforming workers.
Accountability
When you have multiple field teams, wouldn't it be nice to know if they are doing what they are supposed to? You want to have peace of mind knowing that they got to appointments on time and are using company equipment and products efficiently. You'll also know when they deviate from their routes and lie about it.
Verify Travel Expenses
A GPS tracking app monitors the miles each employee travels, so you can reimburse the correct amount. This is applicable for mobile employees who use their own equipment or vehicles for work and are later reimbursed.
Efficiency
If driving is an essential part of your business, you'd want it done as efficiently as possible. GPS tracking helps you provide workers with the best routes and adjust schedules accordingly. You can also see who's closest to a client and reroute them, improving service delivery.
Increased Safety
With a staff tracker, you can enhance the safety and security of each employee. If any of them require assistance, you can reach them as soon as possible.
Plus, you can reroute workers to avoid heavy traffic or hazardous conditions and make delivery faster.
Accurate Payments
Time tracking apps with GPS tracking automate data capture and significantly reduce timesheet errors. You can check when and where employees clock in and out and help prevent time theft.
At the end of the month, payroll processing becomes faster, smoother, and more accurate.