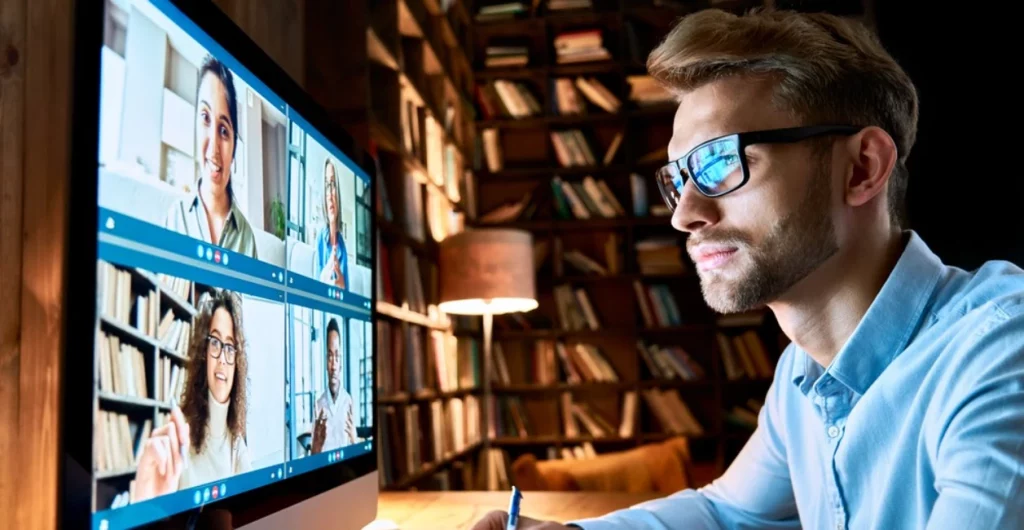 Did you know that the average American employer spends around $4,000 and 24 days on a new hire?
As if that's not costly enough, 31 percent of workers quit their jobs within the first six months of employment and 64 percent within the first year.
Combine these statistics with the fact that the average cost of losing an employee is 33 percent of their annual salary, and you'll see the effects of poor retention.
So, what can you do to rein in on these numbers? Introduce effective remote worker training programs.
According to a 2019 Workforce Learning Report, 94 percent of employees say they would stay at a company longer if it helped them learn.
However, because of the work-from-home movement, most organizations are struggling to find effective remote training methods.
So, how do you develop and implement an impactful remote training program that will increase retention rates and your company's growth?
Read on to find out. We also highlight the benefits and challenges of remote employee training and share remote training best practices.
What Is Remote Training?
Put simply, remote training offers a flexible way to learn new skills virtually, from any location, at a pace most suitable to a learner's specific needs. People no longer need to be in the same room to train together.
Thanks to technological advancement, remote training now offers numerous highly effective ways to teach, coach, or instruct students.
Remote training can be offered in the form of virtual reality training, e-learning courses, webinars, workshops, face-to-face live sessions, and on-demand training.
Why You Need Remote Training in Your Organization
Employees are part of the business ecosystem and play a big role in the success of an organization. So, training them is of utmost importance for your business to grow and thrive.
Some of the top reasons why training remote workers is essential for work efficiency include:
Update Digital Skills. Remote workers rely on digital resources to execute their work. With almost all businesses going digital, workers need to learn how to use software programs that your company utilizes.
Each company has unique work policies and has adapted software specific to company needs. It's your responsibility to ensure your remote employees are familiar with these adaptations. Likewise, digital tools are always evolving, and employees should stay updated on how to use them. Now, you can only achieve that by implementing proper training.
Familiarization with Company Culture. Part of the employee onboarding process involves introducing workers to company culture. When training your remote workforce, they also get the chance to learn about that culture. Employers can use this process to determine whether a worker fits the position they were hired for and if they are willing to abide by the company regulations.
Fosters Independence and Flexibility. Remote working means people can execute their jobs without direct supervision from their bosses or leaders. With proper training, they'll learn to be more independent and sharpen their problem-solving skills.
Quality Improvement. In a world where businesses are constantly competing to stay at the top, customers have become more quality conscious. To keep customers satisfied, you must offer proper training to employees to continuously improve the quality of products.
Increase employee motivation and retention. A Salisbury University study concluded that there's a strong, positive link between training and employee morale in the workplace. Giving people the tools to develop their careers and skills result in high loyalty and lowers company costs around hiring and retraining new workers.
What Are the Benefits of Remote Training?
There are many reasons organizations would want to focus on offering on-the-job training and development for their workforce. The most obvious benefit of remote training is that people can access it at any given time from any location. Physical presence is no longer necessary, making it the most fluid form of learning.
However, that's not all. Remote employee training has numerous other benefits, including:
1. Training Consistency and Standardization
It takes a lot of work to create a relevant e-learning course for your remote team. However, once you manage that, you'll be confident knowing that all your employees will receive the same high-quality training, regardless of their location.
While instructors may play a crucial role in providing a more dynamic learning environment, not all will offer the same level of focus or care. When creating eLearning materials, it becomes easier to adapt them to the needs of each team.
2. Improved User Learning Experience
One of the biggest benefits of remote training is that it provides leaders and managers timely feedback. With online training courses, everything is connected online, meaning training sessions can be updated or revamped at any time.
What's more, management can track the progress of individuals, and reorganize or restructure information any time, depending on the feedback they receive.
3. Access to Progress Data
The secret to knowing the success of a training program is the ability to measure its effects on learners. Remote training is facilitated through software, which provides effective ways to measure progress.
Management can use the progress data to compare the trainees' competencies before and after the training. The results will help management improve their programs to best equip new hires for their new roles.
Giving trainees access to the data can be a powerful motivational tool. They can use the data to self-evaluate their performance and discover areas that need improvement.
4. Cost-Effective Training
With online training, things like presentation spaces, fees for trainers, and catered lunches no longer count. So, training costs are significantly reduced, plus employees won't waste time traveling to attend sessions.
Additionally, companies can reuse recorded webinars and workshops as many times as they want without incurring additional costs.
5. Convenience
One of the biggest benefits that remote workers associate with working remotely is flexible scheduling. A Workforce Futures report shows that 89 percent of employees would prefer a job that offers flextime.
Given the flexibility that remote working offers, it follows that remote training is a lot more adaptive to a trainee's schedule. People can access the training when it works best for them, a factor that may contribute to overall employee morale.
6. Scalability
Once you've created your online learning programs, they can easily be scaled up to serve as many employees as you want, in as many languages. Apart from being accessible from any location, your trainees can access it via a computer or mobile whenever it's convenient for them.
7. Better Knowledge Retention
Remote training is on-demand, making it easier for employees to revisit it as many times as they want. This way, they can get clarification on instructions, company policies, and so on, without asking for help.
This gives employees a better understanding and in-depth knowledge of everything they learn. With face-to-face training, once a worker is trained, they are expected to remember forever, which simply isn't possible.
On another note, remote training allows creators to make it fun and more engaging. Research shows that when employees have high motivation to learn, they will exhibit greater interest in e-learning courses.
Incorporating gamification, videos, social features, and other interactive content into your training programs immensely increases employee engagement and retention of key information.
Participating in highly innovative and engaging training makes it more likely for the sessions to stick. After all, audiovisual learning registers better results than audio-only learning.
What Are the Challenges of Remote Training?
Remote training may be beneficial to management and distributed teams. However, it's essential to know the challenges associated with remote employee training. Doing so will prepare you for any eventuality, and you'll be able to come up with tangible solutions.
a. Lack of Human Connection
Even with virtually simulated courses, learning from home can be isolating and impersonal, especially with asynchronous training. Learners have no way to share their impressions, questions, or conversations with other participants.
Employees are also less likely to speak up when they have concerns because it's much harder to ask simple questions. The failure to get answers immediately can limit their understanding of the topics they are learning.
A good solution is to incorporate interactive elements in remote training programs. These can range from webinars, group discussions, and forums to provide human contact and connection.
b. Distractions
Needless to say, distraction is one of the top challenges of remote training. It is everywhere, making virtual learning even harder.
One way to deal with this is to encourage remote workers to utilize co-working spaces, where there are fewer distractions. Interactive sessions are also encouraged – an activity that requires the trainee to click or respond in some way limits chances of their minds wandering off.
c. Technical Issues
Learning tools are prone to technical problems that might interrupt training sessions. Anything can go wrong – from internet failure to issues with the platform.
Fortunately, there are things you can do to overcome this challenge. For starters, preparing trainees with a guide on how to navigate and use a virtual classroom can help reduce certain accessibility issues. Additionally, you can offer employees hotline numbers that they can use to contact support whenever they need assistance.
What Are the Popular Types of Remote Training?
Organizations have a variety of remote training methods they can use to train remote employees. It's crucial to choose a method that aligns with your business goals, as well as your employee's needs to develop their career goals.
It's also worth mentioning that different departments and employees within the same organization have different learning needs. So, you may use a combination of different training methods to fill the gaps and help them achieve their goals.
Here are some common remote training methods:
Podcasts. Podcasts are recorded video formats that usually involve interviews with specialists and experts. They offer a discussion-based way of education, providing a more engaging and informative experience to learners.
Online courses. These are the most common styles of remote training. They are usually presented using PowerPoint presentations and can incorporate various elements like video, slides, and audio. They are effective since we learn best through visual training.
Webinars. These are online sessions, usually presented live. It's a type of virtual learning where the trainer and trainee are in the same (virtual) space, sharing knowledge. Communication is two-way, and the learner can ask questions and offer real-time feedback. This training method reduces isolation since all participants can communicate in real-time.
VR training. Organizations now use Augmented Reality (AR) and Virtual Reality (VR) to recreate virtual environments that are as close to the real workplace as possible. This gives participants a feel of real-world experience, which has been shown to greatly improve interactions and engagement.
Digital Adoption Platform (DAP). DAP allows you to create a guide within the application to aid remote trainees to complete tasks step-by-step. It's an effective remote training method that incorporates on-screen guidance, tooltips, and walkthroughs for better understanding. The application also analyzes user behavior to comprehend the efficiency of the training program.
Effective Remote Training Best Practices
Now that you know the challenges, as well as the benefits of remote training, you need to know how to get it right. The trick to ensuring successful training is to provide learners with what they need.
Here are seven tips to help you deliver remote training more effectively.
Prepare Your Learner in Advance
Most of the remote work communication happens asynchronously. This offers you the opportunity to provide new hires some videos, guides, or walk-throughs on the things they should expect.
Pre-course instructions reduce anxiety and stress among the trainees and might facilitate seamless interaction between employer and employee.
Analyze Your Employee's Learning Needs
Before anything else, it's of utmost importance to understand your learner so that you can put their needs first. Identify the gaps in their skills and what you want them to achieve by taking the course.
What are their learning styles? What about their technical knowledge? Someone who's not tech-savvy can feel extreme pressure and stress undertaking a complex, high-tech course. When you understand your employee's requirements, it becomes easier to analyze which training platform will best suit them.
Use a Combination of Training Methods
After analyzing what your employees need, you can decide whether combining different training formats will bring the desired results. If you choose to use more than one training style, be sure to identify the main and secondary training methods.
Moving forward, there won't be any confusion as to where to start and which direction to take. Remember to include practical exercises and projects to offer learners the opportunity to apply their newly acquired skills and knowledge.
Create Engaging Learning Material
Think of ways to add a human touch to your courses. For example, you can use a friendly face to present a video or an avatar to offer a step-by-step guide in VR. Gamification is also an effective way to spark the learning process. You can offer rewards like trophies, badges, or points for every step completed successfully.
Likewise, consider including visualizations highlighting how far the trainees have come as doing so will encourage more learning.
Connect Trainees with an Onboarding Buddy
Remote learning can feel impersonal due to a lack of human connection, and this can lower employee morale. To counter this effect, consider connecting the learner with someone who will act as a point of contact. This will be someone who basically guides them on everything company-related.
One study found that onboarding buddies can influence new employees' satisfaction and productivity. According to the research, 56 percent of new hires said their onboarding buddies have influenced them to become more productive, more quickly. Plus, isn't it just nice to have a friend in a new working environment?
Put Resources in One Location
Want to simplify access to all learning resources to participants? Host them in one place. Whether you use cloud storage or Learning Management System (LMS), the learning process will be more seamless when all relevant materials are housed within the application.
On the same note, consider making your training mobile-friendly. Research shows that 82 percent of remote employees completed their training outside of their working hours. Remote work is flexible. So, it makes sense to offer employees the chance to study training courses wherever they are, at any time.
Reassess Your Training Strategies and Improve Where Necessary
Even when things are going well, it's essential to perform continuous assessments on the various remote training techniques, tools, and models to monitor their effectiveness. The business world (and digital tools) keeps evolving, and methods that worked five years ago may not be effective today.
So, you must keep updating your training programs, adding new relevant material for the current market.
How to Get Started with Remote Employee Training
Each company has a unique way of running things. The same case applies when planning to run a remote training program. Strategies that may work for one company may not work for you.
Here's a guide to help you deliver efficient remote employee training:
1. Settle on a Delivery Method
The first step is to select a delivery model that befits your company and remote teams. Many options are available, including LMS, eLearning, VR learning, self-paced (asynchronous) learning, and live online training.
The best approach is to combine a few models that will complement each other to deliver effective training.
2. Invest in the Proper Remote Training Tools
Online training goes beyond using PowerPoint slides to offer training and excel to track training progress. You need a dedicated remote training tool that suits your organization's needs. Some of the factors to consider when choosing a remote training platform include:
Affordability
Easy automation
Scalability
Simple coordination and scheduling
support for interactivity
Integration with HR systems
Level of accessibility
Ability to measure performance
3. Create or Select the Learning Content
So, you have selected a delivery model and picked a remote training software. What's next? Preparing your learning materials and how to deliver them to learners.
By now, you should have all the details regarding each department's and employee's training needs. You should also know which skills are missing or need upgrading.
These crucial details will help you prepare relevant content that will offer real value to your remote workers.
4. Establish Communication Channels
Technical hiccups are bound to arise whenever software applications are involved. That's why you must develop a communication strategy that encompasses all employees involved in the training. Knowing they can get support whenever they need can improve their engagement.
5. Delivering Training
Before you deliver your training program to learners, consider testing it first. This will allow you to preview the delivery method, fix minor glitches, and correct any technical and content errors. The last thing you want is to deliver a half-baked training strategy.
After verifying that everything is in order, you can now execute your training plan. If you opted for an LMS, then your work should be easier. Simply upload the online course, set deadlines, and invite employees.
6. Track Learning Progress
Finally, you need to monitor the effectiveness of your remote training program. Doing so will help you understand their overall performance, engagement rates, how long it took learners to complete the course, and so much more.
Your remote training solution simplifies things for you here since it can provide such data whenever you need it.
Remote Training FAQs
What Is Remote Training
Remote training is the process of teaching, coaching, or instructing virtually via various platforms. It can be offered online (live training) or offline (recorded), and the attendees don't have to be physically present.
Why Do Organizations Need Remote Training?
To increase employee motivation and retention
To update vital skills
To teach new hires about company culture
To encourage employees to work independently
What Are Some Best Practices for Effective Remote Training?
Understand your employees so you can provide the most relevant learning content
Incorporate gamification, videos, and other interactive elements to make learning more engaging
Put all learning resources in one location for ease of access
Provide new hires an onboarding buddy to help them transition into the new working environment with confidence