How to cope with Self Isolation during Coronavirus Quarantine? [Real-life experience]
The world belongs to the telecommuters.
At least it is going to belong to them for a while. Following the elevation of the Coronavirus disease to pandemic status, companies across the globe have rolled out "work from home" policies. No more rush hours, mandatory office check-ins, or sternly-worded queries for absenteeism.
From the western world to China, from Latin America to tropical Africa, organizations are quickly moving their workforce online. Even those who have adopted a largely office-based work model have been forced to make arrangements for their employees to work remotely. Nor is the new world order a respecter of company status. Whether it is big corporate behemoths like Google and Microsoft or your local small business, shifting to the "home office" — at least until the world recovers from the novel Coronavirus — has become the new normal.
Now, for the freelancer cum introvert, this has always been the case so nothing much has changed there. For the rest of the global workforce, however, it might be difficult to adjust to the new reality. And not just in terms of work.
Self isolation might sound like a prison sentence for those who are used to going to work, and, after that, the cinema, sports events, groupie get-togethers, church, dates or wherever their fancy takes them. However, it need not be so.
This handy guide tries to cover as many bases as possible for both freelancers and those making the pandemic-enforced transition to working from, and staying at, home. We present a list of things you can do at home that can spice up your isolation. Before you know it, days, weeks, and perhaps months, will fly by as you immerse yourself in productive, engaging and exciting activities.
1# Work
Humans are above all, productive beings. It is hard to envision a world where nobody works, virus or no virus. There is also the small matter of basic sustenance that means most of us have to work somehow, somewhere. And if that means flipping open the PC and doing tasks remotely, then that is just what we're gonna do.
But, how to survive a 14-day Coronavirus quarantine working from home?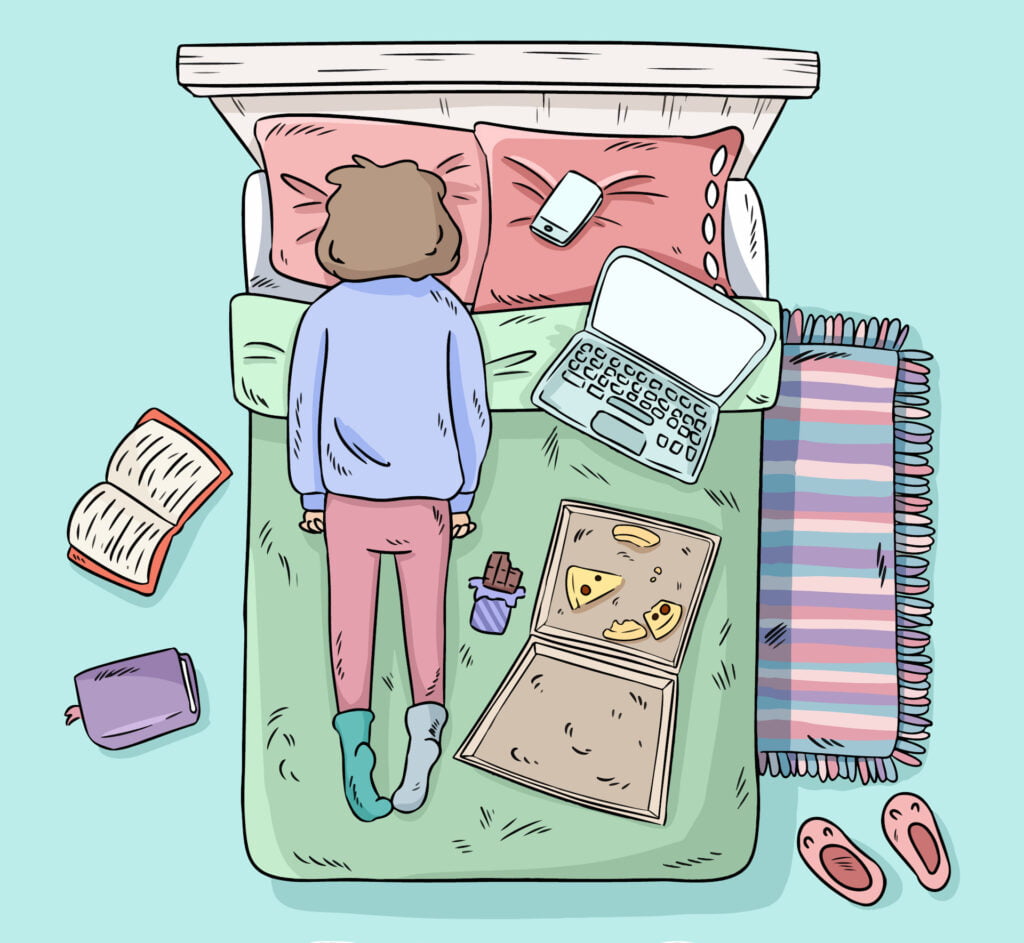 It would be nice if everyone got an easy crash course on how to work from home before Covid-19 essentially declared war on humanity. Some people will be engaged in remote tasks for the first time ever and they might not have the benefit of WFH veterans looking over their shoulder, offering words of encouragement.
Even so, most companies have rolled out policies that govern how their employees will handle tasks remotely throughout this period. Small businesses obviously won't be able to manage things with the same degree of automation that the big companies can afford but everyone will generally get by somehow.
The great challenge will be communicating with colleagues and superiors without the benefits of proximity. Organizations might also be worried that their employees' attention might waver while trying to work from an environment that isn't maximized for productivity. It is so easy to imagine someone flipping between channels, each one bearing news more grim than the last, instead of doing assigned tasks.
Therefore, for this whole work-from-home thing to be successful, everyone needs to be on the same page. If you are a worker, you can decide to treat your work hours at home as you would your time at the office. Obviously, freelancers get a head start here but even they can get distracted by the latest fatality report or high-profile infection count.
Which is where being on the same page is really useful. To make sure everyone is actually doing work at home, teams can agree to use time tracking software and similar tools to keep everyone engaged on the task at hand. Time and activity trackers are among the best ways to manage your work while social distancing from your employers.
By making clear that everyone's activity is being monitored, nobody would want to slack off or be the odd one out. Even if you aren't part of a team per se, it wouldn't hurt to track the time you put into work each day from home. If nothing else, you will get an excellent idea of your output and focus levels.
Time trackers like the wonderfully named Traqq are a good way to harmonize remote work. You can get detailed reports and time sheets on all team members and rate everyone's output and efficiency. It monitors apps used and websites visited during work hours and includes the information in the reports, ensuring employees don't stray elsewhere while they are supposed to work. Whether you are a freelancer or company employee, you can track your activity per hour, week or month and easily turn it into a work invoice for your employer.
2# Learn
An idle mind is the devil's workshop, goes a popular proverb. There is just one problem here: the devil (also, for our purposes, known as the novel Coronavirus) is out there infecting people's bodies rather than their minds, so you need something else to occupy your mind's workshop.
Many people are lucky enough to keep working from home but what about the rest of us, eh? The sad fact is a lot of honest, hardworking folks have been laid off completely or furloughed without pay, and many more will be until all this is over.
Instead of wallowing in despair why not take advantage of the free time to learn a new skill? The possibilities are limitless.
Ever wanted to learn basic coding and website design? Here is your chance. Want to sharpen up your current skills and learn additional ones that might elevate you in your line of work? Hundreds of free and paid courses are waiting for you on Udemy, Coursera and similar sites.
Perhaps your ambitions are more modest. Maybe you want to know how to bake cake or repair electronics. What about learning how to sing, paint, write or carve? Your self isolation might just be the time you have always wanted. Depending on what part of the world you're currently keeping yourself safe at, it might be weeks or months before you can safely mingle outside again. In the meantime, try to learn all the things you have always wanted to know.
You might never have a better chance.
3# Shop Online
Not just for yourself; for your isolating neighbors as well, should the need arise. With many shops closed and some essentially commodities out of stock, the internet might turn out to be your savior.
So, fill up that online cart with everything you need. Ask your resource-challenged neighbors what they need and fill up your cart with theirs, too. This is humanity's fight and we will have a better chance of surviving if we fight it together.
You can create online community groups and coordinate with others to get food and groceries to those who aren't able to pick them up by themselves. We guarantee that you will feel more fulfilled after each delivery to the front porch of a needy family.
If you are canny enough, you might also be able to get your hands on your favorite gadgets on the cheap. Just remember that it is better to shop from eCommerce sites domiciled in your country. International shipping might be affected by the pandemic.
4# Keep Fit
Isolating doesn't mean you have to sprawl out on the couch, feeding on popcorn and Netflix, morning to evening. Even if you have been temporarily prevented from working for others, there is no reason why you cannot work on yourself instead.
Yes, this is a fine time to get that body in shape. Wheel out the treadmills and exercise bikes, and go for a jog or light run around the house. Even if you absolutely have to stay indoors, you can try to break the world record for planks, push-ups, abdominal stretches and other indoor exercise forms. Even if you fail, as is more than likely, keeping yourself fit in the process is a good enough consolation prize.
5# Stream Videos
The government's stay-at-home order is a great chance to finally binge watch those series you have saved on your computer's hard drive. You can finally experience Daenerys Targaryen's journey from bright-eyed innocence to savior of slaves and mother of dragons to conqueror of Westeros and murderer of innocents. If that sounds too grim, fine, you can have your choice of more heartwarming stuff on Netflix, Amazon Prime and another dozen streaming sites.
Go for it. You know you want to. As long as you've figured out how to pay for the steaming bandwidth, nothing can stop you.
6# Play Games
If there is such a thing as forced leisure, this is it. Playing games is one of the relaxing activities to do at home during the Covid-19 quarantine. Left with fewer things to do and fewer places to go, why not wheel out the old PS3 or Xbox 360 and relive your favorite gaming moments? If you have the current gen consoles, even better. You can either go back to the world of Michael, Franklin and Trevor or find out what is so great about Rockstar's interpretation of the Wild, Wild West in Red Dead Redemption II.
Not having the hardware or physical copy of the game titles is no longer an impediment either. Google Stadia, Microsoft's xCloud, Nvidia's GeForce Now and Sony's PlayStation Now offer, in their different ways, avenues for gamers to stream their favorite games on their computers, consoles and even smartphones, without necessarily buying the physical titles.
Meanwhile, the likes of Steam, Blizzard and EA's origin continue to offer a topnotch PC gaming experience for those with the hardware.
So, go ahead and vent your Coronavirus-fuelled frustrations on your enemies in whichever online multiplayer battle royale is the flavor of the month.
7# Start a New Job or Company
Global companies like WhatsApp and Uber rose out of the ashes of the last economic recession. Catastrophe brings an abundance of opportunities and you can take advantage if you are bold enough to act on the unique business opportunities created by the virus.
Don't worry, you don't have to float a startup with grand designs to rival Facebook and Apple in the nearest future (although that would be nice). Something that is able to serve your community in these tough times and possibly going forward is good enough.
If you are uninfected but living in a Covid-19 "hot spot", you can start a small delivery company to bring essential items to those in (self) isolation or start making face masks and homemade sanitizers to plug shortfalls in your community.
You don't have to do it alone, even during these fraught times. You can remotely employ personnel and use Traqq.com to monitor their activities.
8# Volunteer
You don't need to listen to the news everyday to know that there is a shortfall of emergency personnel in most countries affected by the virus. As qualified doctors and nurses are being redirected to areas with the most need, other places are left at the mercy of the virus.
Even if you know absolutely nothing about medicine, you can still volunteer to help the containment efforts. You can deliver relief items to neighborhoods, help to administer temperature checks, and participate in surveillance efforts.
According to the United Nations, you can be a volunteer if you have qualifications or experience in one of the following non-medical areas:
Psychosocial support (counselling)
Logistics
Procurement
Emergency management and coordination
Socio-economic & health assessment
Gender based violence
Anthropologists/sociologists
Communications (incl. communications for development, communications in emergencies)
Information management/Data analysis
Monitoring & evaluation (ideally related to health and/or emergencies), and Reporting
Child protection
Livelihoods
Economic development
9# Parting shots
What to do during a 14-day Coronavirus quarantine? A lot, it turns out. If you work remotely during the period, you won't want to be distracted by some of the other activities mentioned in this guide. You can use time tracking software to keep you in line. And once you're done with work for the day, you can immerse yourself in a variety of extracurricular activities. Isolation needn't be dull.