Cheapest Grocery List: 20 Cheap Foods to Buy on a Tight Budget
When times are hard, and you are on a tight budget, it is advisable to shop for affordable groceries. As food prices continue to rise, it is getting harder and harder to shop for things that you really want. If you are not careful, you can easily end up with items that are not on your list. Consequently, you'll spend more than you had planned.
When creating a budget grocery list, you may need to makes a crifices and cut back on some of your favorite foods. However, that doesn't mean you can't eat healthily – it's all about the choices you make.
So, even if you are in a financial quagmire, you can buy cheap groceries and stock up on the essentials without breaking the bank.
How to Grocery Shop on a Tight Budget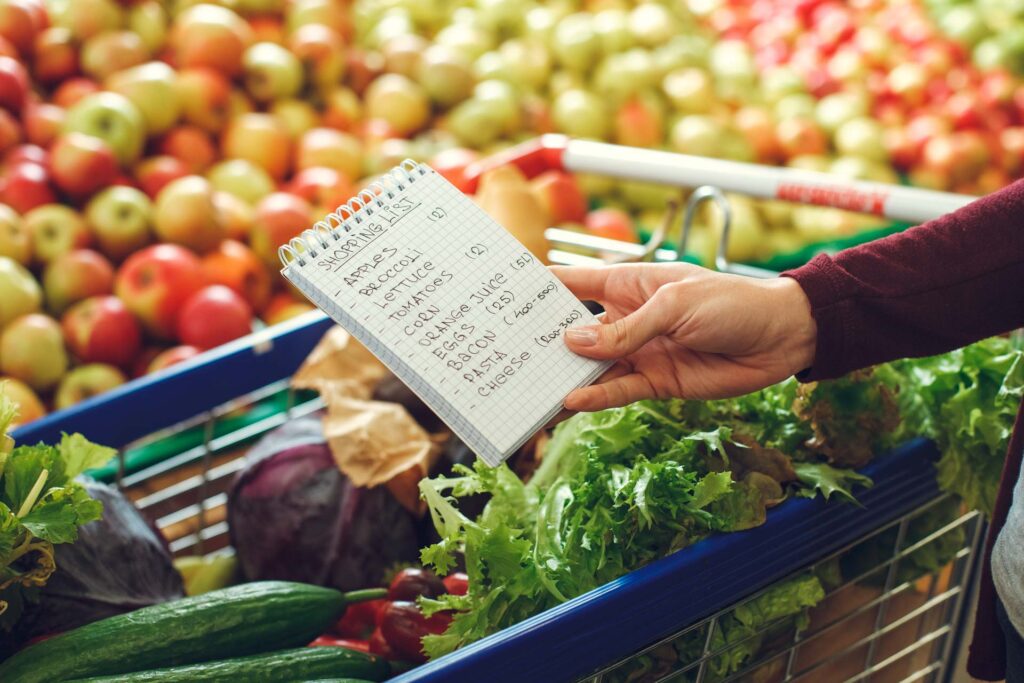 Food is one of the largest purchases that any kind of family makes every week or month. It's even more challenging when you go grocery shopping on a budget. So, how can you save money on groceries?
Here are a few tips:
Plan ahead. Don't go shopping for groceries without a list. The list will help you buy the essentials only and avoid things like unnecessary snacks. Always stick to your list, and only buy what you can afford. Make meal planning a part of your work-from-home routine.
Shop once per week. This way, you spend less than if you were to stop by the store every day or several times a week.
Shop on a full stomach. When you are hungry, you will be tempted to go off your list and buy snacks and other things that you don't normally purchase.
Try out new foods. You might find cheap groceries that you will enjoy eating.
Try to avoid food waste as much as you can. It's shocking how much food we buy and prepare, only to waste it. It is especially common if you have kids. Try to learn their eating habits and adjust the quantities accordingly.
Shop with a calculator. Keeping a tally of how the numbers are adding up in your cart will help you stay on the right lane of spending. It is easier to remove unnecessary items from your basket if you check how quickly the money is adding up.
Pay with cash. When you go to the grocery shop with only the cash you are planning to spend, you know exactly how much you can spend. When you use up your budget, that's it! You can't buy anything else.
Shop around for discounts. While being loyal to one grocery store is not a bad thing, you might be paying higher prices for certain items. Try shopping at different stores to learn which items cost less.
Buy what is in season. It's cheaper, and you will be getting fresh produce.
Cheap Grocery List
1. Oats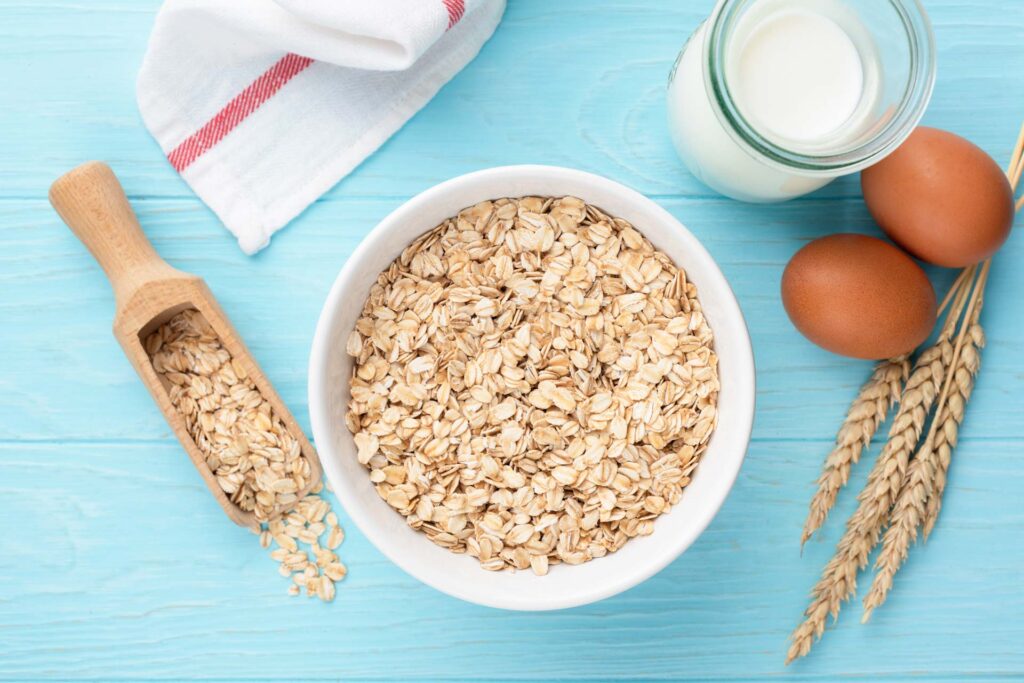 Breakfast can't get much cheaper than a nutritious bowl of oatmeal with some fruit slices and cinnamon. Oatmeal is not only cheap, but also a healthy choice. It is naturally gluten-free and full of minerals like zinc, magnesium, iron, and phosphorus.
This fiber-rich grain is not limited to breakfast only. It can be a great meal for lunch or even dinner. You can make oatmeal however you want, and get creative with your ingredients.
2. Eggs
Eggs should be on top of your cheap grocery list because not only are they affordable, but they tend to make mornings a lot more exciting. Eggs are so versatile, and you can whip something up in a matter of minutes. Whether it's scrambled eggs, fried eggs with toast, or hard-boiled eggs for breakfast, or a delicious egg and avocado toast for dinner, you can never go wrong with an egg recipe.
3. Spinach
Whether you use it in omelet at breakfast, salad at lunch, or meat at dinner, spinach goes well with almost anything. They are quick to make and add nutrients to your meals. You can steam spinach or even eat them raw in sandwiches.
4. Frozen Vegetables
Frozen vegetables can be bought for as little as $1.50 per bag. They are a great option when some of your favorite vegetables are not in season. Frozen vegetables can be used in a delicious pot of pie, stews, soups, casseroles, or stir-fried. Before you buy them, always compare the serving sizes to grab the best deals.
5. Potatoes
Potatoes can be used to make almost any kind of meal. You can bake, roast, or even mash them, and add to your favorite meal. You can also slice them up and fry them to make fresh and delicious fries.
Potatoes are cheap and readily available in most grocery stores.
Tip: Cook potatoes with the skin on for more nutritional value.
6. Lentils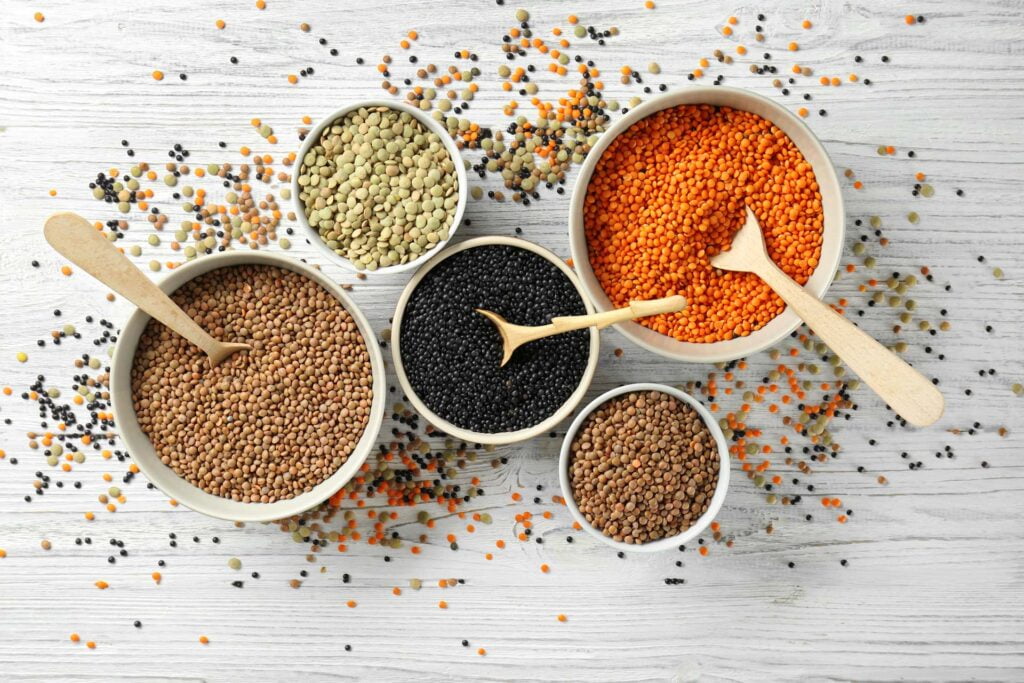 Your grocery list is not complete without lentils. They are cheap and a great option when you are broke. Lentils are a great source of protein and can substitute meat in soups. Plus, they make you fuller quicker!
7. Rice
Rice is one of the best cheap foods that you can buy on a tight budget. Plus, it is so versatile that you can add to almost any dish. Rice goes well with beans, leftover chicken, meat, and vegetables. Rice stores longer, and you can buy in bulk – so long as you store it well, in a dry place. For a healthier option, shop for brown rice. It helps keep your cholesterol levels low and aids in digestion.
8. Dry Beans
Meat isn't the only source of protein. Dry beans are also rich in protein and are super cheap. There are many types of beans you can choose from, and regardless of which ones you like best, they are full of vitamins and minerals. Plus, they are filling.
Black beans are, especially, nutritious and highly beneficial to our health. Among other things, they help maintain healthy bones, improve digestion due to the high fiber content, and aid in weight loss and management.
9. Lettuce
Anything green on your grocery list is a healthy option. Lettuce is good for your health, and your children's too. It's also cheap and a rich source of vitamin C.
10. Pasta
Pasta can be the perfect dinner staple for those nights when you feel too lazy to cook. You can incorporate pasta in any meal you think of – chicken, veggies, meat, or just eat it plain with tomato sauce.Try out different kinds of pasta until you get a favorite. But, for a healthier option go for whole-wheat or brown rice pasta.
11. Vegetables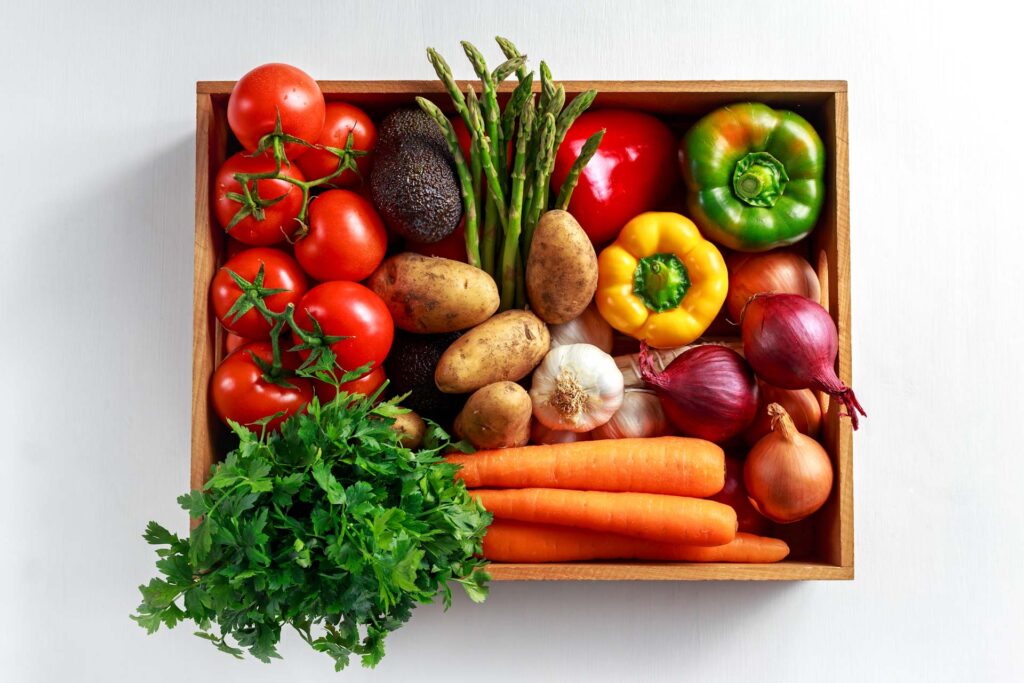 When shopping for food on a budget, vegetables should be on top of the list. There are so many types of veggies you can buy, such as broccoli, carrots, brussels sprouts, asparagus, you name them. Fresh veggies make for a nutritious addition to salads or as a side with dinner. The best part is, they can boost your brain power, focus, and concentration.
Keep in mind that vegetables go bad really fast. So, you want to only buy small amounts that you will use up.
12. Quinoa
Quinoa is not the cheapest food on this list, but it's worth having a packet in your pantry because a little amount goes a long way. One cup of cooked quinoa can make up to four meal servings. If you are tired of having the same type of lunch every day and you want to try something new, try a tasty quinoa salad. Most taste good on the second, or even third try.
13. Cheese
Cheese is rich in calcium, a mineral that is required by the body to build strong, healthy bones. As they say, cheese makes everything better, that's why it should always be in your kitchen. Get creative with cheese recipes to make outstanding meals, desserts, and appetizers.
To save some money,opt for a block of cheese instead of pre-sliced cheese. Additionally, avoid highly processed cheese like American cheese.
14. Sweet Potatoes
These starchy roots are rich in vitamins B and C. They can be used in any kind of recipe and only take a few minutes to cook in the microwave. They are naturally sweet, and you can top them with vegetables. These nutritional powerhouses can be baked, roasted, or deep-fried to make sweet potato fries.
15. Frozen Berries
You can buy frozen mixed berries if you can't find fresh ones. They are full of nutrients and are fiber-rich. You can make a healthy breakfast of mixed berry smoothie or a mid-day snack with milk, bananas, and cereals. Berries have many health benefits, plus they are delicious to be eaten at any time of the day.
16. Bread
Bread is a staple in many households, and it is an inexpensive breakfast alternative. You can use bread to make sandwiches or hot dogs instead of buns. The basic store-brand bread is usually cheaper than whole wheat loaves or sophisticated bread with lots of ingredients.
17. Cereal
A bag or two of cereal is hard to miss in many households. They are affordable, and some brands cost as little as 10 cents an ounce. You can mix cereals with milk, yogurt, or smoothie to make for a healthy breakfast or dinner.
18. Bananas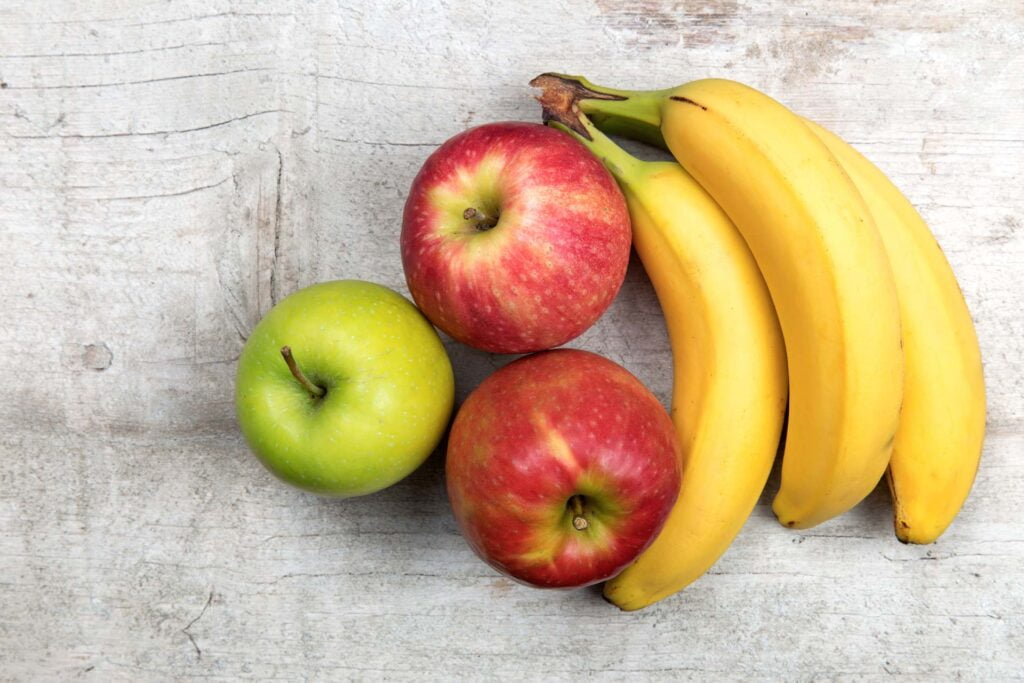 You should consider adding bananas to your cheap grocery list because they are readily available and inexpensive. They can be used in smoothies, when baking, in pancake recipes, or eaten on their own.
Bananas are rich in potassium, and one medium-sized banana supplies 10 percent of your daily potassium requirements. Bananas are high in fiber and can help moderate blood sugar levels.
19. Apple
Like bananas, apples are in season throughout the year and can be bought for only $0.50 each. However, prices can vary depending on your region. They can be added to oatmeal for breakfast or can be eaten alone as a snack. Try topping apple slices with peanut butter, almond butter, cinnamon, or cream cheese for a tasty flavor and additional nutrients.
20. Peanut Butter
If you have kids, you don't want to have an empty jar of peanut butter. It is not expensive, and one jar can make so many sandwiches. It is rich in proteins and usually goes well with jam and bread. However, there's no limit as to how you can use peanut butter. Try a toast with peanut butter, and slices of apples and bananas for your breakfast.
In conclusion…
Just because you're on a tight budget, it doesn't mean you can't enjoy healthy and delicious meals like apples, eggs, and sweet potatoes. Just be sure to make a list of all the essentials that you need before leaving the house.
Another great trick to save you money is to round the prices of items up. For example, if apple costs $0.50 per bag, round it up to $1. This way, you will be surprised to have all the items you need and still have some cash remaining.
Track Your Time
Just like tracking your spending helps you to save money, tracking time ensures you stay productive. You may have a lot on your plate, but with a reliable time tracking app like Traqq, you will be able to accomplish all tasks without feeling overwhelmed or burned out.
Traqq allows you to monitor the apps that are wasting your time so that you can block them with browser extensions. Plus, the tracker has smart alerts to keep you on track, even when you forget to activate the timer.