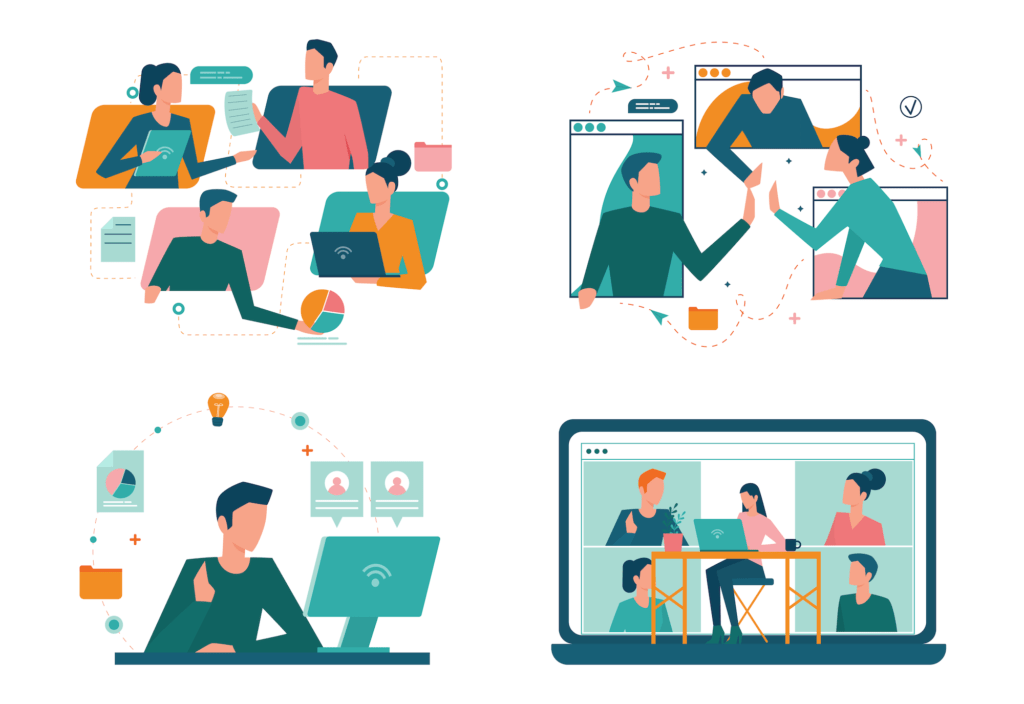 Months into the pandemic, many companies were forced to allow their employees to work remotely to keep their operations going. Even so, they quickly realized the numerous benefits of the work-from-home model. With no need for premises, office equipment, and supplies, expenses were drastically reduced. Business owners also enjoyed a boost in morale and productivity by giving teams the flexibility of setting their schedule. Thanks to the dozens of project management tools available today, keeping track of employees is no longer a major issue.
While this move was expected at some point, the pandemic accelerated the turn of events. Below, we've rounded up 18 companies that have switched to long-term remote work. Most of these businesses have gone on record with commitments to let employees work permanently from home.
Shopify
Many of you know Shopify as an e-commerce platform for online stores and retail point-of-sale systems. The Canadian-based company offers its servers to over one million businesses in more than 150 countries, with total gross merchandise volume surpassing $40 billion.
Shopify's CEO, Tobi Lutke, tweeted the following statement in May 2020: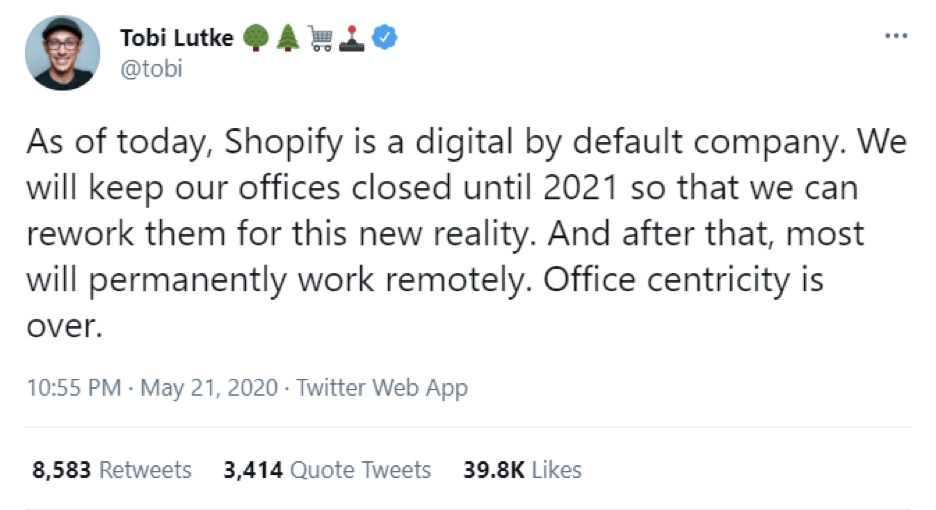 While admitting that the change was unexpected this soon, the CEO said they were good at it. "Thrive on change is written on our now digital walls for a reason," he added.
Upwork
Upwork, a global freelancing platform, is another top company to go fully remote. During the height of the pandemic, Upwork CEO Hayden Brown tweeted the following: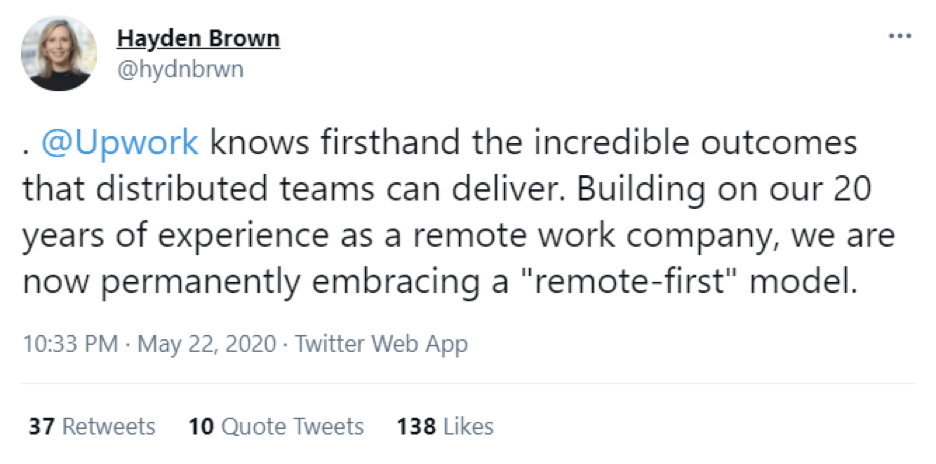 Brown added that the "going forward, working remotely will be the default for everyone." She mentioned that their teams will come together again once it's safe. For Brown, the "future of work is here."
Lambda School
Lambda School is an online coding school that uses interactive technology to teach students tech skills like web development and data science. It's this organization's goal to help them launch their careers. The platform works uniquely in that students pay tuition only after acquiring a job.
The CEO, Austen Allred, stated that the school had rolled out a permanent work from home policy. Employees can choose to work from anywhere within the United States, as long as it suits them.
Coinbase
Coinbase, a digital currency exchange firm, is following suit. The company announced that it is "moving to a 'remote-first' policy in light of COVID-19." This meant that most employees will have the option to work from home.
The CEO, Brian Armstrong, agreed with proponents of the remote work model. He said that remote working will present a huge opportunity and strategic advantage for the company. However, he added that some employees will still be working in the office. Even so, they will have the option to telecommute or work from home from time to time.
Facebook
One of the leading social media platforms, Facebook was among the first major companies to let its staff work from home. The CEO, Mark Zuckerberg, stated that 50 percent of its employees "could be working remotely within the next five to 10 years."
In a Livestream posted to his Facebook page, Zuckerberg cited the need to diversify the talent pool as one of the biggest advantages of fully remote companies.
Square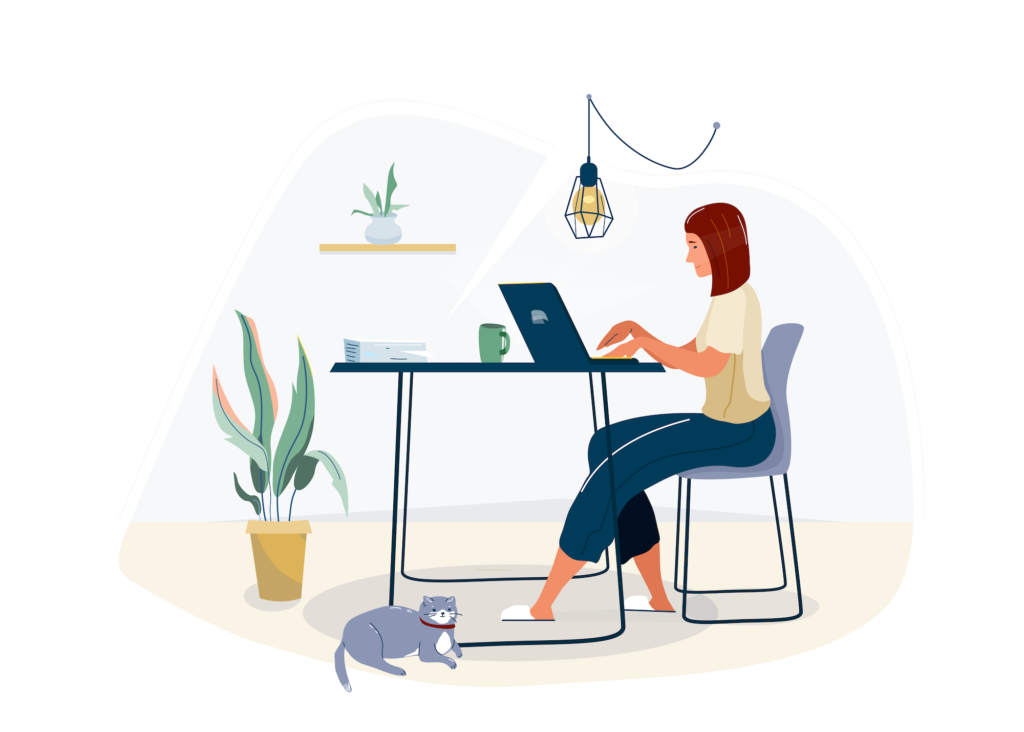 Square (SQ) will allow employees to work from home even after the pandemic ends. The CEO, Jack Dorsey, who is also Twitter's CEO, said that he wanted to give employees the freedom to choose their work environment. He mentioned:
Over the past several weeks, we've learned a lot about what it takes for people to effectively perform roles outside of an office, and we will continue to learn as we go. The new policy will apply to teams that can work remotely. Those who need to come to the office, such as security personnel and facilities, will continue to do so.
Twitter
Twitter says that it plans to allow its employees to "continue working from home 'forever' if they choose". Jennifer Christie, Twitter's chief HR officer, stated that employees will choose the model that they feel best suits them. If they want to go back to an office setup, the company will make it happen, with some additional precautions, of course. This shows the organization's commitment to listen to its employees and involve them in critical decision making.
Slack
Slack is a fast-growing business communication platform that enables teams to collaborate on projects and tasks. Slack CEO Stewart Butterfield shared sentiments expressing the company's interest in going fully remote. He announced that Slack plans to allow employees to work from home indefinitely.
Box
Box is a company that offers cloud content management and file-sharing services for businesses. As of 2017, it had close to 2,000 workers. Around 15 percent of Box's workforce was already working remotely before the COVID-19 crisis hit. After the pandemic, the majority of employees were allowed to work from home until the end of 2020. The CEO, Aaron Levie, said that the company plans to increase this number over time.
10up
When your company is involved in digital products like web development and design, it's only fair to allow teams to work remotely. 10up, which creates websites and tools for content creators like AMC, GoDaddy, Microsoft, and Motor Trend, manages distributed teams worldwide. It is a fully remote company with a diverse team that enjoys the flexibility of the remote work environment.
Adobe
Adobe, a company that specializes in software for the creation of web-based applications and content development, has allowed its 22,000+ employees to work from home. The transition to remote work as a whole was an advantage to the company. The tech giant reported triple growth in the sale of some of its products. Year over year, its e-signature solution, Adobe Sign and Adobe Scan increased in popularity.
Adobe Sign made it easy for businesses to sign documents virtually while Adobe Scan simplified document scanning and sharing for distributed teams. These are just some of the digital tools whose demand grew exponentially.
Adobe Senior VP Ashley Still cited challenges like onboarding new interns who would be learning. She reported other issues like collaborating with teams remotely and video conferencing fatigue. Despite those, Still agreed that remote work was setting the agenda for the future.
Automattic
You've probably used or heard about WordPress.com, Polldaddy, Tumblr, WooCommerce, and Simplenote. These are just some of the many projects under Automattic, a fully distributed company since 2005.
Currently, Automattic has more than 1,300 employees (Automatticians) in 79 countries, speaking 99 different languages. The company says that it's "committed to diversity, equity, and inclusion."
If you're looking for a remote job, the company is currently hiring for several positions, including marketing, engineering, and support departments.
FlexJobs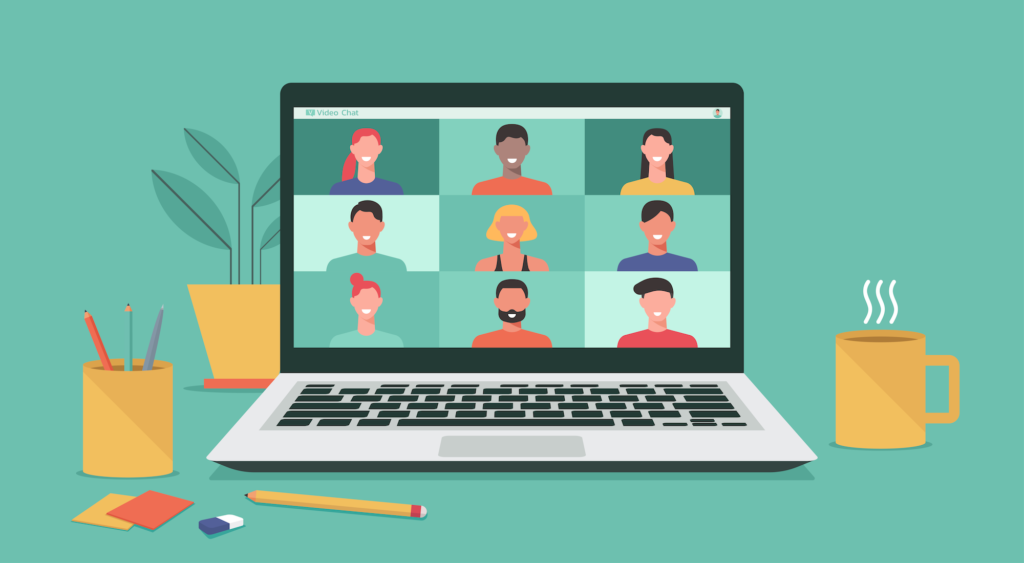 FlexJobs is one of the leading job sites to find flexible, work-from-home opportunities. The company itself is fully remote and has been since it was launched in 2007. FlexJobs membership requires a $15/month subscription fee, which also gives you access to hand-screen flexible job listings from thousands of companies.
Infosys
Infosys is an Indian information technology and services firm that serves a vast client base in over 50 countries. The company offers several solutions, including business services, finance and accounting, digital transformation, strategic consulting, and insights and analytics.
Infosys HR Head Richard Lobo said that the company plans to allow 50 percent of its employees to continue working from home. The rest can work in the office once things go back to normal. The company indicated that moving forward, 33 percent of its staff will work from home permanently. It expects the number to increase gradually and hit the 75 percent mark by 2025.
GitLab
GitLab markets itself as the "platform for modern developers." It's a fully remote company, managing more than 1,200 workers across three continents. GitLab has no physical offices and is one of the best leading examples of the all-remote work model.
Groupe PSA
Groupe PSA is a French-based global car manufacturer and the second-largest automaker in Europe. While the company can't go fully remote due to the nature of its work, it announced that non-production staff will permanently work from home.
The company said:
Given the positive experience and efficient measures already taken in the context of the Covid-19 crisis, Groupe PSA has therefore decided to strengthen teleworking and to make it the benchmark for activities not directly related to production.
Groupe PSA is the brand behind Peugeot, DS, Opel, Citroen, and Vauxhall.
Amazon
Amazon is the world's largest online retailer, with a vast workforce of more than one million employees globally – 50,000 are tech workers at its Seattle headquarters. It's among the first major companies to authorize remote work just after coronavirus hit the U.S.
The company announced that employees were allowed to work from home through June 30, 2021. Amazon follows the footsteps of other tech companies that have extended their remote work policy until the early months of 2021, including Uber, Facebook, and Apple.
Traqq

Last but not least, there's Traqq, a project management tool that ensures managers and supervisors keep track of all client projects as well as employees. It helps to boost the productivity and performance of teams via automated reporting and monitoring.
This free remote work software also comes with a time tracking feature that can be used by local and remote teams to ensure that no one is overworking. We all know the importance of taking regular breaks between work, and Traqq makes it even easier with its smart alerts and notifications.
Effective management can only be achieved where there is better organization. With distributed teams, a tool like Traqq encourages team collaboration, efficient communication, and seamless workflow.
While Traqq is based in Sydney, the majority of its workforce is distributed across the world. Even during the planning and developing stages of the app, the company has promoted a healthy and collaborative remote work environment.
Wrapping Up
Even as vaccine rollouts are becoming widespread, many major companies have announced plans to switch to long-term remote work. Although the transition has not been smooth and seamless, many organizations realized that this is the future of work – pandemic or not.
However, not all companies support the work-from-home system. Many are still pondering whether remote working will stick after the pandemic. Critics cite lack of interactions between employees and companies losing their culture as part of the downsides of working remotely. Despite those challenges, it's fortunate that many organizations understand that the benefits of this setup outweigh its disadvantages. With COVID-19 remaining a threat, companies that allow permanent remote work are making a bold step for their employees.