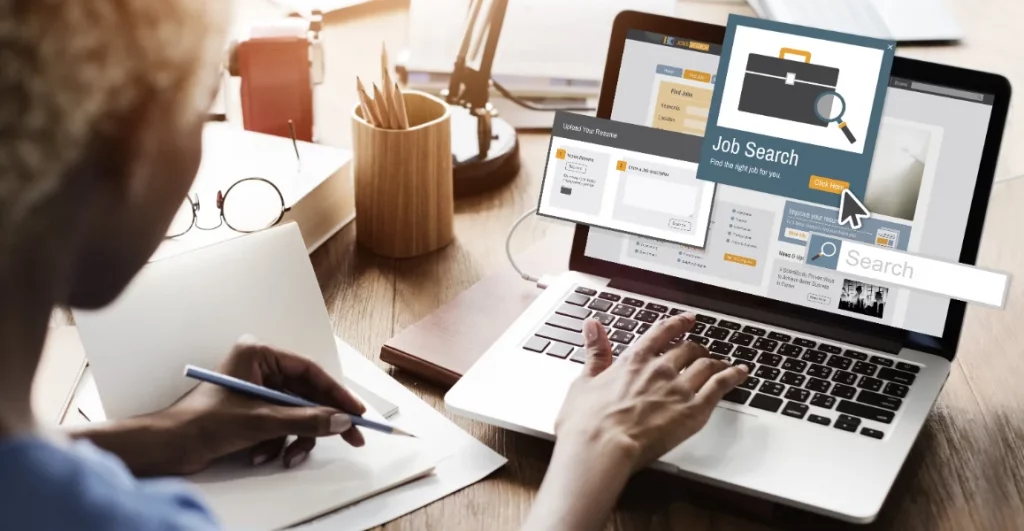 Get this. On average, each corporate job vacancy attracts 250 resumes.
Of these candidates, four to six will get invited for an interview, and only one will be lucky enough to get the job.
If you want to be among the selected few, a resume builder is the best tool to help you create that perfect resume.
Remember, recruiters prefer a resume tailored to match the job ad.
This means building a CV for each job application, a process that we know can be hectic.
A resume builder saves you time by letting you fill in all the necessary information on templates.
What's a Resume Builder?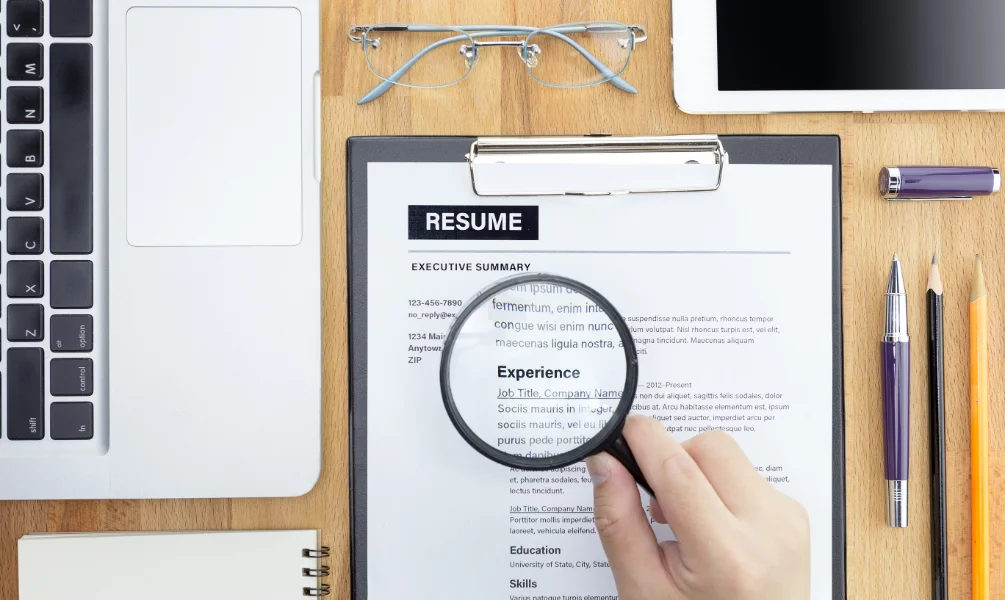 A resume builder is an online tool or app that offers an interactive template designed to simplify the process of creating a professional portfolio.
All you need to do is fill in all the necessary information pertaining to a specific job application and the tool will handle the rest.
Resume builders are incredibly helpful when you want to create an eye-catching CV that will end up getting noticed.
The best resume builders offer templates, suggestions, and even on-hand professionals to help you create a CV that puts you a step ahead of the competition.
Some offer these services free, while others require a one-time payment or subscription.
1. Resume Genius
ResumeGenius lives up to its moniker and has established itself as one of the best online resume builders.
It offers dozens of CV templates, with over 50,000 pre-written bullet points, making CV building easy and fast.
The tool features a clean, easy-to-use interface, and walks you through the various steps of the process.
The best part is that its templates are applicant tracking system (ATS) friendly, meaning your applications stand a better chance of passing the ATS screening.
Where it Excels:
The website gives you tips and tricks throughout the resume creation process
You can request assistance from a Certified Professional Resume Writer (CPRW) to help improve your document
The tool lets you search for a position and view pre-written options that you can edit
It offers cover letter building services to create a matching cover letter to ensure consistency
Where it Fails:
It doesn't have a free version
It doesn't allow you to leave out certain details like "State/Province"
You must pay for a 14-day trial to download your resume
Pricing:
14-day Trial plan: $2.95 (make sure to cancel before expiration, otherwise…)
1 Month plan: $39.95 per month (auto-renews)
12 Months plan: $95.40
2. ResumeKit
An Easy, Fuss-Free Resume Tool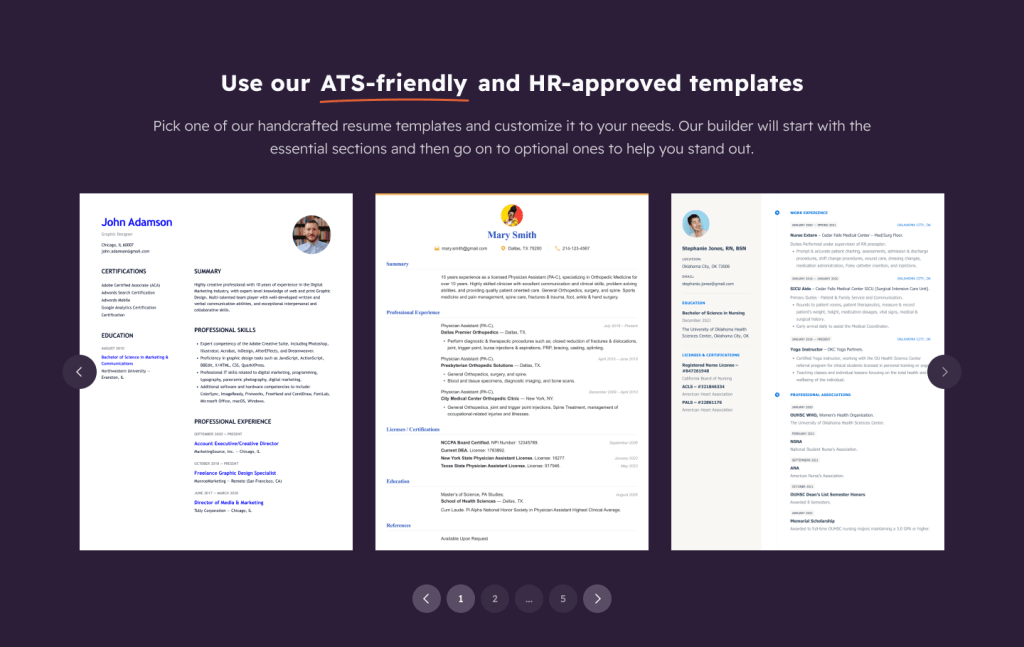 ResumeKit is the newest and one of the best resume builders you'll find online.
You no longer have to endure the long process of formatting your resume in Word. Simply provide your details and let ResumeKit do the rest.
Within a few minutes, you'll have an expertly created CV that you can download or share with recruiters.
The site's dashboard offers valuable job-search advice, information on how to write resumes and cover letters, and how to answer common interview questions.
Watch this space for more details about the features of ResumeKit.
3. Jobscan Resume Builder
Best for ATS Optimization
Jobscan offers a free, ATS-approved resume builder that increases your chances of getting invited for a job interview.
This means that the templates are designed with applicant tracking systems in mind to help you pass the ATS scans.
Jobscan Resume Builder lets you create your resume in six quick steps or upload your resume and optimize it.
During the CV creation process, the screen is split into two; one section for filling in your info and the other to review your details as you go. This gives you a sneak peek of what the final document will look like.
Where it Excels:
The site lets you import your existing CV and edit it to match the job you're applying for
The tool guides you through every step of your resume creation
It provides ATS-specific tips to help you tweak your application
The service provides skill keyword comparison to see how your CV stacks up against the skills required in the job description
Where it Fails:
Not the ideal resume builder if you're looking for formatting help
Pricing:
Free plan: $0
2 Weeks Free: 14-day trial and then $89.95 every three months
Monthly: $49.95 per month
4. Kickresume
Best for Customizable Templates and Pre-Written Phrases
Kickresume has more than 30 customizable templates, offering millions of possible configurations and designs. This is the best CV builder that lets you fully tailor your application to match your personality and professional background.
The site offers in-depth guides and insider tips and tricks. You can view thousands of real examples that have helped people land jobs in companies like Facebook, Apple, and NASA.
With the Kickresume Autopilot feature, you don't have to type a word. You have access to over 20,000 pre-written phrases for more than 3,000 positions, so you don't have to waste time thinking about what to write.
Where it Excels:
The site offers a proofreading feature to eliminate mistakes from your document
It gives you access to dozens of templates
Pre-written phrases help reduce writer's block
Where it Fails:
The free version has limited options
The templates are heavy on graphics, which can be a problem for ATS and recruiters
Pricing:
Free: $0
Monthly: $24 per month
Quarterly: $13 per month
Yearly: $8 per month
5. Zety
Best for Professional Resume Creation
Zety is a popular CV builder that can help you better your career by creating professional applications. It's simple to use and offers 18 modern and fully customizable templates that let you quickly input your information from scratch.
The tool walks you through the entire process and provides content-sensitive tips and prompts from professional recruiters.
There are extensive editing options, with AI-generated suggestions for every section of your resume, personalized to match the job ad.
Where it Excels:
It has a drag and drop feature that lets you add content that suits you, and the editor does the rest
The builder scores your resume (once you are done creating it) against your competitors and provides tips on how to improve it
The builder offers ready-to-use content suggestions for common professions
Where it Fails:
You can create your resume for free but must pay to download it, which is a little misleading
All templates use the same style
Pricing:
14-day full access: $2.70 (auto-renews after 14 days at $23.70 every four weeks)
Monthly plan: $5.95 ($71.40 paid upfront)
6. MyPerfectResume
Best for Guided Resume Creation
MyPerfectResume is a perfect choice if you're new to creating resumes and need guided help. It starts by asking about your field, title, and level of expertise, and then lets you pick templates based on the answers you provided.
You can then proceed to create a new CV or upload an existing one to edit on the platform. The website holds your hand every step of the way, including helping you choose a template and explaining how to highlight your skills.
Where it Excels:
The builder provides expertly pre-written, industry-specific phrases, so you don't get stuck writing about your work experience
It lets you copy and paste a job description from any listing to generate a job-specific CV
The platform checks, scores, and rates your application, and provides actionable tips to improve it
Where it Fails:
There are fewer customization options compared to other tools on this list
The site offers several templates, but you can't change the layout
Pricing:
14-day full access: $2.95, thereafter $23.95 every four weeks + $0.45 for each additional download, print, or email
Monthly plan: $5.95 ($71.40, billed annually)
7. Resume.io
The Most Versatile
Resume.io offers a wide selection of features, including automatic spell check and job tracking. As with all CV builders, you get access to attractive templates to help you quickly create professional resumes.
Like Jobscan Resume Builder, Resume.io offers a live preview, so you can see the changes you make to your application in real-time. This user-friendly tool prioritizes ease of use and offers cover letter templates as well.
Where it Excels:
You have options to toggle off certain features in the editing process, like the reference section
It has an uncluttered, easy-to-use interface
It offers a live preview of how your resume is coming along
Where it Fails:
You must first sign up before you start using any of the resume templates
The resume builder has limited customization options. For instance, you can only change the color of a template and the font size
It has fewer templates compared to some of the tools on this list
Pricing:
Offers a freemium version
7-day trial: $2.95, then $24.95 every 30 days
6 Months plan: $44.95
12 Months plan: $74.95
8. CakeResume
Easiest to Use
The drag and drop interface of CakeResume is what makes it easy and seamless to use. The resume builder provides attractively designed and professional, fully customizable resume templates that you can edit to suit the job description.
First, you need to sign up to access the 50+ resume templates. What's more, you can download your finished CV as a PDF for free, though it's only limited to one download with the free plan. The builder also offers 12 premade templates with five colorful themes.
Where it Excels:
The CV building process is straightforward
It lets you create a public profile, where you can upload your LinkedIn information
According to the site, each layout is specially designed to be ATS friendly
Where it Fails:
It's not the best CV builder in terms of visuals
Pricing:
Basic plan: $0, with limited options
Advanced plan: $20 monthly ($10 per month, billed quarterly)
Pro plan: $30 monthly ($15 per month, billed quarterly)
9. Canva
Best for Design Creativity
As you may have guessed, Canva's CV builder is design-driven, meaning you can design a resume without having to pay a graphic designer. The service is fairly easy to use, and with just a few clicks, you can change fonts, color, layout, or add graphics to suit the job description.
Canva has one of the most expansive template libraries, and all of them are designer-made, to truly let you stand out. Besides the free templates, there are limitless customization options to help give your resume a visual boost.
Use Canva if you're looking for design creativity and expression in your application. The drag and drop feature conveniently lets you personalize your resume, depending on the industry you work in.
Where it Excels:
The tool automatically saves all your designs within the editor, and you can save and edit multiple versions of your CV
Canva offers unique designs that will catch the attention of the recruiter
It offers hundreds of free, customizable, designer-centric templates
The tool provides tips and tricks on how to navigate the dashboard and create your resume quickly
Where it Fails:
Canva isn't specifically designed to build resumes, which means some essential features like pre-written phrases and proofreading are missing
You must manually fill in each section
Pricing:
10. Indeed Resume Builder
Best for Simplicity
Indeed offers one of the simplest and fastest CV builders on this list. The best part is that it lets you automatically share your CV with employers on the platform. That's an added advantage, given that it's one of the most reliable job boards.
You can start creating your resume by selecting one of the eight templates and customizing them to match the job ad. Once you're finished, simply download your resume in PDF format and send it to potential employers.
Where it Excels:
You can request expert help to get personalized guidance or have an expert write the application for you at affordable rates
The tool lets you choose an accent color, font, and sections you want to include in the resume. Plus, you can reorder the sections for better visibility
Its templates are compatible with ATS
Where it Fails:
The tool has few templates, which are basic compared to what competitors offer
The resume builder lacks most of the essential features like pre-written bullet points those other services provide
Pricing:
What to Consider When Choosing a Resume Builder
Some CV builders like Resume.io and Jobscan offer live previews, while others like Zety and Kickresume offer excellent guides and content. Therefore, when choosing a builder, consider the features it offers, including customizable templates.
Remember, it takes only 7.4 seconds for recruiters to reject your resume. So, you want a tool that helps you build a resume that really stands out. Keep in mind that your resume needs to appeal to ATS, as well as the recruiter. Therefore, focus on CV-building tools that offer templates designed to be easy to read and pass the ATS scan.
Closing Thoughts
Building a resume can be a stressful, confusing, and time-consuming exercise, especially if you're starting from scratch. However, a resume builder is designed to automate the process to save time and help you land your dream job. That said, we recommend learning the basics of resume writing to avoid making silly mistakes that will get your application rejected. And here's how to become the perfect job applicant.