Top 15 Best Alternative Sites to FMovies in 2021 [Updated List]
So, you are bored and don't want to pay actual money for a streaming service? Don't sweat it! FMovies is your solution. It is one of the best free streaming sites to watch or download TV series, movies, and documentaries.
FMovies Mirror Sites [Tested and Working]
We understand that for some people, FMovies is irreplaceable. They have many good reasons to stick with the streaming platform. For instance, while FMovies has ads, it won't make you feel as if you're infecting your device with malware. Many online streaming sites have too many broken links and malicious ads. Meanwhile, you won't experience those with FMovies. What's more, you can conveniently use an adblocker to ensure a smooth viewing experience.
Here are some of the FMovies mirror sites that have beentested to work:
However, what happens when one day, you decide to catch a trending movie that just came out in the theaters only to find out that FMovies is down? While FMovies has been climbing the ranks in dominance for free online movies and TV shows, the platform has been vulnerable to errors and bugs. With increased web traffic, the site can run into technical faults in its database, making the website unusable.
Additionally, since most of its contents are copyrighted, it might be prohibited or even blocked in some countries.
If you can't live without watching a movie or TV series, then you might ask, "What is an alternative to FMovies that I can use?" Well, today is your lucky day. We've compiled a list of FMovies alternatives so that you can have multiple options to pick from.
Disclaimer: The websites featured on this article are not promoted by or affiliated with Traqq. These sites may contain copyrighted materials that are illegal to download in certain countries.
15 Best FMovies Alternatives
1. FixTor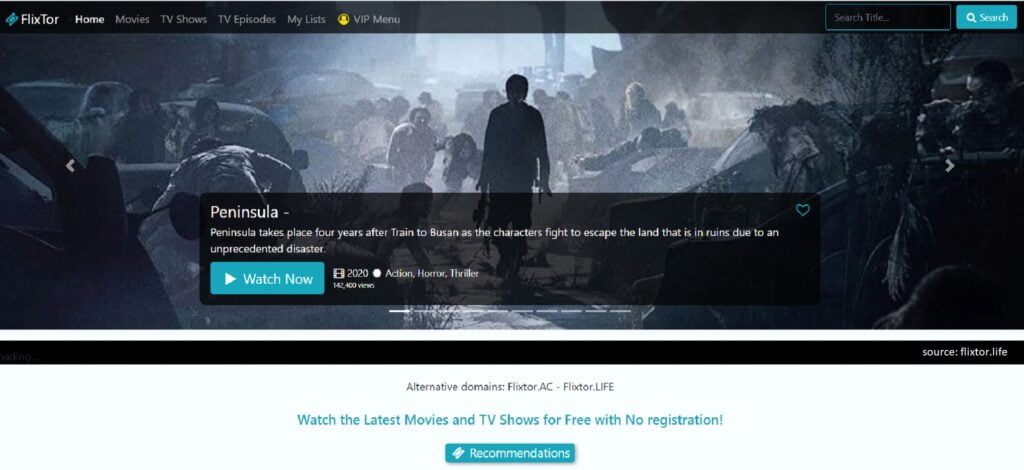 FixTor is one of the top FMovies similar sites where you can catch the latest movies or TV series. It is loaded with titles, both old and new. With several filter options, its layout is designed to make your search easier. You can lool for a movie, TV show, or TV episode by release year, minimum rating, minimum votes, language, genre, latest updates, best rated, etc.
Additionally, you can create your list of favorite videos for easy access. When it comes to TV series, the 'Latest Added' option lists all the episodes that have been uploaded in the last 24 hours, including the quality of the video.
2. YifyMovies

YifyMovies, aka YifyTV, is another excellent choice if you are looking for sites similar to FMovies. It features the latest movie releases and new series seasons and even allows you to download high-quality videos. Its interface is well laid out, making it possible to find everything in one place.
The site also offers at least four streaming links and basic info about the movie or TV series, including ratings. What's more, if you want to watch movies or shows with the highest ratings, simply click the 'Ratings' link, and you will have plenty to choose from.
Like any other free streaming site, you can expect lots of ads while watching films. However, with a good adblocker, you can enjoy flawless streaming.
3. LookMovie

If you are looking for classic and newly released movies, LookMovie offers one of the best libraries without requiring registration. The videos load quite fast, and the quality is pretty impressive. The site is ad-free, but you can get a few redirects every once in a while.
It is one of the few streaming sites where you can catch your favorite movies or episodes with almost zero distractions. Plus, it shows the IMDb rating and the synopsis of each show so you don't have to go elsewhere to find the info.
4. TubiTV

TubiTV is one of the few legal streaming sites in the U.S. that allows visitors to stream content for free. It also comes with a mobile app for those who want to catch their favorite episodes or movies anywhere they go.
The layout looks professional, and the content loads fast. What you'll like about the site is that there are no ads at all, and you can watch anything you want without registering for an account.
However, the site has very few recent movies. However, if you fancy some popular classics, Tubi has a variety of genres that will keep you entertained without interruptions.
You might need to sign up for an account if you intend to sync your activities across your devices. Syncing allows you to pick up where you left off the last time you streamed. Moreover, you'll get recommendations of new content to watch based on your recent activities.
If, for some reason, you can't access TubiTV, try using a VPN.
5. MovieWatcher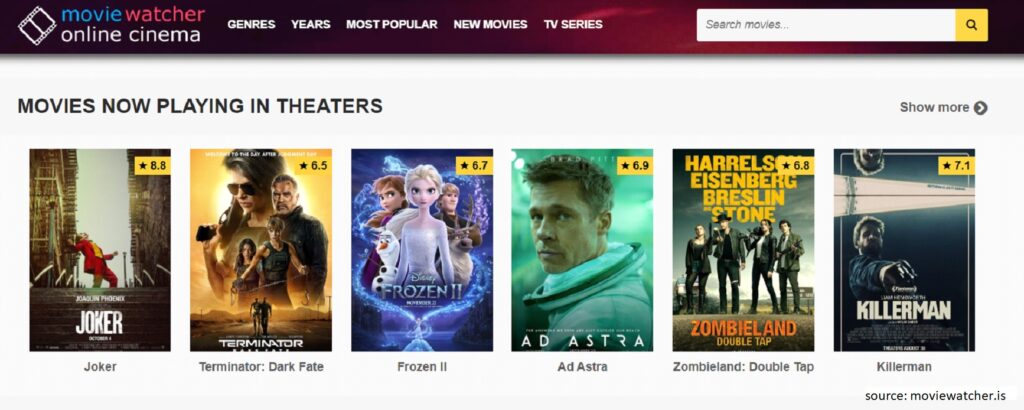 The moment you visit MovieWatcher, you will notice that the layout is clean and the homepage is easy to navigate. The top part features new movies currently showing in theaters, and you can also browse the most popular, best rated, or recently added movies for a wider selection of streaming content.
You must register for an account to watch free content on MovieWatchers. Plus, be ready to get several popup ads when you visit the site. But again, that's nothing an adblocker won't handle.
The good thing about this site is that each movie or TV show has a preview, including the cast, directors, genre, country where the movie was made, and the release year.
6. MovieTube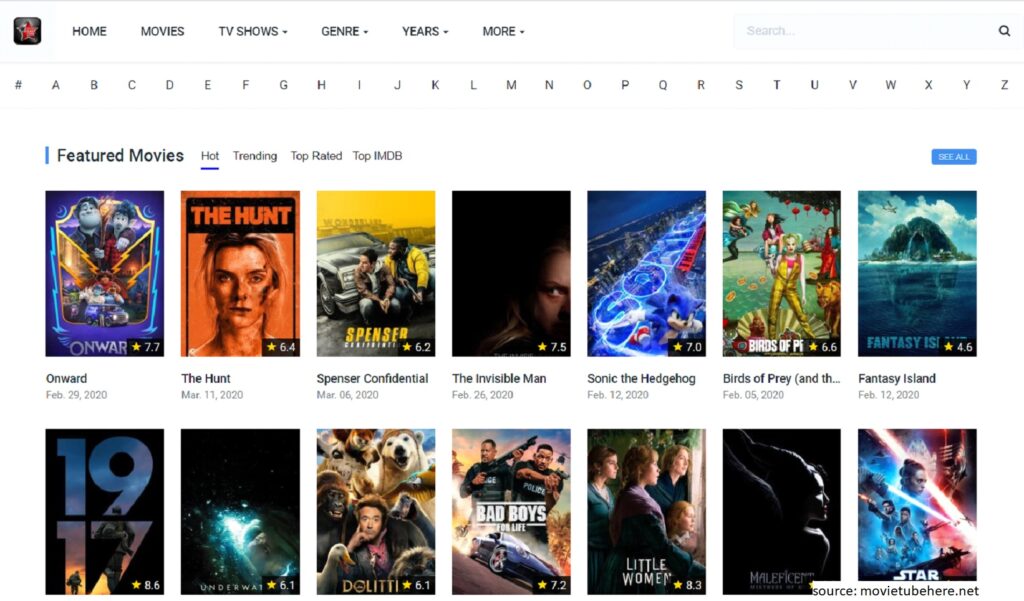 Looking for a high-speed streaming site? MovieTube has a massive collection of movies and TV shows to binge-watch every weekend. The videos load extremely fast, but you need to create an account to watch or download the free content.
Its page is easy to navigate, and from the homepage, you can view top featured movies categorized into:
⦁ Hot,
⦁ Trending,
⦁ Top Rated, and
⦁ Top IMDB.
Each title has a preview, including the release date, IMDb rating, directors, and actors. The movies are listed alphabetically, according to the genre, or based on the release year. The site is best suited for those looking for the latest movies since their library contains films from 2017 to the most recent.
Their TV series collection is quite large as well, with featured TV shows on top of the page. Unlike movies where you can only view content from 2017 onwards, TV shows are not limited by year. You can even catch the first season of Grey's Anatomy, which started airing on March 27, 2005.
7. MoviesJoy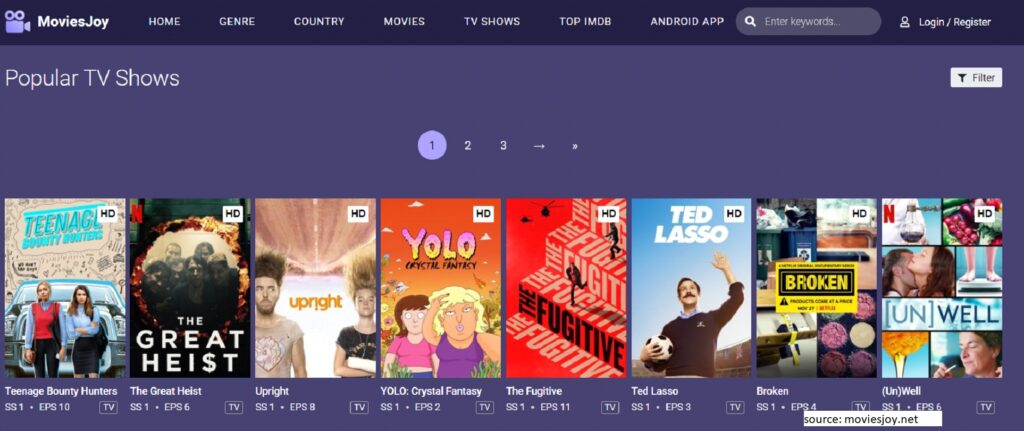 With no sign up required and its interface free of ads, MoviesJoy is definitely worth checking out. The page is well laid out, and you can sort movies according to the genre, country, or top on IMDb.
What's more, each movie is tagged with the video quality like CAM or HD so that you know what to expect. There is also an android app that allows you to catch your favorite movies wherever you go.
You can also watch popular TV hit shows, including reality TV, animations, and family shows.
8. WatchFree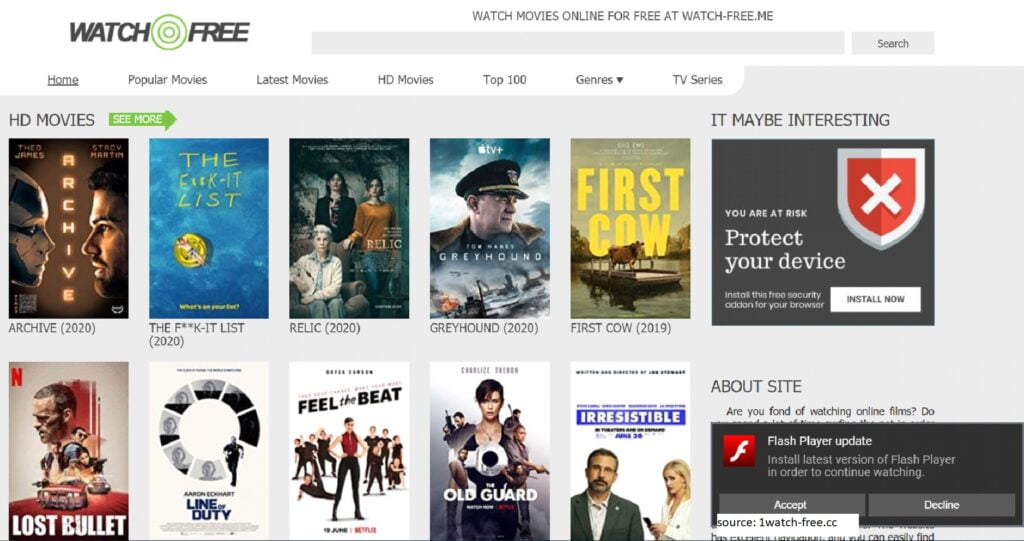 If you waste a lot of time searching for popular or top-rated films online, your search ends here. WatchFree has an excellent collection of films and TV series, including new movie releases.
However, there is a catch. You must register an account to watch films. However, this should not be a big deal since it only takes a few seconds.
The site is best for movies since their collection of TV shows is not as updated compared to other sites like FixTor.
9. Afdah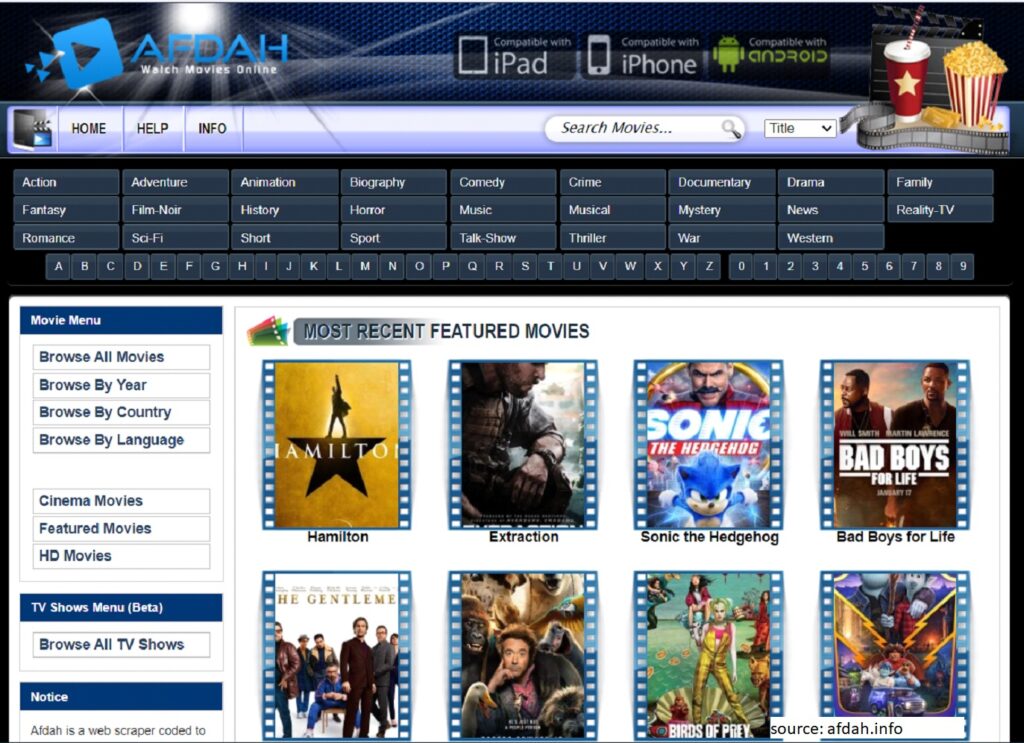 Afdah is another great FMovies alternative that allows you to stream free movies without ads. Of course, you can expect the occasional redirects when trying to open a movie but it's not much of a hassle to close those unwanted tabs.
You will love the video quality on Afdah, and the site is designed to be compatible with mobile devices. Apart from the fact that it doesn't require registration, you'll be impressed by the way the site provides fresh and updated content.
10. CMoviesHD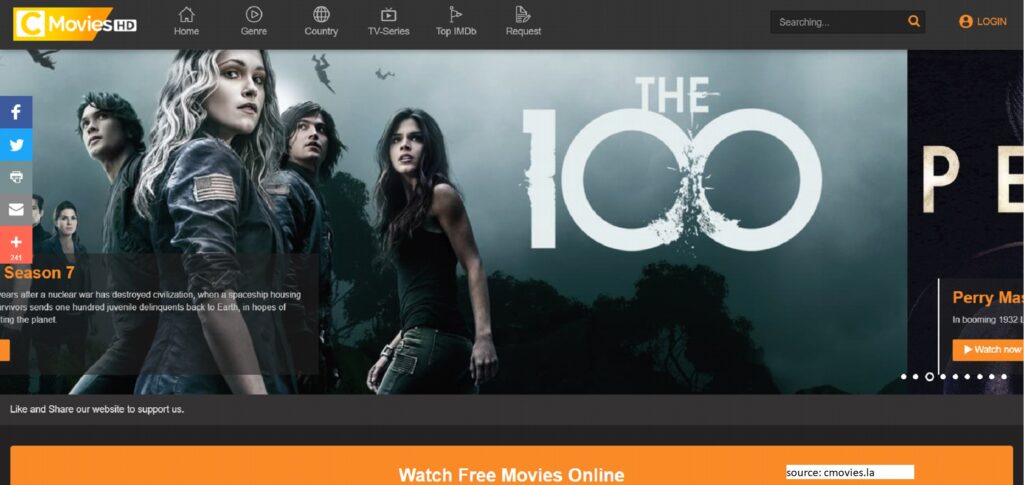 CMoviesHD has a really good collection of both movies and TV shows. Each title for TV displays the most recent season and the latest episode. When you select a particular series, the episodes are listed nicely, and it starts playing as soon as you click one.
You will also like how the site provides info about each movie and TV show, including IMDb rating, release year, and the video quality. The content is constantly updated, and you can catch new seasons and movie releases as soon as they are available.
You also have the option to turn on subtitles if you like, straight from the built-in media player. Additionally, you don't need to sign up for an account to enjoy the free content. We noticed that the site has few ads, but for completely uninterrupted streaming, we recommend that you use an adblocker.
11. GoStream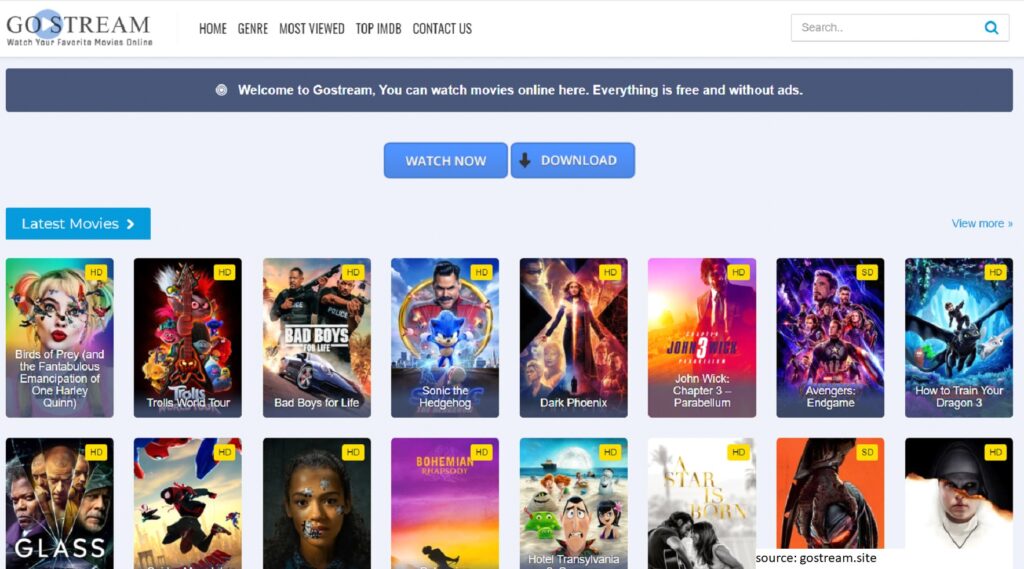 GoStream is dedicated to bringing you free online movies. The site features the latest movies, each with a brief preview and rating from IMDb. You can sort movies according to most viewed, top IMDb, or genre.
Unfortunately, if you want to find movies released in a particular year, the site doesn't make it easy. Otherwise, if you find something interesting, simply click on it to start watching it instantly. The movies load fast, and you don't need an account to start streaming. Plus, the ads are few except for the redirects.
You might want to check the quality of the movies first before you select them since some of them might be of poor quality.
12. TinyZone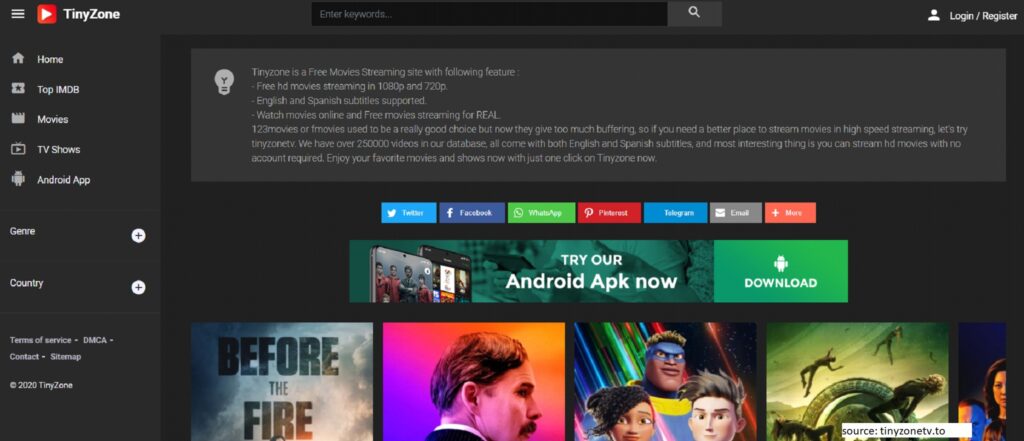 TinyZone's interface looks similar to that of YouTube – kind of – and it's pretty clean. The homepage features the latest movies and TV shows, including what's trending. According to the site, they offer high-speed streaming, and all of their contents are HD.
When you select a movie or TV series, you can see a brief preview and the IMDB rating. You can also check out the trailer right from the site, eliminating the need to look for details elsewhere.
There are on-page popup ads, but other than that, it only takes one click to enjoy your videos.
13. Download Hub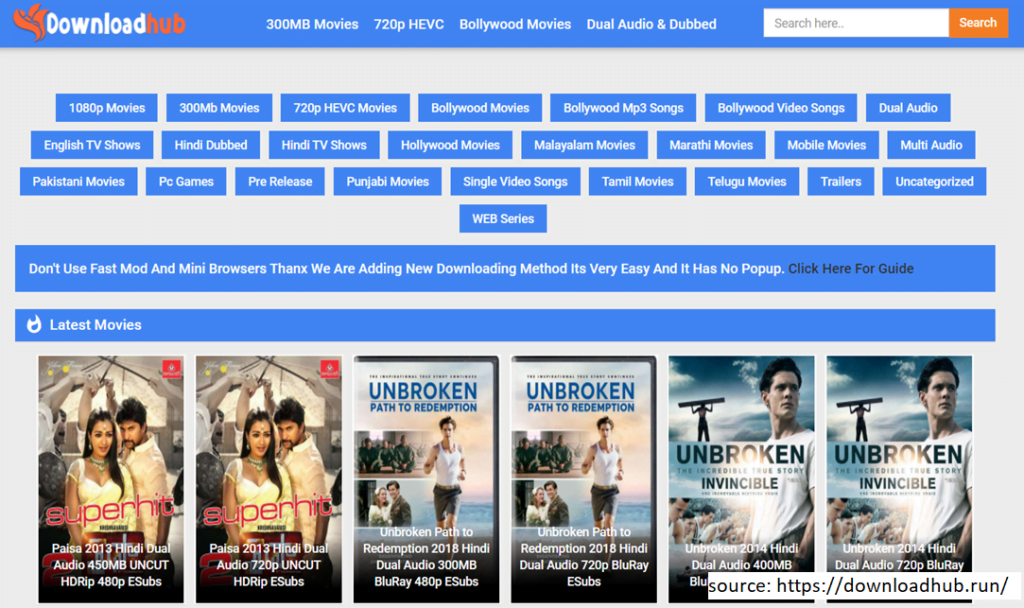 Download Hub is another FMovies alternative site that many people around the globe love. As its name suggests, the site lets users download TV shows and films. However, you can still visit the site and watch content directly on the platform. It may not be the best FMovies alternative, but you can still expect excellent streaming quality from it. What's more, it boasts of a diverse library that features classic titles and the latest blockbuster hits.
With Download Hub, you can always expect a regularly updated link base and consistent uptime. So, you'll always find your favorite TV series and movies on this website.
14. TinyZone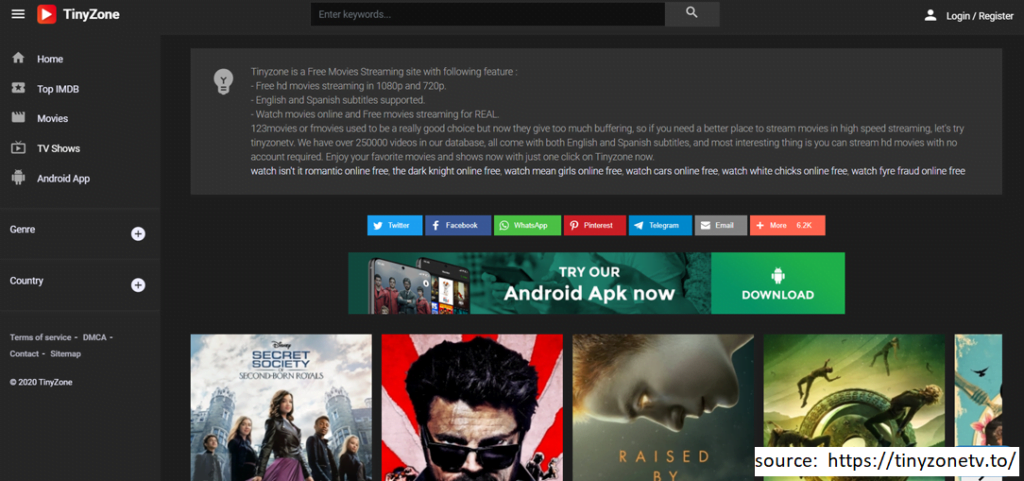 TinyZone features a comprehensive library of TV shows, movies, and documentaries that you can stream for free. What's more, you can download media content in various formats and in high-quality resolution. TinyZone's interface has a minimalist design thatenables easy navigation. You can easilyfind the title you want since the content isorganized under various categories.
If you already know which title to stream, you can go directly to the site's search bar and look for the content. However, if you're still undecided, you can go to the left-pane menu and browse through titles according to their IMDB rating, genre, and country of origin.
15. MKV Movies Point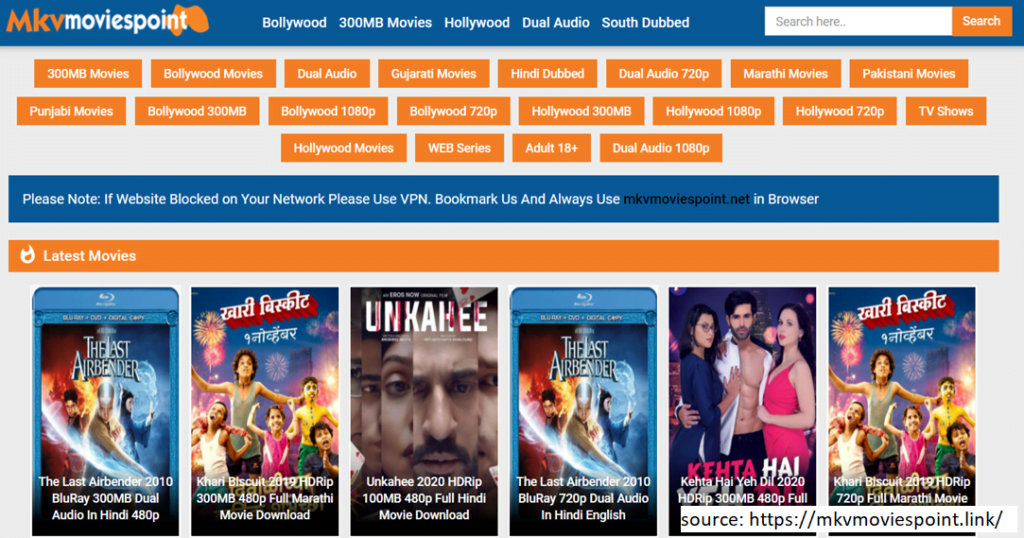 MKV Movies Point has a user-friendly interface thatmakes streaming hassle-free and convenient. It is also a great alternative to FMovies, especially since it features a diverse collection of TV series and movies from around the world. The site also has options for filtering the titles by genre, language, and popularity. The more contentyou stream on the platform, the more it recognizes your viewing preferences. As such, it will recommend titles that you may like based on your streaming history.
Take Back Your Time with Traqq
Don't you just wish there was a way to slow down time so that you can get the most out of every minute? Unfortunately, that's not possible. We can all agree that watching TV shows and movies via online streaming sites like FMovies is one of the many ways to kill boredom. However, without managing your time well, you might miss your favorite shows.
Tell you what though, using a time tracking software like Traqq allows you to focus on your work and tasks, without giving in to distractions or the bad habits that you know you need to stop.
More importantly, Traqq helps you to maintain some semblance of work-life balance, while at the same time enabling you to achieve your goals. The timer shows you how many hours you've already spent on your projects and how many more are left.
The app is flexible and customizable, allowing you to manually make changes to fit your demanding schedule.