Reasons to Have an Amazing 404 page [Top 5]
For website owners, keeping unique visitors engaged is crucial. Unfortunately, at some point, people will end up stumbling onto a 404 page. Perhaps, they've added a strange extension to the end of the URL. On the other hand, it's possible that you've changed the structure of your site, but your visitors are accessing old pages through their bookmarks. It doesn't matter how your visitors hit a 404 error page. What you want to ensure is that you direct their traffic into a meaningful page on your site. Otherwise, they might opt to access your competitor's page.
1# You'll Bore Visitors with the Default 404 Page
You can get clever and say that a 404 page is just a URL that is having an existential crisis. However, no matter how witty you are, to the eyes of the website visitor, this page is plain boring. You wouldn't want them to stumble onto the default 404 error page. It would make them feel as if they've traveled back to the world of eye-gouging html sites form the 90s. It's like a receptionist's face at a dentist's office. Just look at how unfriendly it is: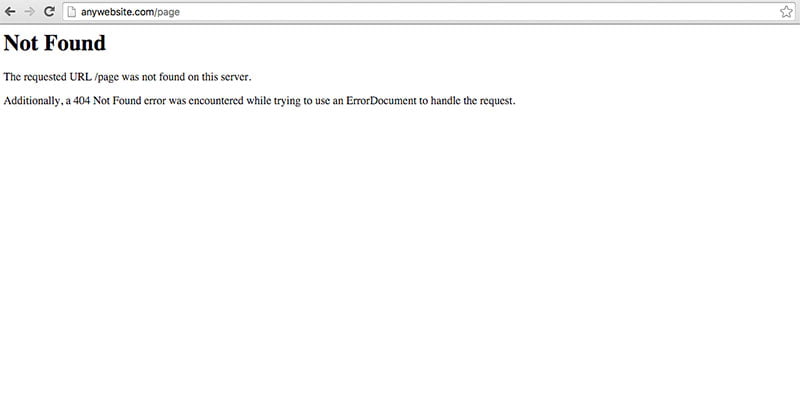 What's more, it doesn't provide any hint as what the visitor should do next. It's as if the dental office receptionist asked you to fill out a form, took it, then never told you when the dentist will see you.
2# Visitor Engagement Status: Not Found
A 404 page can be confusing to a visitor. It leaves them feeling lost and frustrated. It's telling them that they simply fell through the cracks. In a way, it's like a virtual slap in the face. We hope you get the idea.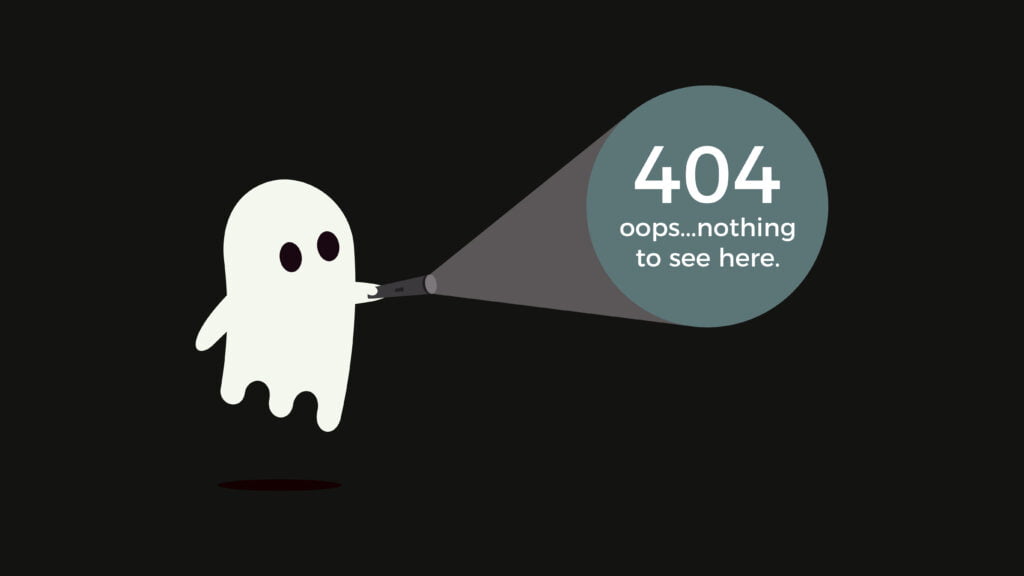 There has been a lot of discussion about the best way to handle 404 pages. Digital marketers also reiterate the error's impact on SEO. Unfortunately, this page is almost unavoidable. You may be tempted to redirect all 404 errors to your homepage, but that would not be much of a help. Here are some of the reasons why you shouldn't redirect 404 errors to your homepage:
The visitor will get confused as to how they wound up on this page when they intended to visit a different page.
The visitor would wonder why they couldn't access the information they were promised.
Google may recognize your homepage as a soft 404 error, which can be harmful to your SEO initiatives.
You're wrong if you think that you're doing something beneficial when you try to salvage any juice link from your old, removed, or nonexistent pages. What you need is to learn how to create a helpful and better 404 page. Just because these errors happen, it doesn't mean that you cannot turn your visitor's experience into a good one.
If you're asking, "Why does one need a 404 page that has been customized?" Well, by creating one that's your own, you can give visitors a better adventure on your site. You can make a 404 page content blaming yourself, giving opportunities to your visitor, or one that sympathizes with you. As long as you're not giving a dead-end experience to people, you're handling 404 errors well.
3# What Is the Real Goal of a 404 Page?
When learning how to create a great 404 page not found error page, your aim should be to keep the visitor on your website. You can get the user to hang around when you make creative and purposeful content. Here are some of the things to remember when creating a 404 page:
Don't slip in any form of advertising.
The content should inform the visitor about the situation, but it should also reflect the site's personality.
The page should have information that will compel the visitor to access a relevant page.
It should not contain complex scripts. Instead, it should only be in the form of static HTML.
The page should be lightweight, allowing it to load as quickly as possible.
4# What Should Your 404 Page Contain?
You need to keep your 404 page simple in nature to make it effective. As we've mentioned, it should inform the visitor about the error while telling them what they can do to move forward. Also, you should avoid using technical jargon in the language. It will scare the bejesus out of tech-challenged users. In some cases, it may be best to avoid the '404 Error' headline in the first place. It's better to go with content that conveys a message. For instance, you can stick with the phrase, "The page can't be found." Here are some tips we recommend:
Use a strong headline explaining how the user stumbled across the page.
Add links to the sitemap or homepage.
Avoid using complicated navigation. Don't add too many options for the visitor.
Include a strong call to action. Inform the visitor what they can do next.
5# How to Create a Beautiful 404 Page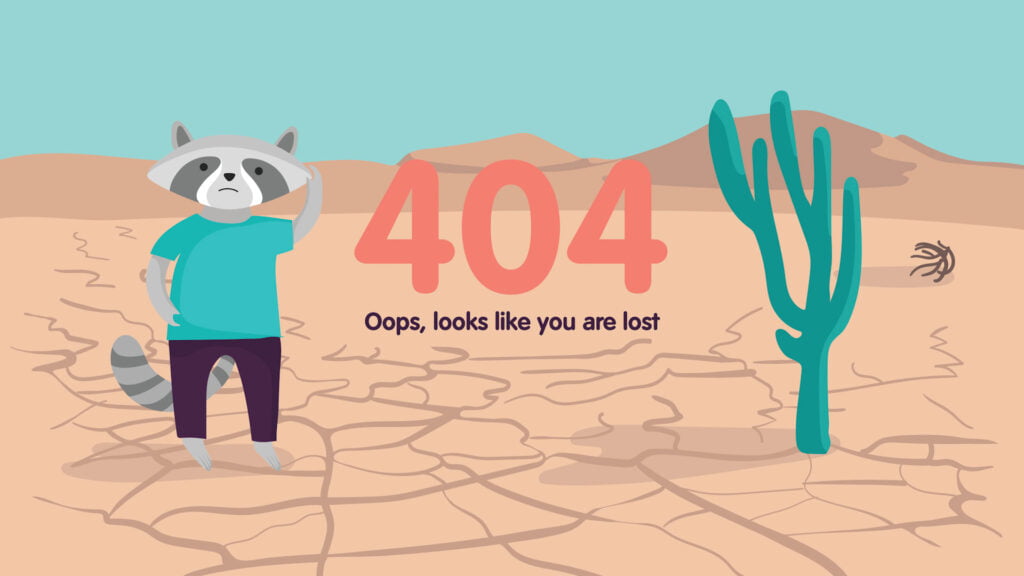 When it comes to designing your 404 page, you need to consider usability. Remember to include features that will make the page functional yet still visually appealing to the visitor. Google's webmaster tools include a list of tips for custom 404 pages. Here are some of them:
Keep your 404 page's design consistent with the site's overall look and feel.
Consider offering the visitor the option to report broken links.
Embed a search box on the page, using the Enhance 404 widget.
Prevent missing pages from showing up in the search results by ensuring that your web server returns actual 404 HTTP status codes.
Avoid being too technically sound. Be creative when designing your 404 page.
You should also consider how the 404 page will work with the rest of the site. Consider the overall design's overall tone or mood. A great 404 page should work seamlessly with the entire site. Now, if your website has a humorous and light tone, so should this page be. Of course, ensure that the imagery and colors are consistent too. Here are some design elements to consider:
Make sure the 404 page complements the overall design of the website. Use the same image style, color, and typography integrated on the other pages of the site.
Keep the same branding for the page. Use the same header, log, and footer treatment to ensure that the visitor will recognize that it is still part of the site.
Keep it visually simple. When it comes to error pages, it is better to keep it uncomplicated.
Make it a one-screen design so that users won't have to scroll.
While you're encouraged to be creative, you should avoid overdoing it. Incorporating too many gimmicks may make the visitors forget what they were searching for in the first place.
Sneak in some humor to make the visitor's experience a little lighter.
We understand how complicated issues in the tech industry can get, especially for companies managing remote teams. We can take some burden off your shoulders. Visit Traqq's blog to get the best tips and info for handling freelancers and remote workers! We've got plenty of technical and practical advice on how to make the setup more efficient. With all the info we can provide, you won't ever feel like you're lost on a 404 page again.