Not everyone can thrive in a work-from-home setup. From Netflix shows to endless unfinished chores, there are so many distractions that remote employees face. According to a 2020 study from Statista, 47% of respondents consider managing disruptions at home as one of the biggest challenges they encounter. Naturally, as a supervisor, you'd want to ensure that your WFH employees are doing the right thing. In this case, you may consider recording their computer screens.
However, we understand that you might worry that employee screen monitoring would violate your team's privacy. While you want to ensure their efficiency while working remotely, you would not want to run into any legal trouble. Well, thankfully, Traqq is here to save you from your woes.
In this article, we will discuss how screen monitoring software can benefit your business without harming your employees' privacy.
Why Should You Use a Screen Tracker?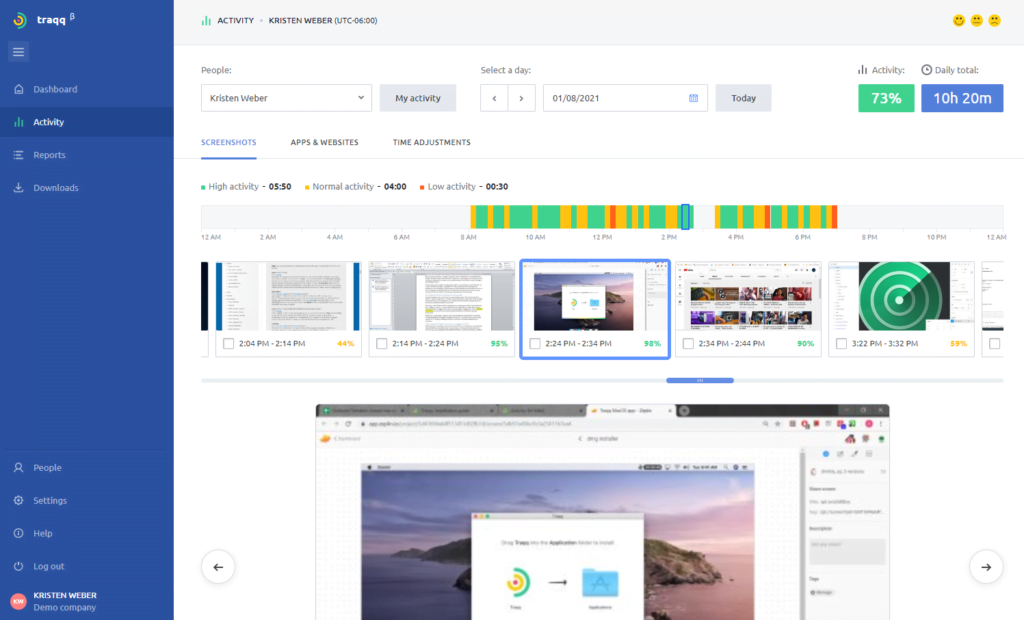 There are plenty of reasons why you should use online monitoring, especially in a distributed team. Here are some of the things you can expect when you use computer screen monitoring software:
Gather Accurate Information on Daily Employee Performance
Of course, the primary reason why managers use screen recorders is to be able to see their employees' work screens. Even when you're miles and miles away from your team, you'd still want to ensure that they are putting in productive work during office hours. When you can monitor their screens, you will know whether they are doing their tasks or just roaming around the web. What's more, you'll see how well they perform and how long it takes them to complete a task.
Ensure Company Policy Compliance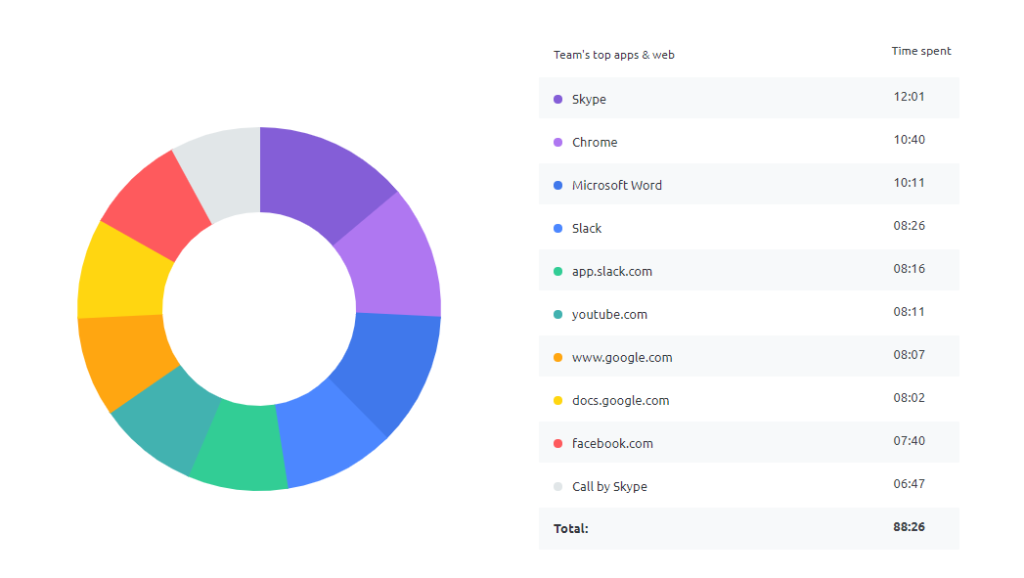 Your company likely has comprehensive policies that cover what employees are allowed and restricted to access. Unless your staff works in social media marketing, they're probably prohibited from accessing Facebook, Twitter, or Instagram. However, these are not the only sites that can become harmful to your business operations. Some sites are riddled with malware that may infect your company's entire network. So, you need to make sure that your employees won't access these websites. This way, they can remain efficient at work and protect your company from data breaches.
With screen view software, you will be able to monitor your team's internet usage. If they violate any policy on website access, you can hold them accountable for their actions.
Fix Errors Efficiently
It's common for any employee, including a remote worker, to experience various technical problems. If your team members are miles apart from each other, it's almost impossible to deploy your IT support personnel to their location. Of course, your employees can send error logs, but it can be tedious and time-consuming to go through all of them to find the right fix. However, the resolution process is much quicker and easier when you use the screen recording method.
When your IT team sees the video recording of your employee's screen, they will see all the events that led to the error. This way, they will get a better picture of what went wrong. Moreover, they will quickly arrive at an effective solution. Indeed, this is more efficient than scouring through heaps of computer logs. Therefore, it is an excellent practical method for resolving technical issues for remote employees. After all, the IT team won't be able to physically check what went wrong.
Traqq Automates Employee Screen Monitoring for You
To determine if your business is profitable, you need to know if you're using your resources efficiently. One important aspect of this is learning how much time your team spends on a project from start to finish. With a screen tracker like Traqq, you will get insights into what your team does the entire day. What's more, the tool allows you to view comprehensive reports that help you assess the daily efficiency of your employees. On the dashboard, you'll see the websites and apps that they use. This way, you'll get an idea of how they spend their time while working.
Moreover, Traqq can also be a tool for measuring your remote team's performance. It monitors how active your employees are based on their keyboard movements and mouse scrolls and clicks. Now, if you see red periods in a worker's report, you can check the screenshots. Traqq takes random video recordings and images of a user's desktop. So, you can review what your employee is doing throughout the day.

Ethical Screen Monitoring with Traqq
It's only natural for people to have a negative attitude towards computer screen recording. So, Traqq's developers created a tool that can alleviate employees' worries about spying. They designed the program as an ethical monitoring app for ensuring productivity and efficiency. While Traqq takes random screenshots, the tool intentionally blurs the images. So, anyone looking at the screenshots will not be able to read sensitive information, such as private messages and passwords. They will only get an idea of what the person is doing at a given moment.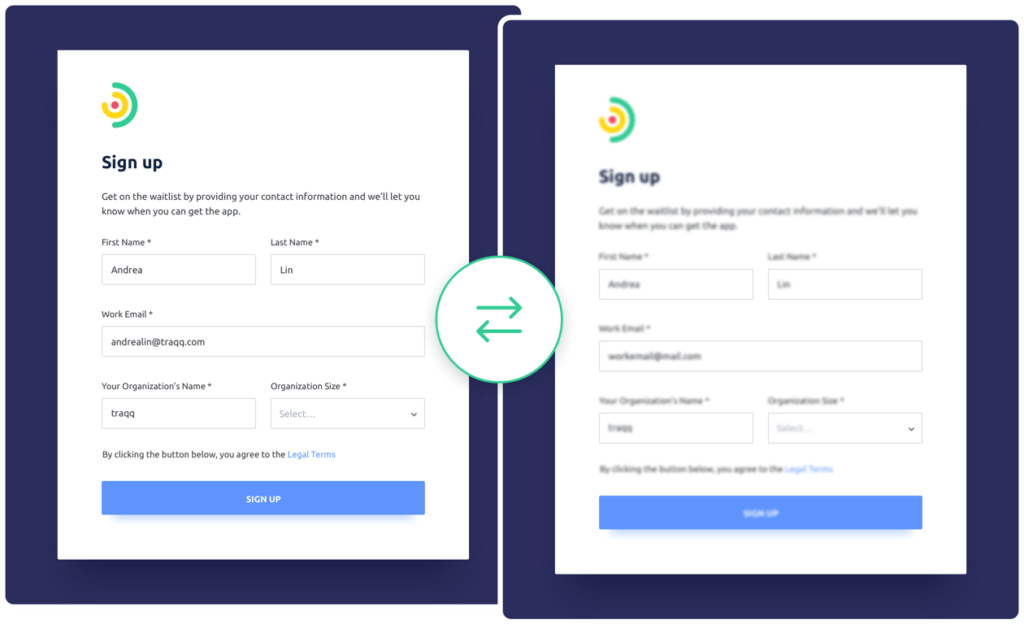 Traqq is ideal for
freelancers who want proof of work to avoid payment disputes,
agencies that need to determine a profitable rate for billing their clients, and
small businesses that need to ensure quality and security compliance.
Wrapping Up
Because remote work is here to stay, companies must use tools and systems to ensure their employees' productivity. Thankfully, you can use free screen monitoring software to make sure that your workers are accountable. You can download Traqq and access all its features—including its timesheet reports—at no cost.