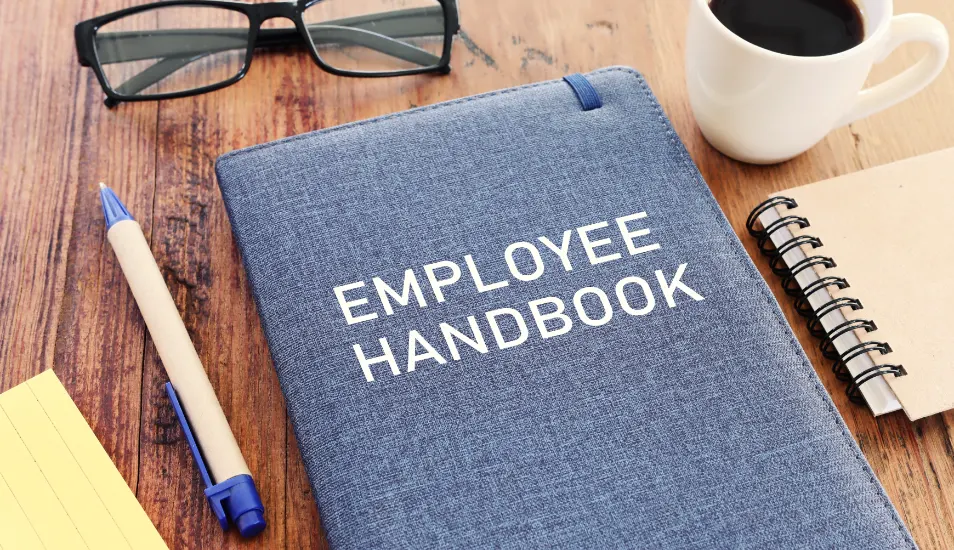 A survey by Gusto revealed that 87 percent of mid-sized businesses have employee handbooks.
That poses a question: Why are businesses interested in having this document?
For several reasons. It covers a wealth of information, including compliance policies, company values, and vision. It can help promote a positive workplace culture and shield you and your company from conflicts and employment lawsuits.
An employee handbook also defines your company's key policies and procedures and might help streamline the onboarding process for new hires. It is the single-most-important document for any company, and every business should have one.
In this post, we explain why you need an employee handbook. We also provide a step-by-step guide on how to create one and share several employee handbook examples.
What Is an Employee Handbook?
An employee handbook or staff manual is a compilation of company policies, procedures, benefits, and working conditions in a company. It's the document all employees should receive on their first day, or beforehand, because it covers everything an employee needs to know.
Think of it as a reference that employees will use throughout their time at the company. An employee handbook creates clarity for both employees and management around expectations, workplace code of conduct, and employee performance.
Since it touches on the company's culture, as well as expected workplace behavior, it serves a crucial role in the employee onboarding process. That's why HR experts think it's best practice to craft one right from the start.
The document makes a new hire feel more equipped to get started at your company, as well as enhance their efficiency right from day one.
Do You Need an Employee Handbook?
Consider these facts:
During FY 2020, the U.S. Equal Employment Opportunity Commission (EEOC) resolved 70,804 charges of employee discrimination, securing $439.2 million in claims.
Litigation costs are getting more expensive. In 2008, litigation costs rose by 73 percent to nearly $115 million, up from $66 million in 2000. By 2020, the litigation cost was $19.36 billion.
The average cost of an out-of-court settlement for employment discrimination claims is approximately $40,000.
One thing that's clear is that companies are spending billions of dollars each year on litigation. Remember, it only takes one case to deliver a crushing blow to your business. Plus, the effects of litigation could go far beyond financial losses. A lawsuit can damage your reputation and cause stress among your employees.
That's why having an employee handbook in place is essential. It clearly defines company guidelines and employees' workplace rights, thereby preventing lawsuits.
Other top reasons you should have an employee handbook include:
To Clarify what's expected of employees
A well-formulated employee handbook defines the responsibilities of employees in the workplace. It lays out cultural and operational conduct, among other rules, in writing, demonstrating upfront transparency from management.
This can go a long way in providing a positive image for the company and establishing a positive and pleasant work experience for the staff.
Highlights employee benefits and perks
An employee handbook allows you to show off the kind of benefits you offer, from 401(k) to health insurance to paid parental leaves. Describing them in the staff handbook makes employees aware of the full suites of offerings.
Ensures employee compliance with federal and state laws
Every business is subject to federal and state employment laws. The handbook serves as a tool to communicate the various obligations and entitlements to employees to minimize risks of employment liability.
Enlighten staff about what to expect from the company
Your employee handbook outlines the goals, leadership styles, and management best practices to foster better management-employee relationships. For example, it educates employees on timekeeping requirements, pay periods, and work hours.
It also advises them of the various entitlements to leave, such as the Family Medical Leave Act (FMLA). Communicating such policies clearly helps eliminate confusion and inconsistencies that may emerge.
Direct employees on where to get assistance
You want to empower employees to come forward with complaints, ask for help, and get assistance on everything workplace-related. The handbook outlines who they can trust to help them with such situations.
You should clearly explain the designated individuals to turn to and who else to consult if they disagree with the first decision. This way, it becomes easier to resolve conflicts internally.
Offer employees a unified, time-saving training and onboarding tool
A well-written employee handbook ensures new hires get up to speed with all workplace policies quickly and effectively. It explains work processes and requirements to help them settle in with ease and perform their duties more confidently.
What to Include in an Employee Handbook?
Given the unique structure of each company, the handbook must be tailored to the specific company policies. But before developing your employee handbook, you need to understand what workplace laws to abide by.
Familiarizing yourself with the state, federal, and union workplace regulations may have an impact on how you approach creating your employee handbook. If your business operates in more than one state, you may have to write different employee handbooks for employees in each state. Alternatively, you can create a core handbook but include location-specific sections.
If you're unsure which policies are required by law, you can check with your employment attorney or human resource organizations. State labor departments also offer information about the laws employers must abide by when doing business within the state.
Some of the policies you're required to include in your employee handbook by law include:
Family Medical Leave Act (FMLA). The FMLA requires employers of certain company sizes to provide employees with up to 12 weeks of unpaid leave, every 12-months. This provision allows for the birth or care of a child, or care for an immediate family member with a serious health condition. You may also have to include Covid-related leave.
Equal employment and non-discrimination policies. The U.S. Department of Labor requires businesses to post information stating they follow non-discrimination and equal employment opportunity laws in hiring and promotion.
Worker's compensation policies. Certain states require employees to be informed of worker's compensation policies in writing.
Other states may also require employers to indicate in writing, policies regarding breastfeeding accommodations, disability accommodations, and crime victims leave.
Apart from familiarizing yourself with the law, it's advisable to write your employee handbook based on what's important to the business. Some of the essential topics to include in your handbook include:
1. Employee Onboarding and Training
Ultimately, you'll need to employ and train new hires. So, including the employee onboarding section allows you to lay out the basics every staff needs to know before they get started.
Some of the items you may include are:
At-will employment clause (discussed below)
Conflict of interest statement
Equal opportunity employment statement
Confidentiality agreement
General information like team structure, office directions, and contact details
2. Company History
This section contains a summary of the company's history, vision, and mission. You can include the mission statement, the company's objectives, culture, and even the leadership team.
3. Code of Conduct
The Code of Conduct section discusses a list of behaviors expected from employees when working for the company. It also highlights how coworkers should treat each other, their superiors, customers, and external stakeholders.
Typically, it centers around ethics and trust to ensure there is safety, mutual respect, and professionalism in the workplace. This will vary from one company to another, but generally, you should address:
Dress code policy
Anti-harassment policy
The use of digital devices
Smoking and substance abuse policy
Phones, email, and internet usage
4. Life at the Office
You want to paint a certain picture of the office environment for your employees, so they know what to expect. This section also outlines how to track employees' time, including breaks.
You can include topics like:
Attendance and absence policy
Remote work and hybrid work policy
Use of time tracking software and other productivity tools
Work hours
Specifics about lunch and break
Paid time off (PTO)
Sick leave
Parental leave
5. Compensation and Performance Reviews
Use this section to explain your payment methods and how you reward employees. Take this opportunity to show that you value your workers to motivate them to do their best.
You may want to cover:
Overtime
Payroll schedule
Performance evaluations
Travel and expense policy
Job classification specifics
Paycheck deductions
Compensation packages
6. Staff Resignation and Termination
Employees come and go, and you should have a section that lays out what happens when an employee quits or gets terminated.
This part may be helpful where disciplinary action is involved. You can include:
The exit interview process
How COBRA works when an employee is fired or laid off. COBRA stands for Consolidated Omnibus Budget Reconciliation Act, and it provides health benefits after termination.
When an employee should expect their final paycheck
7. Employment Benefits and Perks
This section covers a comprehensive list of benefits and perks that the company offers. Employees will learn what types of rewards await them, who is eligible, and when the benefits apply.
You can include topics like:
Work from home options
What expenses the company covers
Use of company car
Retirement plans
Worker's health, disability, and insurance information
8. General Disclaimers
Once you've concluded specifying the policies in your handbook, it's imperative to include general disclaimers:
At-Will Employment Clause. At-will means either the company or the employee can terminate the employment relationship at any time, for any reason, with or without notice. In other words, the employee handbook is not a contract. This agreement is the default in all states besides Montana. Therefore, if you have a business in Montana, be sure to clearly spell it out.
The handbook supersedes all previous policy documents. You should make it clear that all previous policies and procedures are deemed null and void.
Policies are subject to change. The policies are bound to change to match the current business environment. So, be sure to leave room for making such changes. Explain that employees should expect modified policies and procedures from time to time, without prior notice.
Employee acknowledgment page. A survey found that 60 percent of employees avoid reading the employee handbook. One way to safeguard your business and yourself is to provide a way that verifies the employees were aware of the employee handbook. That's why it's important to include the employee acknowledgment page that mandates the employee to sign the document. Once it's signed, make sure it goes into the employee's personnel file.
Review with an Employment Lawyer
HR experts recommend having the final handbook reviewed by an attorney (if an attorney wasn't involved in preparing it). The lawyer will offer guidance and ensure there are no loopholes that might put you and your business at risk of future lawsuits.
Once everything is in order, you need to publish your employee handbook in a format that's easily accessible. Usually, a digital version is more convenient, not to mention easier to update.
Why You Should Update Your Employee Handbook Regularly
Reviewing and updating the employee handbook is not much fun, and most people dread this task. But the fact remains that it needs to be updated regularly.
Here's why:
State and federal laws change. Local, state, and federal regulations affecting employment laws change. Interpretations of older rules also evolve and change. It's your responsibility to ensure that your company abides by the current laws that apply to your business. This may include areas like family leave laws, equal employment, minimum wage, and overtime policies.
Change in the business environment. The Covid-19 pandemic mandated companies to establish new employee handbooks or update existing ones. The remote or hybrid work model particularly requires an innovative approach to developing an employee handbook.
Changes in the company. Apart from introducing work-from-home policies, companies may move to new locations governed by different employment laws and regulations. As the employer, you must ensure that the handbook is updated to reflect these changes. Additionally, in case of significant growth during the past year, you may need to update employee job types, descriptions, and benefits.
Laws on sexual harassment evolve. In today's world, there has been increased awareness regarding sexual harassment in the workplace. Assigning someone to keep track of these changes ensures that your handbook is up to date on sexual harassment policies and disciplinary action.
Meals and breaks laws. Local and state laws on meals and breaks keep changing. Make sure you are up to speed on all the changes and update your handbook accordingly. Otherwise, hourly employees may work overtime without the manager even knowing, which can result in overtime violation.
Changes in technology. Technology serves a crucial role in business functions and operations. This means any changes that occur may affect the working world in several ways. Topics like data privacy, data security, smartphone usage, and social media usage must be addressed in the employee handbook.
Cultural changes. An employee handbook created 10 years ago is sure to have a few questionable sections or clauses. It may also lack important policies like non-discriminatory policy, inclusion, dress codes, technology use, and so on.
Stress your company's pledge to diversity, equity, and inclusion. Sure, your handbook may already contain a section about equal opportunity. But with the Black Lives Matter and Me Too movements, your company should affirm its commitment to diversity and inclusion.
Mind your tone and language. The use of harsh tone to describe disciplinary action might not go so well with Gen Z and Millennials. Coupled with the Great Resignation, you may find yourself losing employees. To avoid this, you should update the tone and language in your handbook to be kinder and more considerate.
Capture anything that's missing. Updating your employee handbook regularly ensures that you can add anything that may be missing. For instance, you may have encountered one of your employees breastfeeding or changed how workers are classified.
4 Amazing Employee Handbook Examples
Having ideas on how to create an employee handbook and what to include is one thing. Visualizing what it will look like is another. Below are brilliant employee handbook examples to inspire you:
Pronto Marketing created one of the most comprehensive employee handbooks. The handbook is a web page that consists of a modern table of contents with a list of topics, making it easier to navigate.
It outlines everything, from company policies, benefits, an employee's timeline, and how to manage your time, in and out of the office. The document is well-presented and easy to read.
ZGM
ZGM is an Alberta-based marketing agency that uses less imagery in its employee handbook, but plenty of colors and bold text. This makes it attractive and reader-friendly.
Valve
This company's employee handbook went viral a few years back. It was fun to read and contained amusing illustrations that kept the employees engaged.
EF Education First
Education First developed a short and adorable employee handbook using children's illustrations.
Summing it Up
There's no one-size-fits-all employee handbook. Each company develops one that matches its culture, policies, and work model. A well-defined handbook should touch on everything the company represents.
It should be enforced consistently to ensure the company and the employees thrive in a healthy workplace environment. More importantly, make sure you update your employee handbook regularly. This enables you to capture any new changes that have occurred at the company or with the employment laws.