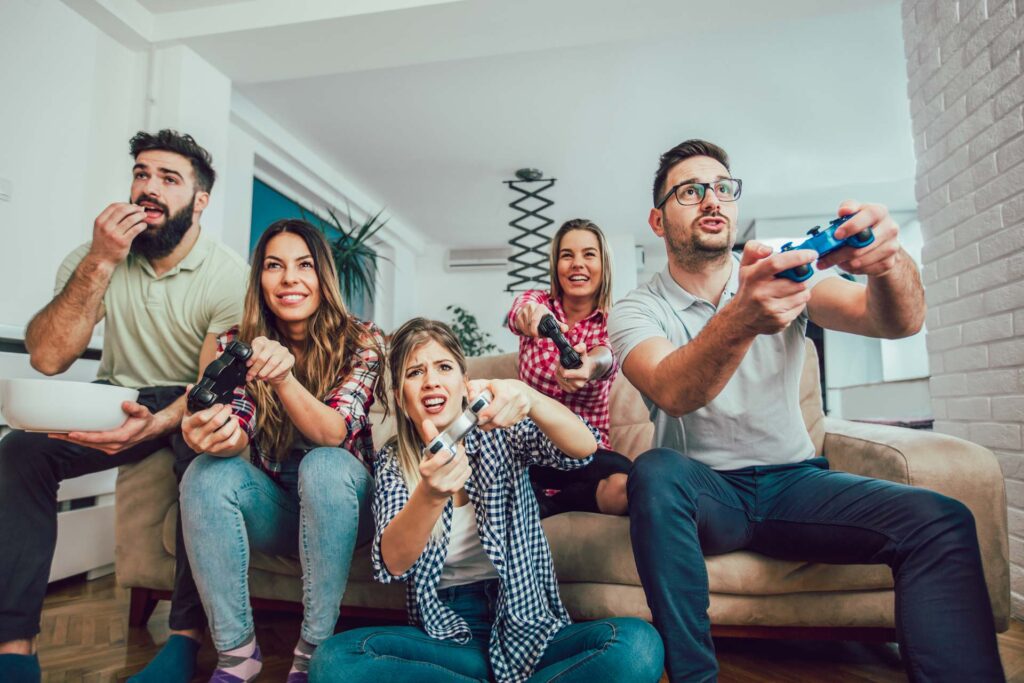 If you are an avid gamer, you know how costly it is to build a library of your favorite games. However, thanks to sites like Humble Bundle, you can get amazing gaming deals from a huge collection of games. From major AAA titles like Monster Hunter: World, to indie gems, such as Fall Guys, Humble Bundle offers a comprehensive library. It features games that support Windows PCs, macOS, and Linux.
Recently, Humble Bundle added Nintendo Switch games to its catalog, further expanding its library. As a customer, you are even allowed to set your own price for the bundles you wish to buy.
Humble Bundle's popularity grew due to their consistent support to different charities and sharing profits with developers. However, if for one reason or another you are looking for Humble Bundle alternatives, then the collection below will interest you.
Not familiar with some of the websites above? Read on to discover more fun game buying alternatives to Humble Bundle.
Websites Like Humble Bundle
1. Fanatical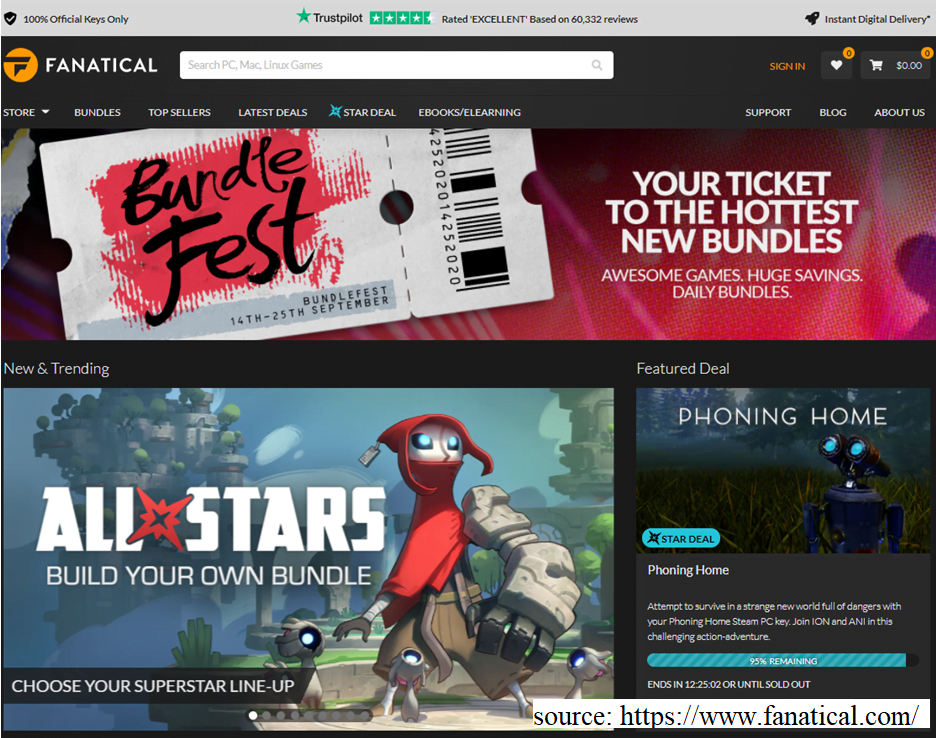 Founded in the United Kingdom in 2012, Fanatical is an online retailer for video games. The site is easy to navigate, and you will find titles categorized by top sellers, latest deals, and so on. Under the "Top Sellers" category, games are subcategorized according to new releases, on sale now, and new to Fanatical. You can also browse titlesby genre, publisher, and OS.
Apart from gaming deals, the site also offers software bundles and eBooks for coding and programming courses, some of them free. With over 60,000 reviews from Trustpilot, more than 6,000 games to choose from, and over 1,000 publishers, you can be guaranteed to find something interesting here.
2. Epic Bundle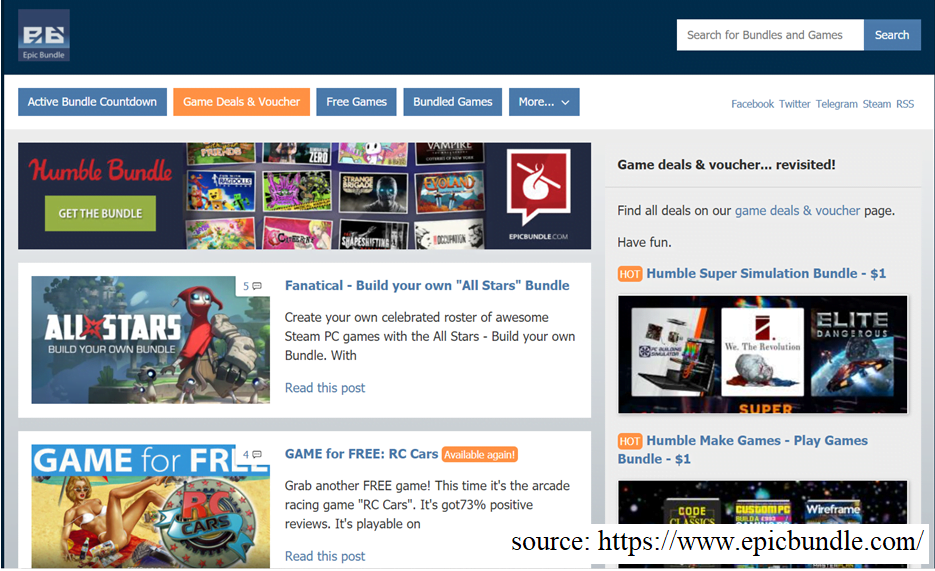 Epic Bundle is another good option if you're looking for sites like Humble Bundle. It also offers different gaming deals, software bundles, and e-Book bundles. To get the best offers, you might want to check the site daily. There is a bundle countdown page where you can catch a great offer before it ends. You might also be interested to try out some of the free games offered on the site.
Epic Bundle takes published gaming info from other sites like Fanatical, which means you can grab an amazing deal from another site right from within the platform.
3. Groupees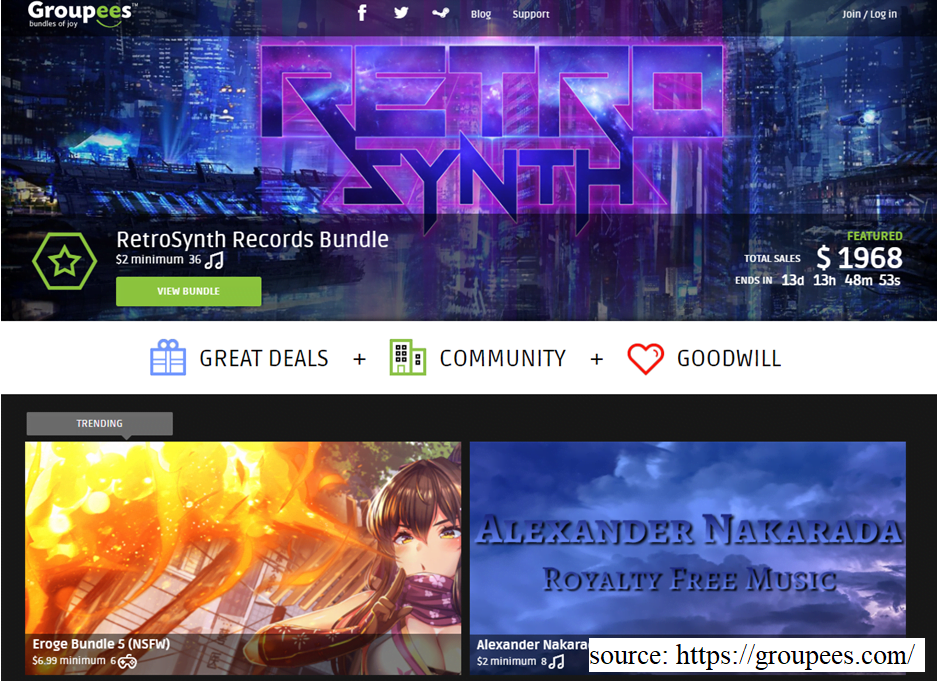 Groupees works similarly to Humble Bundle and even supports charities. Users are given the option to choose whether to support a charity before proceeding to purchase a game. The site also offers music, e-Book, and comic bundles.
Like Epic Bundles, each bundle has a countdown and the minimum amount you can spend on a game, music, or comic bundle. Upon registration, you can start chatting with the Groupees community, add posts to your profile wall, and take part in public trading, among other cool things.
4. Indie Gala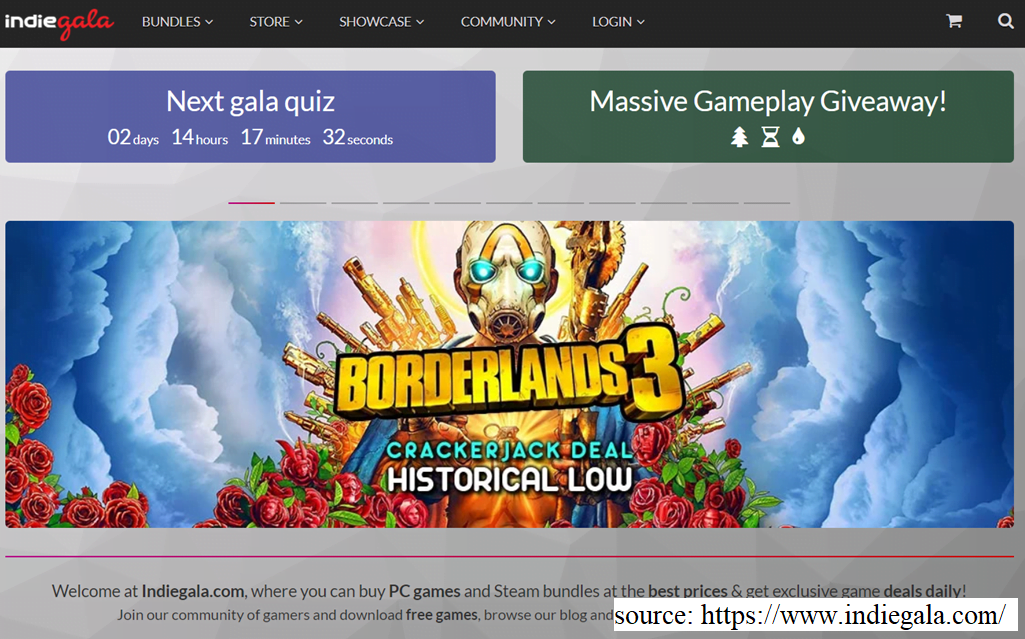 Indie Gala is a video game website that operates more like Humble Bundle. You can set the revenue split that you want to go to charities, developers, and site owners. The site focuses on supporting small developers and indie studios. Generally, the bundles on this site are low priced, and you can even get six games at 95% off.
Indie Gala also offers giveaways quite often, and you might want to check the website daily to see if you will find something that catches your eye. Plus, you are likely to find certain indie games offered completely free of charge, for the full features. If you ask us, it is one of the best Humber Bundle alternatives you can find.
The games on the site are generally only for Windows PCs and mostly Steam bundles. You will find hugely discounted prices for hit games like Doom Eternal, Borderlands 3, and Elite Dangerous.
5. Green Man Gaming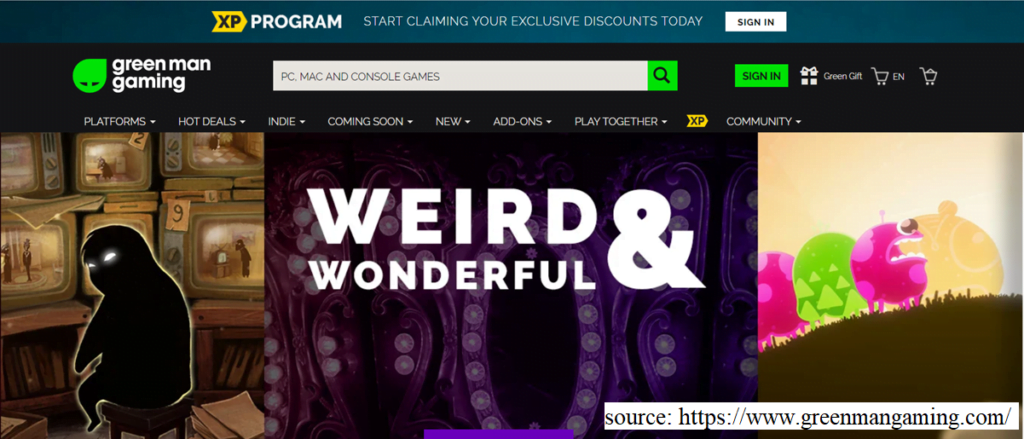 When searching for sites like Humble Bundle, Green Man Gaming seems to be way ahead of the game. From the sleek website design to how the games have been categorized, it makes game selection easy.However, rather than offer gaming bundles, the site sells individual games at unbelievably discounted prices.
You can quickly view and select indie games, action and RPG games, Ubisoft sale, new games, and top searches. You can also check out what the gaming community is discussing by visiting the Forum page. Meanwhile, you can read and share your opinions or check out other gamers' opinions and hot topics, giveaways, and more in the Blog section.
With over 450 publishers, including big names like Capcom and Ubisoft, and deals of up to 50% off, Green Man Gaming is definitely a site worth visiting.
6. Is There Any Deal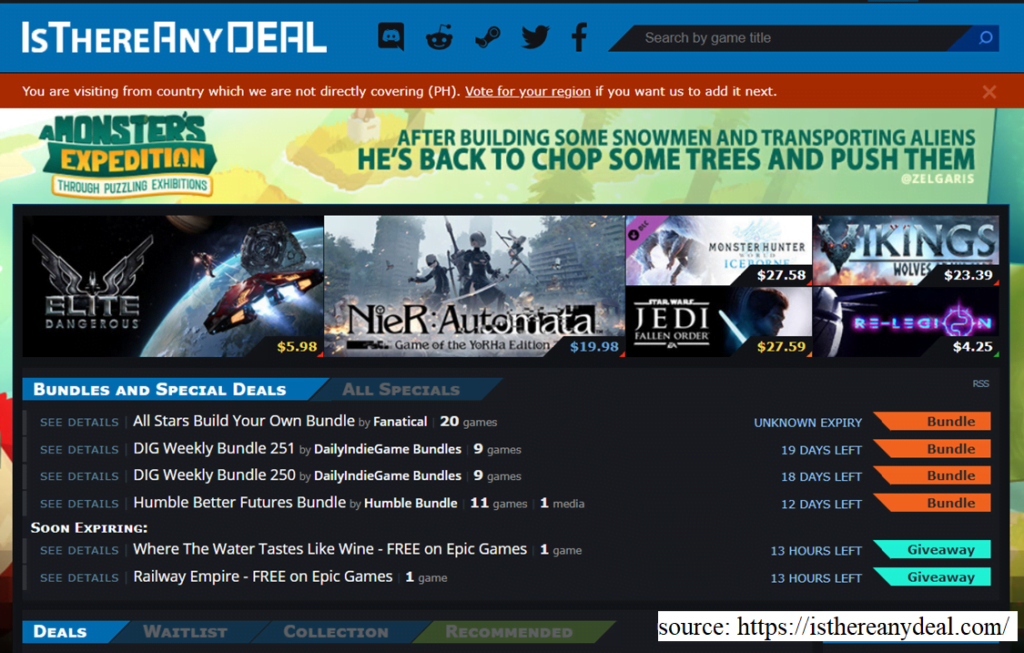 Is There Any Deal operates differently from other sites in that it compares game bundles from different sellers ranging from Amazon to other smaller sellers. You can also check out offers from major AAA studio games or small developers of indie games.
The best part about this site is that you can quickly learn whenever there is a sale on games from other websites. You can see all the details like whether it's a bundle (and the number of games in the bundle) or a giveaway. You can also see the number of days or hours left until the offer ends, and the best deals on major titles.
7. Good Old Games (GOG)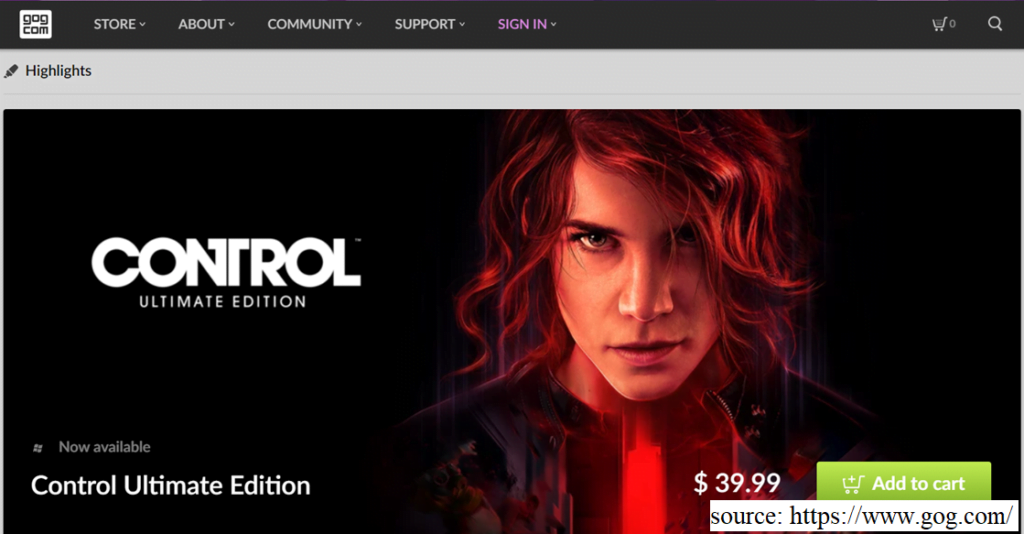 Good Old Games, aka GOG, is not like other platforms that sell game keys for other platforms. Instead, the site offers its products in the form of DLC-free downloadable installers. From top AAAs to unique indie games to classics, you can find any game you want on this site.
You can select from a variety of genres, such as action, adventure, shooters, strategy, sports, and racing. If you don't have a game in mind, you can also check out what's listed on the different sections like new releases, bestsellers, and games that are on sale.
Apart from games, GOG also sells other types of media related to gaming, such as DRM-free movies and other gaming-related videos.
GOG takes pride in selling legitimate games, making sure that creators earn what's rightfully theirs.
8. GamersGate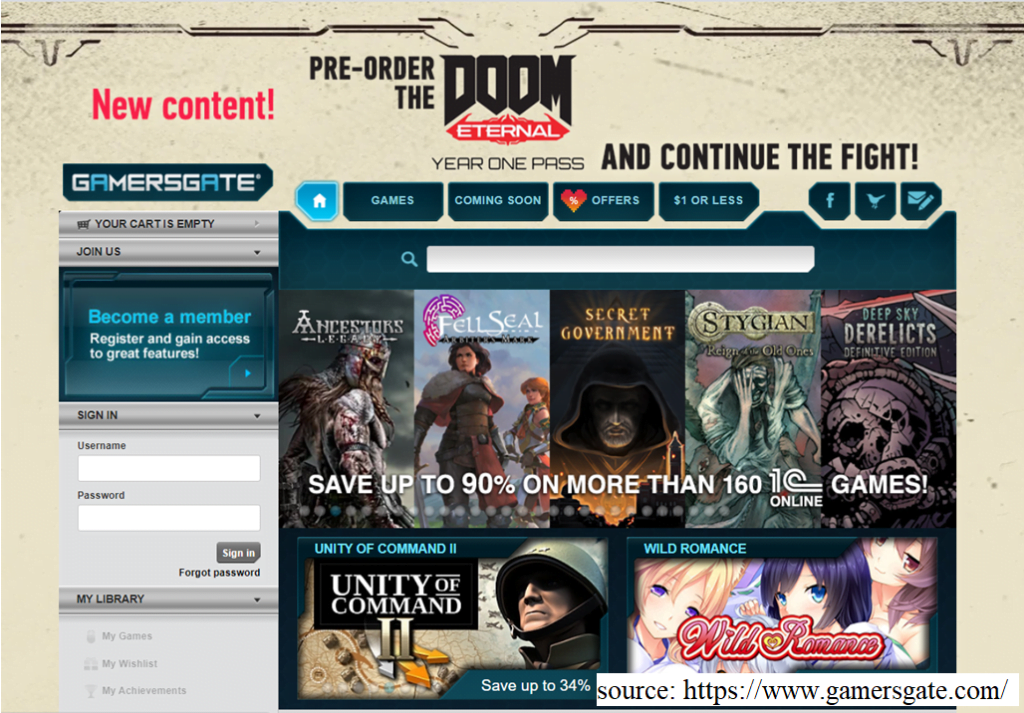 GamersGate is another excellent Humble Bundle alternative where you can buy cheap games and Steam keys. It mainly focuses on individual games rather than bundles, and you can find both old and new games. It has a huge catalog of over 6,000 games, giving you tons of choices when shopping for a game. Some games have massive discounts of up to 90% off.
The best part about GamersGate is that the platform is client-free, which means that you don't have to install any third-party software. You won't have to deal with those awkward user interfaces. Users can also earn Blue Coins whenever they make purchases, write reviews, and rank games.
9. Itch.io

If you are a fan of indie games, then itch.io is the site to visit. You will find well-made indie titles and other game assets. Itch.io seems to mainly focus on small indie game developers, and it's also a platform that allows any user to host and share games online.
Game developers can upload games and decide to set the price they want or offer them for free. On the other hand, they canlet users decide how much they want to pay for agame. The site allows you to choose how much you want sellers to earn and what percentage you want to give the site owners.
10. Bunch Keys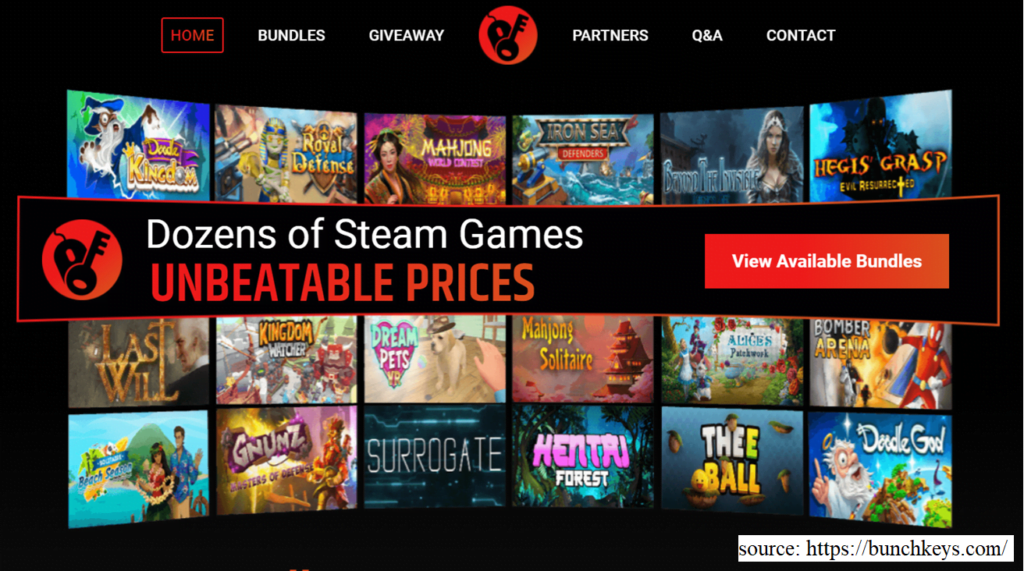 If you are looking for unbeatable offers of dozens of Steam games, then Bunch Keys is a worthy Humble Bundle alternative. They have regular giveaways where users can win free Steam keys and other game-related products.
The site focuses on giving bundles of keys, and users can get a bundle of games with Steam keys. Their prices are competitive, and you can get up to 50 games for just $1.49, whose normal value is $52. Discounted bundles are offered every week, so be sure to stop by the site regularly to check what's new.
11. Story Bundle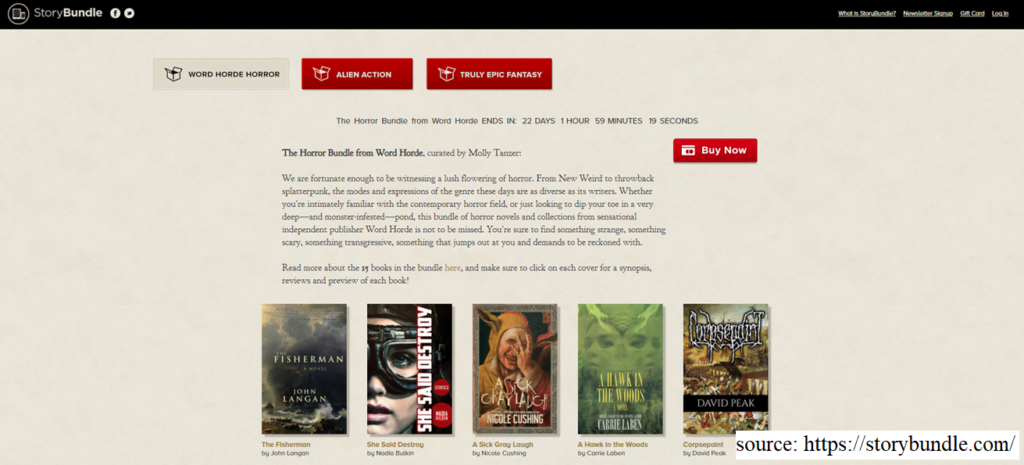 When searching for sites like Humble Bundle, Story Bundle should be on top of your list. This site focuses on bundles of books, and each bundle contains between 6 to 9 titles. If you want single books, you will also find them here.
Most of the books sold on the Story Bundle are written by indie authors, and like Humble Bundle, Story Bundle donates part of its revenue to charities. Users are also allowed to decide the price they want to pay for books.
12. uCrate.io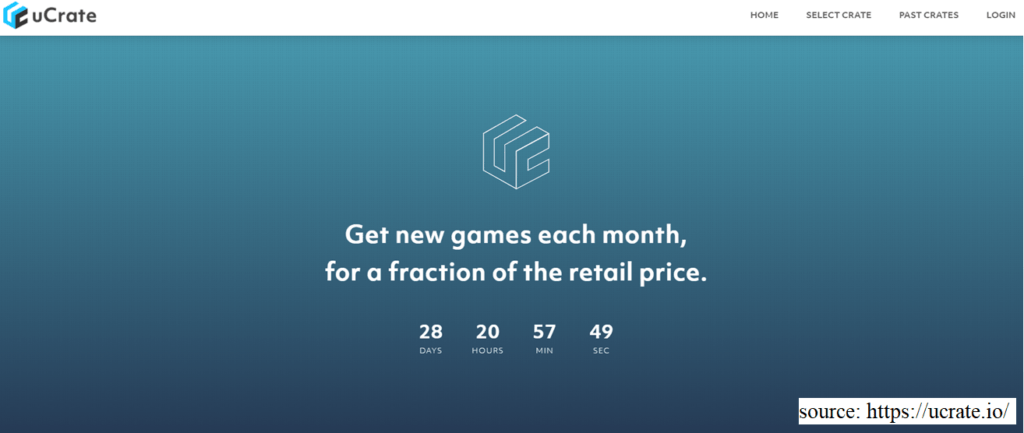 uCrate.io is another website like Humble Bundle that offers subscription-based service to gamers. There are four types of subscriptions, with the 12-month subscription being the cheapest. For just $28.47 per month, users get:
10 games per month,
access to boost packages,
Elite Crate Entry, and
Members-Only Benefits.
You save $36 annually under this subscription.
Each bundle contains 10 Steam games, and users have the option to download and play any premium games. The selection per crate is entirely random. That means you can get exciting AAA games in one crate and get indie games on the next crate.
If you don't like such an arrangement and prefer more freedom on your choice of content, then you might have to look for other Humble Bundle alternatives.
13. GameThrill.io

GameThrill.io, a Sweden-based online video game retailer, offers video games that support multiple platforms, including uPlay, Steam, Origin, and Battle.net. All the games are discounted, but for a limited time. In addition to that, most of the titles available for sale on the site are offered at amazing discounts.
You can find popular AAA titles and indie games, in different genres. The site offers a subscription service, calledGameThrill Crates. Every first day of the month, you'll get handpicked games delivered right to your member zone, waiting for you to redeem and start playing them. You get the best prices for the games, and they are yours for keeps!
Conclusion
We hope you explore these Humble Bundle alternatives and expand your library at incredibly low priced game deals. Plus, most of these sites allow you to donate to charities and give developers a chance to grow. It's a cool way to enjoy games while at the same time contributing to a noble cause.
While we can all agree that playing video games is a great way of killing boredom, don't allow it to interfere with your normal working hours, unless you're a professional gamer. Otherwise, you need to plan your time well so that you can carve out time to have fun.
Presenting Traqq, a time tracking app that allows you to track how you spend time on various projects, enabling you to become better at time management. With Traqq, you can:
Monitor where you spend most of your hours.
Monitor time spent on working and on breaks.
Get smart notifications to keep you on track.
Track each worker's activity levels and gauge their performance based on real data.
Record each employee's hours, making it easy to analyze your company's profitability and make adjustments accordingly.
Traqq works across multiple platforms, including Windows OS and macOS, or you can use its web interface. This means you can work from anywhere and even switch between computers.
Sign up today and get the Traqq app for free.